Researchers suggest sports fandom can foster a strong sense identity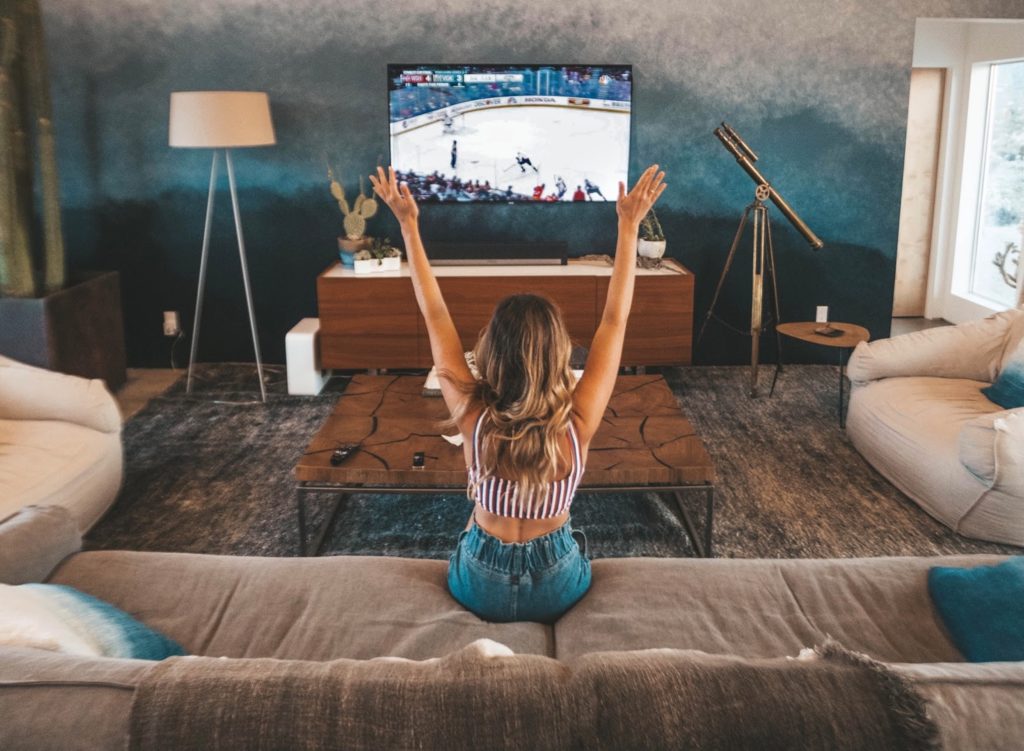 As soon as Calgary Flames winger Matthew Tkachuk stepped onto the ice during the shootout, the boos started to ring around Scotiabank Arena. A voice behind me in section 110 shouted, "He's a bum!" and I held back a laugh, while wearing my Flames jersey.
Tkachuk skated up to centre ice, taking the puck on his stick and slowly winding into the middle of the offensive zone. In a flash, the puck slipped between the pads of Toronto Maple Leafs goaltender Frederik Andersen. On Jan. 16, 2020, the arena fell silent, shifting all their energy to the Leafs' next shooter, Mitch Marner, hoping he'd score and keep the game alive. His shot was saved.
As Leafs fans around me stood up and grabbed their empty beer cups, I stayed in my seat. I was so high on adrenaline from watching an overtime and shootout live for the first time, I'd forgotten that Marner's miss meant the Flames had sealed the win and the game was over. But, looking back, it was almost as if I somehow knew I wouldn't be at the arena for a long time. I was savouring the scene in front of me; soaking in the feeling of watching my favourite team win a hockey game.
Like many Canadians, watching hockey is one of my favourite pastimes. After a long day of working in a six-hour journalism lab or the editing suites in the Rogers Communications Centre with friends, there was almost always the satisfaction of going home, dropping onto the couch and turning a hockey game on. The sounds of skates gliding across the ice and pucks going tape-to-tape are oddly therapeutic, and a big hit can boost my mood just as much as a goal. Whether it was on the couch with my dad or at the arena with complete strangers, watching the sport I loved always provided me with a sense of community and identity.
A 2017 study by researchers at Murray State University found that being part of a sports fandom helps people with "three critical human needs: belonging, distinctiveness and meaning." The study concluded that since these three things are crucial to providing people with a sense of identity, it's "clear that sport fandom and team identification can be important components to one's self and (their) well-being."
After my last live game in January 2020, as the crowd slowly inched through the concourse, another Flames fan spotted my Tkachuk jersey and walked over to give me a high-five. A simple gesture, yet there was something so comforting about silently celebrating a win with someone I didn't even know. I went home with a smile on my face, not even mad about the cold weather and my numbing hands as I walked up my driveway at 11 p.m.
Months later on Oct. 10, 2020, when any other year I'd be watching hockey, I found myself opening the notes app on my iPhone to express how much I missed the sport. While October usually signals the eve of a new National Hockey League (NHL) season, that wasn't the case last year due to the COVID-19 pandemic. Of course, I value player safety and figured that hockey wouldn't be back anytime soon, but I still couldn't help but fill my note with crying emojis and the word "sad."
It was the first time I realized that watching hockey wasn't just a hobby or pastime for me. It was a coping mechanism to deal with stress, worries and overwhelming responsibilities — and I didn't have it when I needed it the most.
Last semester I spent my time adjusting to online school and juggling assignments, essentially teaching my little sister because she was struggling with her own online school difficulties, and realizing I'd spent four years working strenuously towards finishing my degree, only to not get an opportunity to walk across the stage at graduation.
Not having hockey to escape from it all resulted in crying myself to sleep after staying up to finish assignments because my mind was in overdrive, constantly thinking about everything that was going wrong and what tedious task I had to complete next.
The relationship between sports and well-being is a phenomenon that researchers have been trying to understand since the '90s – how can people deal with stress using an activity that also causes it? It's an unlikely marriage – in 2017, a study published in the Canadian Journal of Cardiology found that spectators watching Montreal Canadiens games, live and on television, saw heart rate responses equivalent to both vigorous and moderate levels of physical stress.
In my case, the two seemed to work well, like in-sync defensive partners. Pre-pandemic, I'd often spend days burning myself out, but all worries would slip away once I settled onto my couch for a Flames or Leafs game in the evening.
It's like I was in my own bubble. By the time the game finished, my head would be clear — no need to tire myself out by crying, or waiting for sleep to come after. Even after losses, sharing an unimpressed look with my dad or showing him funny tweets about a game still helped keep my spirits up and worries at bay. According to a 2019 study by researchers at The Ohio State University, sharing pain after losses helps sports fans from losing self-esteem because they feel connected with others.
Back in December, when the NHL finally released a January 2021 start date and schedule for the upcoming season, I texted all my friends, even though none of them liked hockey. The Sportsnet "It's On" commercial was music to my ears. NHL-related tweets were returning to their natural habitat on my Twitter timeline. Even training camp intrasquad scrimmages, where a roster splits into two teams that play each other, were being streamed. I watched them diligently, even though they had no meaningful purpose behind them.
In my final semester at Ryerson, and perhaps the most important one, I'd gotten my coping mechanism back. Just knowing that there'd essentially be a game played every other night was enough to motivate me.
During my Sportsnet internship, my days were more productive than those of last semester because I had something to look forward to in the evening or talk about with others the next day. Nights weren't spent drowning in my own thoughts, because I was too busy reminiscing about a win or shrugging off a loss. The most important thing, though, was that I felt like myself again.
Hockey may be just a game but for me, it's also so much more than that. As soon as the puck drops, it's like my own personal therapy session has just begun. Stressing about the uncertainties of my future is replaced with the odd thrill of not knowing what's going to happen next in the game — perhaps, in a strange way, the answer to dealing with the former is hidden in the latter.