Students are struggling to find motivation in their small living spaces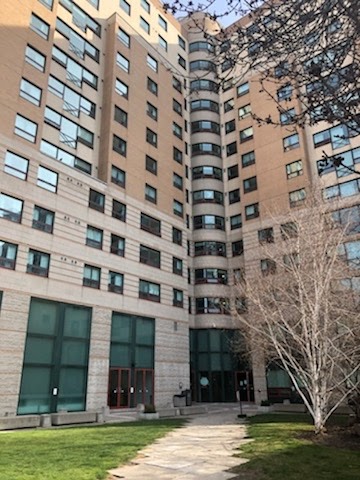 At the beginning of the 2020-2021 academic school year, Hayley Feddick's first year at Ryerson was off to a good start. Feddick was living in Ryerson's International Living/Learning Centre (ILLC) residence and even though she was living in a small single room, the eased COVID-19 restrictions in Toronto at least allowed her to go to coffee shops, retail stores and spend time outside with friends. All of that changed when Toronto went back into lockdown in November.
Cafés had to close, the weather got colder and Feddick was forced to spend almost all of her time in her residence room. Most people in Toronto were in the same situation, staying at home with not much to do. However, the effects of isolation were exacerbated for Feddick as she was living in a single bedroom away from her family.
Feddick grew tired of living in such a small space, leading to her mental health and well-being beginning to deteriorate — as did her motivation to do schoolwork.
Throughout COVID-19, residents of Toronto and other parts of the Greater Toronto Area have been forced to spend the majority of their time inside their homes, especially in the winter months when it's too cold to spend extended periods of time outside.
Being confined to the home to this extent has taken a toll on people's mental health. That being said, it can be argued that living in a single room, with no access to outdoor space, is significantly harder while in lockdown than living in a multi-room house or apartment with a backyard or a balcony.
According to a study conducted by Statistics Canada, Toronto has been experiencing slower population growth as people choose to move away from the city centre. Many Canadians are choosing to move away from the country's largest urban centres to settle in suburban areas with more space.
Living in a small apartment in the city is no longer as appealing when the majority of one's time is spent at home.
For Feddick, living alone in her residence room just wasn't worth it. In December, Feddick returned to her family home in Alberta, where she has access to a larger home, outdoor space and a car.
"It kind of sucks because I was so excited to come to Ryerson and begin a new chapter here," Feddick said. "But it's just a lot better for my mental health to be home right now, instead of being stuck in my residence room."
The simple act of changing rooms or going for a drive has had a significant impact on Feddick's well-being. She says her motivation and willingness to do schoolwork has also increased while being home.
Laneigh Ramirez, a first-year film studies student living in Pitman Hall, has also found living in a small room throughout lockdown to be extremely isolating.
Being alone all the time makes it very difficult to do schoolwork, as there's no social interaction or change of space that creates breaks from the work, Ramirez explains.
"In such a small space, you feel confined to your own exhaustion," she said.
Despite feeling lonely and isolated, the most difficult part of living in residence for Ramirez has been the cafeteria food. She doesn't have access to a kitchen; and she purchased a meal plan. Ramirez says she wishes she had access to higher quality food, as her stress levels are so high in other aspects of life already.
"When you are being served low-quality food, your home life also becomes difficult," Ramirez said. "There's also a guilt that occurs when you buy food to replace residence food, which makes eating overall an unpleasant activity, when it should at least offer some form of comfort."
While living alone throughout the pandemic can be challenging, some Ryerson students have found it just as difficult living with a roommate.
Jacob Hall, a fourth-year politics and governance student, lives in a two-bedroom apartment with a roommate. He says the small living space can be very confining, but keeping a small social circle while living with a roommate is the most difficult part.
"Whoever they see is also instantly in your circle, so monitoring that is a real challenge," Hall said.
Though some students choose to remain in their apartments and not move back in with their parents, for Feddick staying at home until things go back to normal is the most beneficial course of action for her mental health.
"It sucks, but I'm so much happier here. I've got my motivation for school back. Toronto is just not where I want to be when everything is shut down."