The historic broadcast came as part of TSN's International Women's Month celebration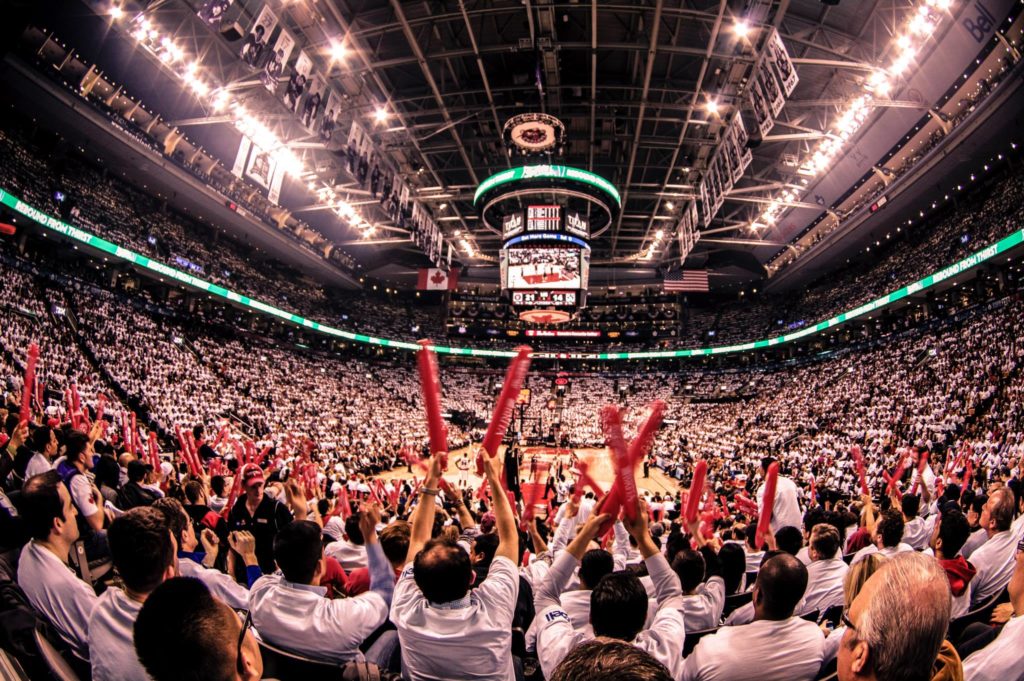 As the Toronto Raptors finally snapped a nine-game losing streak Wednesday night, it was the TSN broadcast that stole the show.
Wednesday's game versus the Denver Nuggets featured an all-women broadcast, the first game in NBA history to have a woman in every on-air role. The broadcast was part of TSN's celebration of International Women's Month.
The game was called by Meghan McPeak, who does play-by-play commentary for the WNBA's Washington Mystics and G League's Capital City Go-Go. Alongside McPeak, WNBA superstar Kia Nurse provided analysis at the Scotiabank Arena in Toronto.
In the studio, the broadcast was hosted by TSN veteran anchor Kate Beirness and Amy Audibert, an analyst for the Raptors 905, Toronto's G League (minor league) affiliate. TSN's Kayla Gray also served as a sideline reporter, which was done from the studio due to the Raptors playing in Florida this season.
Many women in the sport media industry showed their support for the broadcast on social media ahead of the game. TSN's Toronto Maple Leafs reporter Kristen Shilton tweeted that she couldn't "express the difference it would have made" to her as a "sports-obsessed girl to turn on a game and see/hear women in every broadcasting role." For the next generation of women hoping to make it in the industry, it's the "you can see it, you can be it" moment that their predecessors could only dream of growing up.
"I felt so excited to see people that look like me on television working together," said Crina Mustafa, a Raptors enthusiast and first-year sport media student at Ryerson. "As a woman aspiring to work in the industry, this broadcast means a lot to me because it makes me hopeful that one day I can also work alongside my female colleagues."
In 2016, Ryerson had its own historic moment when 23 women from the RTA School of Media came together to produce a Rams women's hockey broadcast. The game aired live on the Rams Live network and Rogers TV.
After a revamp in 2015 which saw Rams Network become Rams Live, students enrolled in the sport media program came together with the Rams athletic department to produce broadcasts. When the COVID-19 pandemic is over, Laurel Walzak, one of three sport media faculty members, said that there's "no question" that all-women Rams broadcasts will happen.
"I know that when we come back, the women are going to want to do that," said Walzak. "Our school, RTA sport media and Ryerson Rams will 100 per cent want to do that."
Major sports networks have begun to feature all-women broadcasts during March, International Women's Month. This year, the NHL Network had its fourth annual all-women NHL Now broadcast on March 8, International Women's Day. Last year's celebrations also saw Sportsnet field all-women broadcast crews for a tilt between the Calgary Flames and Vegas Golden Knights.
Though, it's worth pointing out that in those broadcasts, all the women taking part in on-air roles were white women. The Raptors broadcast, however, had three women of colour, giving next generation BIPOC women an extra burst of motivation. For Ruqayah Rahaman, a second-year sport media student, seeing these women of colour was her favourite part of the broadcast. 
"Seeing BIPOC women on my screen made me appreciate their hard work because I know what they had to go through and most likely are still going through," she said. "Seeing that it's possible for me to be part of this daunting sports industry was very reassuring. I want there to be a day when seeing an all-women broadcast is just as normal as seeing an all-men broadcast."
While these initiatives are historic and a crucial step towards gender equity in a male-dominated industry, they also seem to have an expiration date of April 1. All-women broadcasts are not uncommon in professional women's sports, but people rarely get to watch one for a NBA, NHL, NFL or MLB game in a month other than March. Women are almost never analysts on those Big Four sports panels — and if they are, it's usually just one woman, like Olympic medallist Jennifer Botterill on Hockey Night in Canada or WNBA powerhouse Candace Parker on NBA on TNT. If the sport media landscape is to change, that change needs to be happening consistently.
"This is one occasion, and I hope that this is actually going to be a part of what the norm is going to look like moving forward," said Walzak. "(TSN) needs to say, 'This is the start of something and this is the way we're going to be doing it.'"
During and after the game, fans and athletes were singing praises for the women and the broadcast, including Raptors' player Kyle Lowry, who joked that the women brought the team good luck to end their losing streak. TSN Raptors broadcasts are usually called by Matt Devlin and Jack Armstrong. While the two are beloved by fans, many viewers took to social media to emphasize that they wanted to see the five women calling and analyzing games more often. It's a sentiment that's shared by Walzak.
"I thought the women did a phenomenal job," said Walzak, adding that it wasn't surprising given the amount of talent between the five of them. "Moving forward, (TSN) really needs to take a look at their broadcast lineup and make sure that it includes many, if not all, of those women in each and every broadcast."