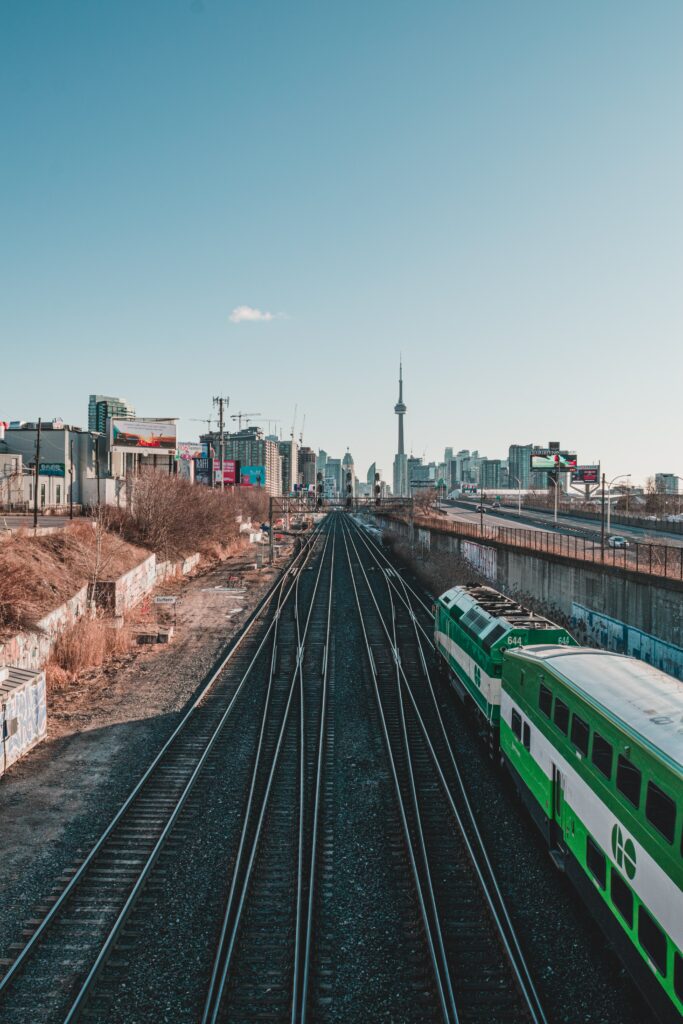 Stepping onto a bus or train was part of a typical pre-pandemic morning for many Ryerson University commuters.
Before COVID-19 struck and led to the university going to online classes only, 77 per cent of students used local and regional transportation services to get to campus, according to StudentMoveTO.
However, the pandemic has left some of them concerned for their health and safety as they start to think about commuting for in-person classes that are scheduled to resume in January.
"I am kind of excited to return to campus but also nervous travelling again because of the pandemic," said Alick Lazare, a third-year computer engineering student at Ryerson. "If I forget a mask or if there is someone on the train who refuses to wear one, [it complicates the trip]."
RELATED: Ryerson's student groups prioritize making religion more relatable on campus
Just how enthusiastically Ryerson commuters will embrace public transit after nearly two years of pandemic worries is one of the unknowns as the university reopens its campus to in-person study. At the same time, transit planners and others are wondering whether new technologies and new post-pandemic protocols aimed at passenger safety can be the ticket for getting public transit use back to pre-pandemic levels.
Commuters could feel reluctant to use public transportation services again after a long period of working remotely, said Sonia Kang, an associate professor and one of Canada's research chairs at the University of Toronto.
"That instant transition from being at work or school to being at home, I think that is going to be really hard for people to give up and I think that is where the resistance comes from," said Kang. "There's that fear of commuting where people have to take public transit again."
LISTEN: What Ryerson isn't telling us about the return to campus
More than one-third of public transit users changed the way they commute during the pandemic, according to Statistics Canada. Its study found thirty-four per cent switched to another transportation option and one-fifth of those who switched now walk or cycle to where they have to go. The study suggests that this shift in transportation method is due to the fact that most commuters are concerned about pandemic health and safety when using public transit.
"A lot of people are understandably anxious about getting back on to transit."

Jan De Silva, president and CEO of the Toronto Region Board of Trade
Daniela Reid, a first-year performance production student at Ryerson, says one of the major reasons why she's nervous to return to campus is because she's anticipating packed trains.
"I think for me to feel safe is as long as there's at least one seat between myself and another passenger, I'll feel fine," said Reid.
"I know a lot of people are understandably anxious about getting back on to transit," said Jan De Silva, president and CEO of the Toronto Region Board of Trade. "That's why [the board of trade] produced a [document] with Metrolinx and TTC, outlining all the measures the two agencies are spearheading to ensure transit is as safe as possible when it comes to COVID."
In the document, the TTC and Metrolinx (GO Transit and the UP Express) say they are improving their services to protect customers. The TTC is adjusting service during high-demand times and including 25 per cent more subway trains on TTC line one and line two.
And in another attempt to ease commuter concerns, Metrolinx did a study in September to look for the SARS-CoV-2, the virus that causes COVID-19.
"[The study] looked for the SARS-CoV-2 virus by collecting air and surface swab samples from high traffic and high touch surfaces inside Union Station, Union Station bus terminal, as well as buses and trains," said Nitish Bissonauth, media relations and issue adviser for Metrolinx. "Results found no evidence of the virus in the sampling, giving customers more confidence in the safety of our system."
READ MORE:
One economist says another way to protect customers and ease their concerns would be to implement vaccine mandates for anyone who wants to use GO or the TTC.
Moshe Lander, an economics professor at Concordia University, believes the government should implement vaccine mandates on public transportation.
In the same way that digital vaccine passports are available on phones, Lander believes that commuters need that same technology to scan TTC cards to validate vaccination. "These are the steps that … will make everybody feel so much more comfortable."
While that's a radical option, there are other changes that could be implemented more easily.
New technology in a post-pandemic world could see touchless fare options in public transit, according to Statistics Canada. Such measures are important if public transit use is to return to pre-pandemic levels, something transportation services want to see happen.
"In spite of the pandemic, we need to preserve the transit services that we currently have so that they're there when people inevitably come back in larger numbers over the coming months," said De Silva.
"I am kind of excited to return to campus but also nervous travelling again because of the pandemic."

Alick Lazare, a third-year computer engineering student at Ryerson
Lander agrees. He says if transit users start to feel more comfortable using public transit services with new technology in place, it would ultimately increase the demand.
"All of a sudden what the province or city starts to realize is, 'OK, if people are comfortable using their public transport infrastructure, then we can take money away from the roads and bridges budget,'" said Lander. "That money can be allocated to putting more buses on the road or to building another line. Toronto for years has said that they need another line for the subway. If you show them that the demand is there, then the upgrades come with it."
While some Ryerson commuters are likely to feel anxiety about returning to public transit, there are some positives.
Lander says commuters can be certain they're making a sound economic choice when they use public transit.
"If you spend three hours a day in your car commuting Monday to Friday, that's 15 hours. Add on a couple of hours on the weekend, you are now at 17 hours. That means 10 per cent of your week is spent in your car, which also means that 90 per cent of your week, your car is spent unused," said Lander.
Even when the car isn't in use, drivers are still paying for gas, parking, insurance and other maintenance fees, according to Lander. "There is a real compelling argument that public transit can deliver bigger value than car ownership."
RELATED: Skills learned through online study could benefit graduates in the post-pandemic workplace