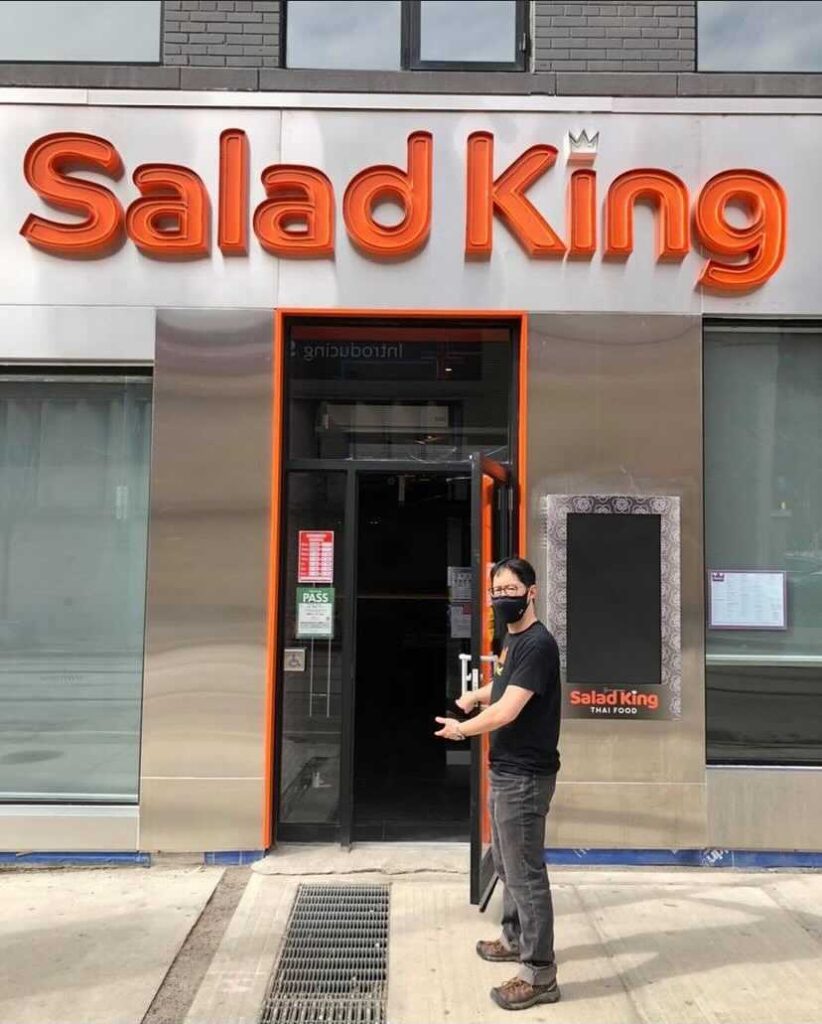 Alan Liu says he can remember how rosy everything appeared as he headed into the year 2020.
It was to be a bright new beginning for Salad King, his Thai restaurant located across the street from Ryerson's Student Learning Centre. Nearly 30 years after Liu's family first took over the Yonge Street restaurant after moving from Hong Kong to Toronto, Liu had finally secured a second location.
That January he signed a lease to open a second Salad King location, on Queen Street West. Liu said one of his goals had always been to expand the business, so everything was looking up.
But in the months that would follow, everything would change for Salad King, all as a result of the pandemic. The launch of the second location was delayed for over a year, sales dropped 60 per cent and Liu was forced to lay off the majority of his staff in order to keep the restaurant afloat.
"It was hard laying off people. There was no time to really get emotional about it, it was just a matter of execution back then," said Liu.
"A lot of my staff have friends and relatives in China, so they already had an early warning that something like this was going to happen," he said.
IN OUR COMMUNITY: One café offers a lesson in surviving the pandemic
Looking back now, Liu says keeping Salad King open was difficult, but something he managed through financial diligence, signing on with delivery services and using government support programs designed to help keep businesses alive.
"We've been very, very cautious with our finances," he said. "There was no room for error."
For the first few months of the pandemic, Liu said Salad King offered takeout and delivery through Foodora. But the restaurant was then forced to switch over to Uber Eats and SkipTheDishes after Foodora pulled out of the Canadian market barely a month into the pandemic. However, the switch worked out well, as the new food services brought in new customers and made Salad King more accessible.
"We're happy that our delivery programs are still strong," said Liu. "It's exciting to know that there is a demand for our food."
Salad King has gained popularity in Toronto among food enthusiasts for its spice level, which is measured by chilis, and for its secret menu. All food items have the option to choose between one to 20 chilis, ranging from very mild to very spicy. The secret menu on the other hand, is not really a secret anymore as Islamic noodles, the star order off the secret menu, is a notoriously popular option.
IN PICTURES: How time and a pandemic have changed Ryerson's campus
While the food delivery service thrived, Liu says relief packages and subsidies issued by the government towards businesses helped the business tremendously. The restaurant was eligible to receive the Canada Emergency Wage Subsidy (CEWS) and the Canada Emergency Rent Subsidy (CERS), two subsidies that were vital in the support of the second Salad King location.
"We definitely did need all of the government relief packages. In downtown [Toronto], there are a lot of overhead costs, [so] we definitely needed those subsidies to keep us afloat."
The most difficult time period for Liu over the last year and half has been the last few months. He pointed out how the government's rollout of the Ontario vaccine passport system has caused him a lot of consternation.
"Most of the frustration comes from the unknown, the inconsistencies and the decision making from the [provincial] government," he said. "When we were asked to start checking for vaccine passports, the guidelines weren't issued until the day before we were supposed to check. Even then, it was a very sloppy document."
RELATED: Traffic safety experts worry about pedestrians as more people, vehicles return to downtown streets
Liu said the last few months were also the most difficult because of the culmination of several challenges: his dissatisfaction with the province, most Ryerson students not being around campus and the tapering off of government subsidies, all of which contributed to an uncertain environment.
"Opening everything up and causing unpredictability is not what helps us," Liu said. "Building that predictable environment, where we can plan ahead, that's what is very useful."
Instead of reopening the province in the structured way that Liu hoped for, he says the abrupt reopening caused complete frustration.
Despite these troubles, Liu said he remains optimistic for the future and is excited about the future of Salad King, particularly about the new location and the return of Ryerson students.
Ryerson students play a pivotal role in Salad King's attempts to return to normalcy. According to Liu, the restaurant needs to see 70 per cent of its pre-pandemic business return in order to break even. A key portion of this target relies on Ryerson's return to in-person classes in the winter 2022 term.
"Ryerson students are very important to Salad King," said Liu. "They were the backbone when we started and they are still a significant part of our customer base. We're definitely missing them."
READ MORE: