Podcast: Play in new window | Download
Subscribe: Apple Podcasts | Google Podcasts | Spotify | Stitcher | RSS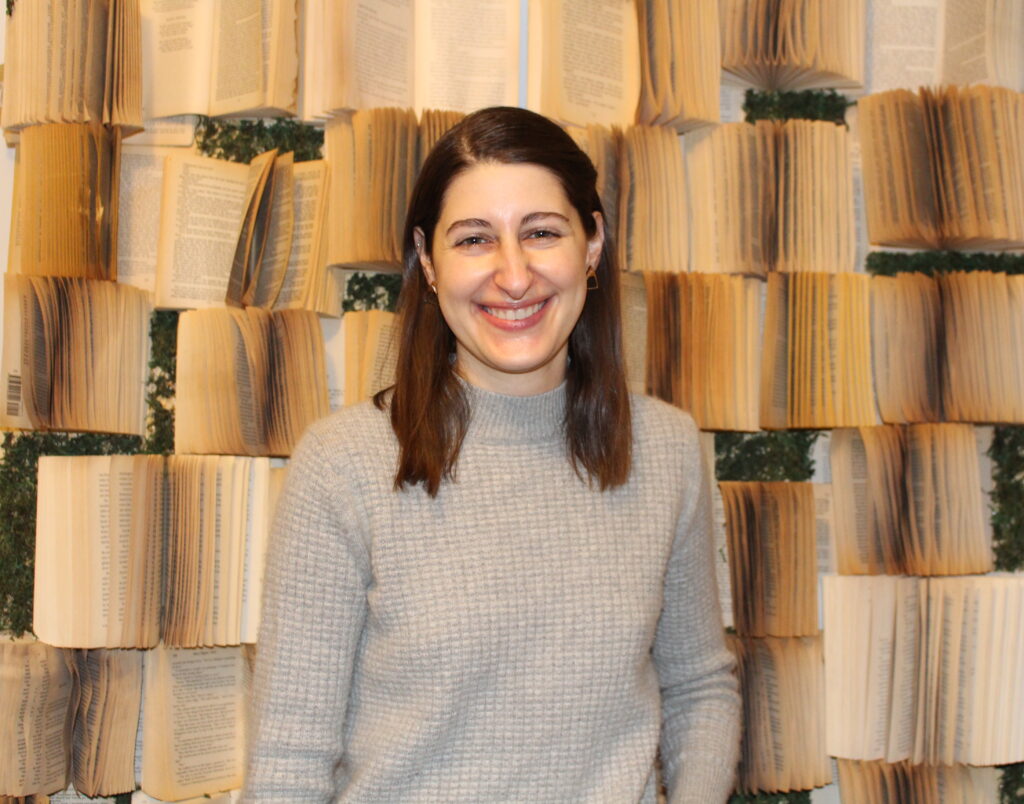 Listen to the story here:
Growing up, Julianna Notten was a self-proclaimed book nerd. She was especially into A Series of Unfortunate Events, the children's novels by Lemony Snicket, enamoured by the series' quirky surrealism, and always thought she'd be writing novels when she grew up.
Then, the artistry of a particular Wes Anderson film changed her life.
The attention to detail and the role of art in Anderson's movies had Notten hooked. "I saw The Royal Tenenbaums so many times … I fell in love with the visual storytelling," said Notten.
Now, the 2015 grad from Toronto Metropolitan University's (TMU) film studies program is a full-fledged filmmaker themselves. After creating several shorts, their debut feature film opened in theatres and began streaming on digital platforms on Feb. 3. (Editor's note: Notten has asked to use she/they pronouns interchangeably throughout the article.)
Erin's Guide to Kissing Girls, which Notten wrote and directed, follows best friends Erin and Liz as they navigate their last year of middle school. Their friendship is put to the test when Erin becomes consumed with her plan to kiss a girl before the school year ends, while Liz wants to spend as much time as possible with Erin before they go off to different high schools.
The poster and trailer for Erin's Guide to Kissing Girls debuted exclusively on Teen Vogue on Jan. 12. In a quote in the accompanying article, the Toronto filmmaker called it "a love letter to" her "younger self." It was important to Notten to tell the story through a queer lens since she wasn't able to explore her own sexuality growing up.
"It was sort of in a way for me to reclaim that and give my younger self the film that she needed to see at that time," said Notten. "Hopefully young people today have a chance to see themselves represented on screen in the way that I needed to."
The short stuff
Like many filmmakers, Notten started out by making shorts. They wrote and directed a few throughout their time at TMU, including their thesis film, Earth to Avery, which premiered at the TIFF Kids International Film Festival in 2016.
It's no surprise, then, that their first full-length project began as a short as well. "[Erin's Guide] was the first film that I shot after I graduated…I fell in love with the characters and began to imagine what the story may look like as a feature," they said.
TMU is a designated industry partner of Telefilm Canada, which means the university can recommend projects to a Telefilm grant program called Talent to Watch, which assists rising filmmakers looking to fund their first feature film project. In 2019, James Warrack, one of Notten's former film professors, championed Erin's Guide for a grant.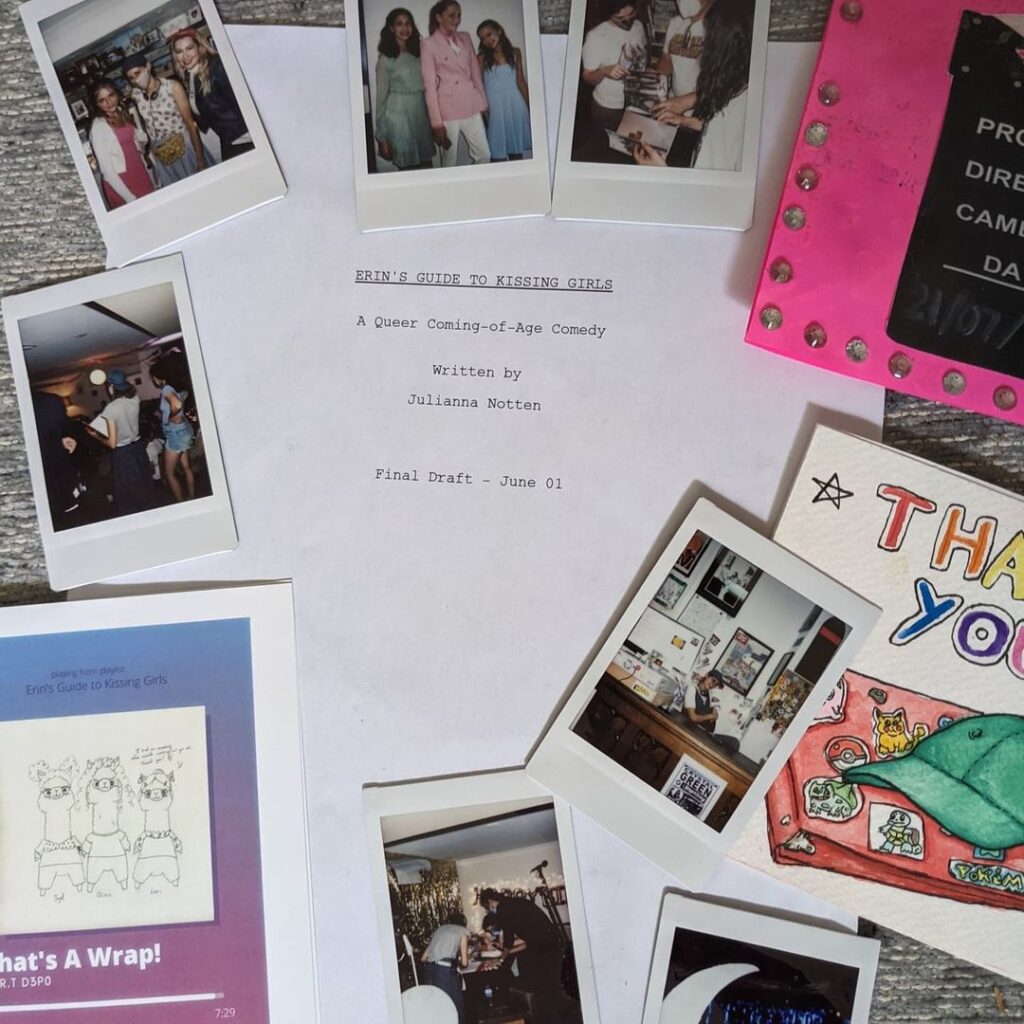 "It was important to me to help her blaze her path with her own talents," said Warrack. "I innately knew that Telefilm would have an interest and of course, they did."
Hayley Wong, Erin's Guide cinematographer and another TMU alum, met Notten through a third-year group film project in 2013
Notten has "definitely gotten more confident and is willing to take more risks with her actors and with her overall vision," said Wong. "I think she's definitely grown in a lot of ways stylistically and that's part of why it's so fun to work with her because she's willing to grow and learn and push herself."
The Making of Erin's Guide
Notten received that Telefilm grant in the summer of 2019. She had planned to begin shooting in the summer of 2020 but production came to a halt due to COVID-19 restrictions. "I was just really depressed when it came to the project," said Notten. "I felt stunted and I would get panicked every time I opened the [script] because it was like, 'Is this gonna happen?'"
Shooting resumed in 2021. While some crew had left and needed to be replaced, Notten was able to keep their leads; luckily they were still able to realistically play eighth graders. "They were drinking their unicorn blood and kept their youth," Notten jokes. "I can't imagine anyone else in those roles."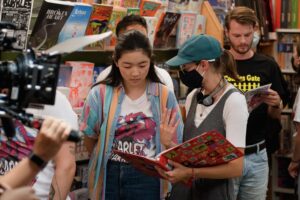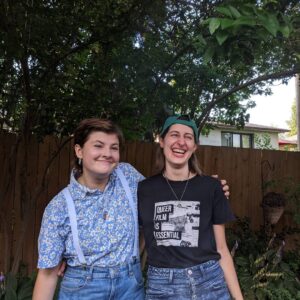 One thing directing Erin's Guide taught Notten is the importance of rehearsal time. "I really appreciated that for four or five months before we went to camera, we were meeting every week over Zoom or in my backyard and sort of running through different scenes and sort of really getting into the crux of what was going on in these characters' minds," said Notten.
Looking ahead
Notten currently has two projects in the works. One is a feature film called And I Feel Fine, which she is developing with the support of a Canadian Arts Council grant. The story follows estranged sisters Morgan and Annika in the last days of 1999 as "Annika brings Morgan out of her sheltered bubble for one final hurrah of crashing parties, inadvisable make-outs, outsmarting cops and exacting revenge."
The second project is a TV series called Well That's Just Super that Notten co-wrote with her sister, Lydia, and follows the lives of four queer teens who gained superhuman powers after a botched biology project. The pilot was funded by the CBC Creative Relief Fund; Notten is currently in talks with a production company that is interested in the show's option rights.
In her interview with Teen Vogue, Notten discussed the vital representation that the "fabulous hybrid" of coming-of-age and LGBTQ genres offers queer youth.
"Erin's Guide is a radical film that will have a positive impact for the girls it portrays and the people they love. When queer women tell their own stories on screen, everyone stands to benefit."