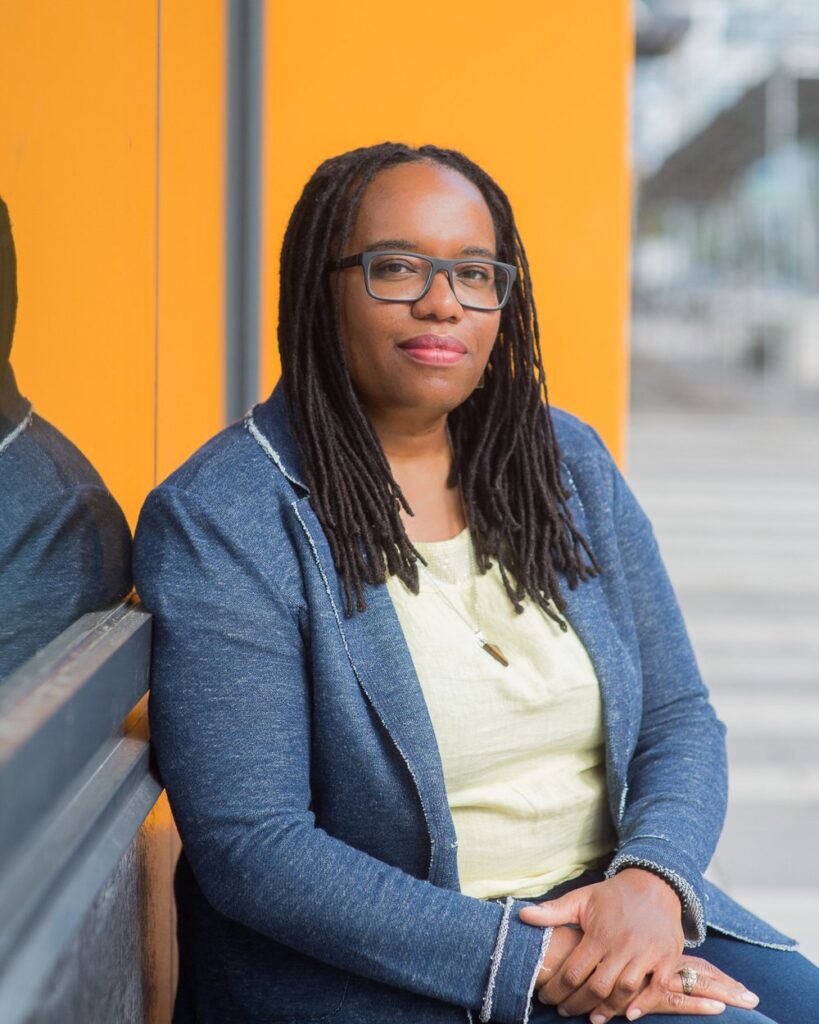 Listen to the full story here:
Speaking her mind is an essential part of who she is, says Cheryl Thompson, a writer, historian, educator and trailblazer in the field of Black studies.
"I just happened to be born into a family where they always encouraged us to be ourselves and to say what was on our minds, so I never got censored at home," said Thompson, whose passion for Black studies led her to create a Black studies minor at TMU with her colleagues and fellow professors, Mélanie Knight and Anne-Marie Lee-Loy. They worked with other faculty members, Black community leaders and students at TMU to develop the minor and ensure it was both rigorous and accessible.
"When I went to school, I just happened to pick certain subjects that I was really interested in that would just bring out more of that," said Thompson.
Thompson, who is an associate professor, is quick to point out that her interest didn't mean that she didn't face challenges: "Racism is real, and there were many times that teachers didn't necessarily appreciate my outspokenness or my forthrightness," she added.
According to the TMU website, the Black studies minor was designed to provide students with "an interdisciplinary approach to exploring the histories and cultures of Black diasporas, ideologies of anti-Black racism, themes of Black resistance to oppression and exploitation, and the range of political strategies and community-based mobilization tactics Black activists and their allies have employed to counter systemic and institutionalized oppressions and fight for social justice."
The minor, housed in the Faculty of Arts, launched last fall with courses from 13 departments and schools. The curriculum includes courses that focus on subjects such as the history of Black activism, Black literature, colonialism, and anti-Blackness. Specific examples include "Reporting on Race: Black Canadians and the Media," created by assistant professor Eternity Martis in the School of Journalism, "Black Literatures and Cultures," "Black Arts, Black Power" and "Colonialism and Imperialism."
Thompson says part of their inspiration to create the Black studies minor at TMU was "to really create something that was structured, that people could find and that you can take more than one course your entire university career on the topic that you're really interested in."
"The minor will make it easier for students to meet other students with similar interests and help foster a sense of belonging within the university and within a larger community of Black scholarship," Lee-Loy said in an announcement by the university in October 2021.
"The program will entail an opportunity for students to learn about the rich, diverse histories, experiences, creativity, [and] lives of Black peoples around the world," Knight told Breakfast Television in November 2021.
Knight also said that the Black Lives Matter movement, which was amplified in the summer of 2020, "pushed it forward" and "brought it to light," referring to the motivation behind the creation of the Black studies minor.
Through the program, the co-creators also hope to bring greater visibility to Black scholars and thinkers in the academic community and spark meaningful conversations about diversity and representation in higher education.
Thompson and her colleagues are looking to expand the reach of the Black studies minor and advocate for greater diversity and representation in all areas of academia, and she is also developing new programs to deepen students' understanding of Black history and culture.
Thompson says students shouldn't just get to learn about "history and things that might be" but also "the amazing culture and tradition."