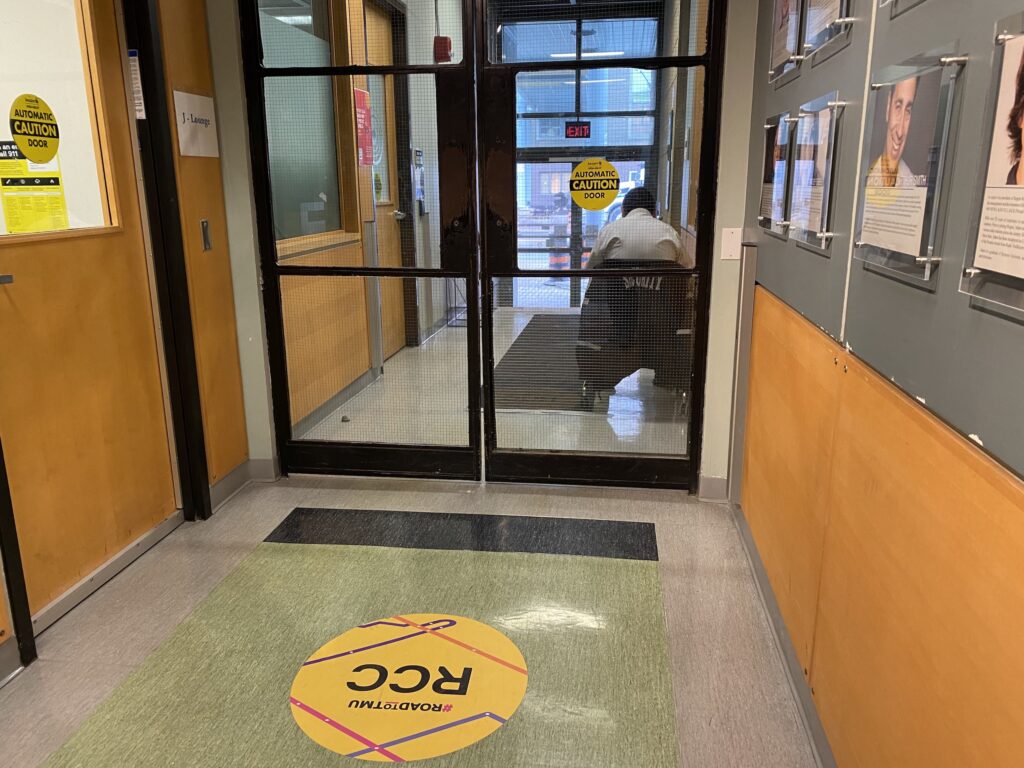 Listen to the story here:
Students and staff who come through the Rogers Communications Centre (RCC) and other buildings on campus may notice heightened security — from new entry locks on the RTA office door to more security guards at each entrance.
Toronto Metropolitan University (TMU) president Mohamed Lachemi said security has been temporarily increased at the RCC following a November 2022 incident in which online threats were made against three RTA staff.
The suspect was arrested on Nov. 28, but the enhanced security measures were only introduced last week — a discrepancy Lachemi declined to account for, reiterating that there's "no ongoing threat to the community at large."
He said he was not aware of the installation of a camera intercom system at the door to the RTA offices.
RTA operations manager Shawn Haswell said he asked for the intercom system to be installed because staff "can't see through the door."
"We are interested in increasing the security measures for our staff," Haswell said.
When asked if the intercom system had any connection to the threats made against RTA staff, Haswell deferred to security services.
"The intercom system was installed because I asked for an intercom system to be installed to make our staff safer," he said.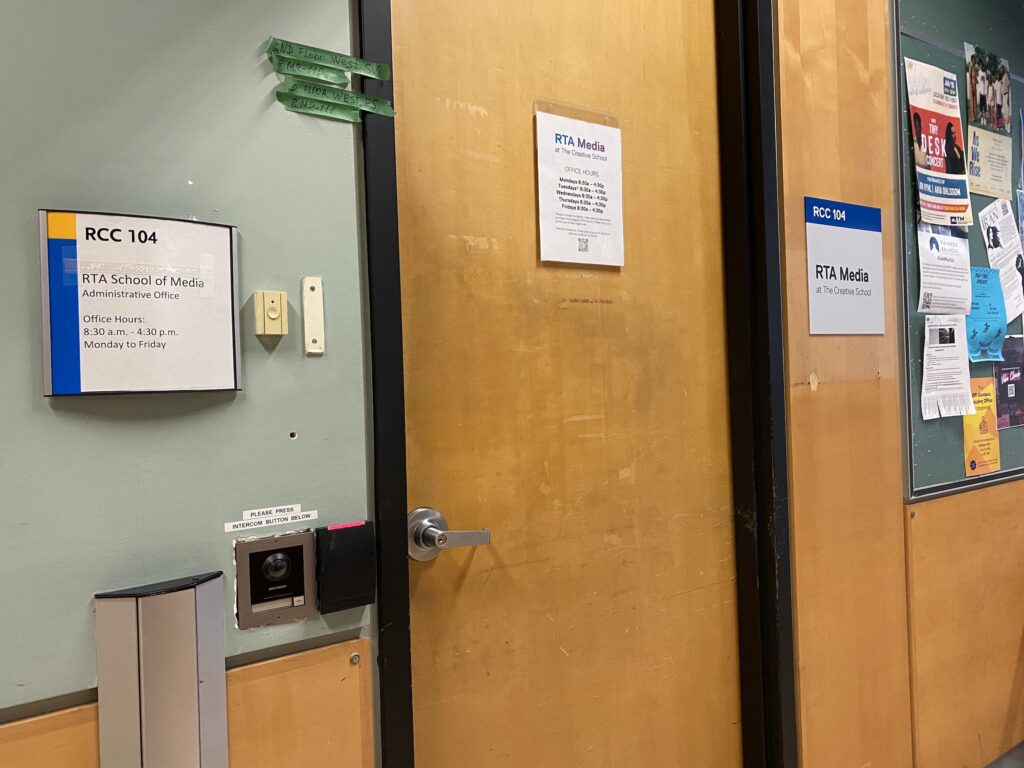 Alexandra Bal, an associate professor of new media in RTA who works directly with those who were threatened, said the incident pushed faculty members to learn basic self-defence strategies.
"Sometimes an ounce of prevention can make a huge difference when you're in a crisis situation," she said.
While Bal could not disclose the nature of the threats or the identities of the faculty members who received them, she said the threats were serious enough to make the presence of security necessary.
"When things happen in the virtual world, you don't really know what can happen in the physical world," she said.
The new RCC security measures follow those implemented in Kerr Hall and elsewhere on campus following a months-long safety audit. That audit was conducted in response to several incidents on campus, including two sexual assaults at Kerr Hall — one in March 2022 and the other in October 2022. The latter prompted a person named Hannah Powell to create a petition for increased campus security, which has since garnered more than 13,000 signatures.
The resulting security enhancements — most of which were put in place prior to this semester — include an increase in security guards and crime prevention specialists in Kerr Hall and a partnership with Toronto Police Service that has officers patrolling university grounds. Sixteen new CCTV cameras and two intercoms were also installed across campus, according to TMU.
It's unclear what exactly a crime prevention specialist is or what the job entails. A TMU spokesperson had not clarified by time of publication.
Seeing security guards in Kerr Hall makes fourth-year graphic communications management student Reanna Devera feel like the university cares about its students. However, she said having several officers concentrated in a certain area can make students feel less safe.
"Sometimes it defeats the purpose when there's just so many of them," Devera said.
The increase in security presence may actually contribute to greater insecurity on campus and among racialized community members, said Anne-Marie Singh, an associate criminology professor at TMU.
"There is a difference for me between safety and security," Singh said. "Safety measures are going to create insecurity…insecurity is going to threaten certain groups' bodily integrity."
Singh called the security increase "a lazy solution."
"The police should only be brought in when everything else fails," she said.
Singh and Layal Shuman, an assistant professor of design studies, are both members of the faculty union equity committee. They both say they wish the university had made use of their expertise when making this decision. By not consulting the equity committee the school created the opposite of an inclusive campus, they said.
"As a woman and racialized faculty member, there's nothing about being watched that ever is going to make me feel safe," Shuman said.
In 2020, the university cancelled its special constable program following worldwide protests against anti-Black racism and police brutality. The program would have allowed patrolling officers to detain, arrest and use force when responding to incidents on campus.
"How did the new security measures differentiate from having special constables on campus? Well now we have people with guns," Singh said, referring to the presence of police on campus.
A change in campus culture — not more policing — is needed to increase community safety, according to Toronto Metropolitan Students' Union president Marina Gerges.
"We know that security and police do not keep everyone safe," Gerges said via email. "We know there is a long history of harm caused by police against BIPOC, queer and disabled communities and we will continue to make that point clear to the university administration whenever we have the opportunity."
TMU security could not confirm by publication if patrolling officers have received — or will receive — training to respond differently to incidents involving staff and students, in comparison to incidents involving non-TMU community members. However, Lachemi said a community safety plan has been implemented that "recognizes the realities of our diverse campus and lived experiences."