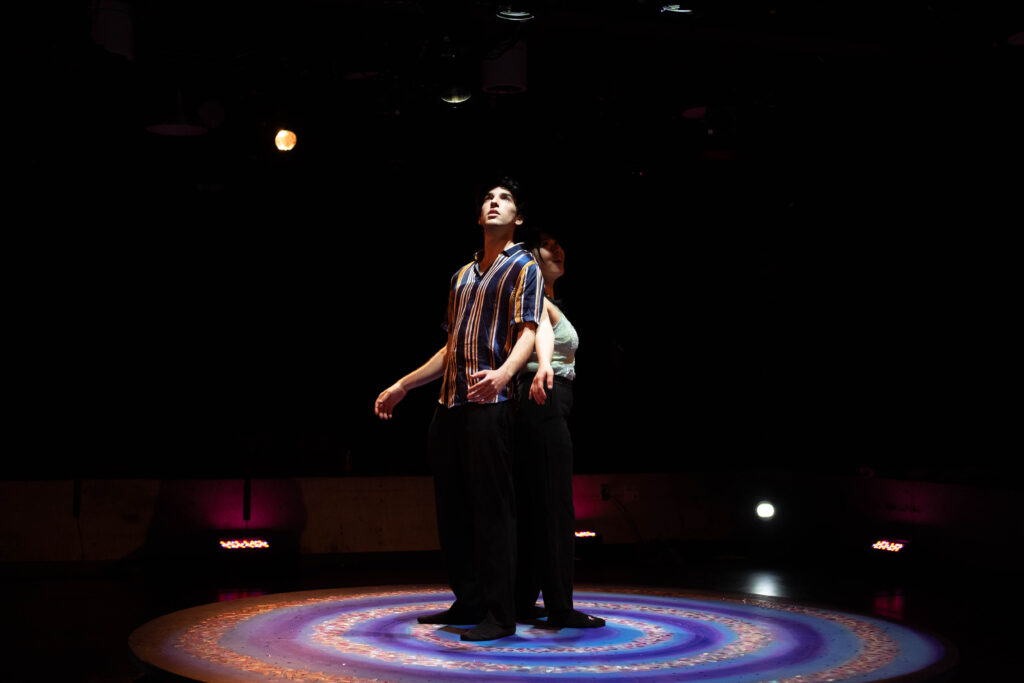 Two of the six shows being performed at this week's Toronto Fringe's Next Stage Theatre Festival – 'ECHO' and 'POOL PARTY' – are being produced by a company composed of TMU alumni.
The core creative team of A Front Company met as students at Toronto Metropolitan University, with all being members of the Class of 2022. Robert Morrison, Kole Dunford, and Katarina Fiallos were a part of the Performance Acting program while Mathilda Kane and Olivia Seward studied Performance Production.
The team first heard that 'ECHO' was selected for Next Stage in Sept. 2022. It is a modern retelling of the Greek myth of Echo and Narcissus, written by Dunford. "We were impressed with the quality of the script and the vision of the company," explained Lucy Everleigh, Toronto Fringe's executive director and a member of Next Stage's five-person selection committee. This gave the team time to apply for grants, including the Ontario Arts Council (OAC). "[OAC's Funding] made this whole process possible in the first place, and accessible to designers that we did not have access to before and really grow our team," Seward said.
The company's other Next Stage show, 'POOL PARTY', was a curated live art show bringing together 14 artists of diverse mediums and was actually born from 'ECHO'. "A big plot line in 'ECHO' is one of the characters wants to create a bar and a party and a performance space called the 'Reflecting Pool,'" explained Morrison. "'POOL PARTY' was born a year ago when we were like, 'what if we take this idea that exists… and bring it into the real world?'" The performance was held for the second time ever on the evening of Oct. 22, 2022.
Even outside of their individual connections, A Front Company is deeply rooted in TMU according to the team. "'ECHO' first started in a writing class," explained Dunford. It was then first performed as part of Seward's thesis project at the Terra Firma Festival which was presented by the Creative School, the Society of the Creative School (SCS), and TMU. Another Front Company show called 'Morning After' also premiered there, later running as part of this summer's Toronto Fringe. On top of practical production knowledge, Kane also said they learned how to "make things happen" with the resources and timelines available.
"The only thing that made this whole experience possible was school funding," Seward added, specifically mentioning SCS. "Artists can make work and they can feel proud of work, but work cannot happen without money… Shows have gone on to live lives because we had access to money to buy the wood and the screws and the lights and the space and to gain access to those resources."
Other takeaways from their time at TMU are less tangible. Seward brought up being taught by Sholem Dolgoy, a prominent Canadian lighting designer turned TMU instructor. "He talked about the fact that simplest is best but simplest is hardest," she explained. "I feel like for 'ECHO', we really use that a lot, like considering what needs to get done and how can we most efficiently do it."
According to Morrison, the team will be going back to the drawing board after 'ECHO' closes. Personally, he will be reading "a bunch of plays" along with developing a new one with Dunford called 'SKYSCAPER.' 'ECHO' will be performed again on Oct. 25 and 26 at 5 p.m. at Buddies in Bad Times Theatre before taking their Next Stage final bow on Oct. 28 at 6 p.m.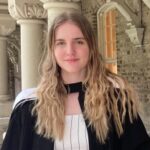 Drew-Anne, or Drew, is a Master of Journalism student at Toronto Metropolitan University. She previously received an Honours BA in International Relations and Peace, Conflict, and Justice Studies. Her freelance work can be found in Ottawa Magazine and Spacing. She previously served as editorial fellow for This Magazine and is now the Head of Research at The Otter.