For Muslims observing Ramadan, this year is going to look a lot different than usual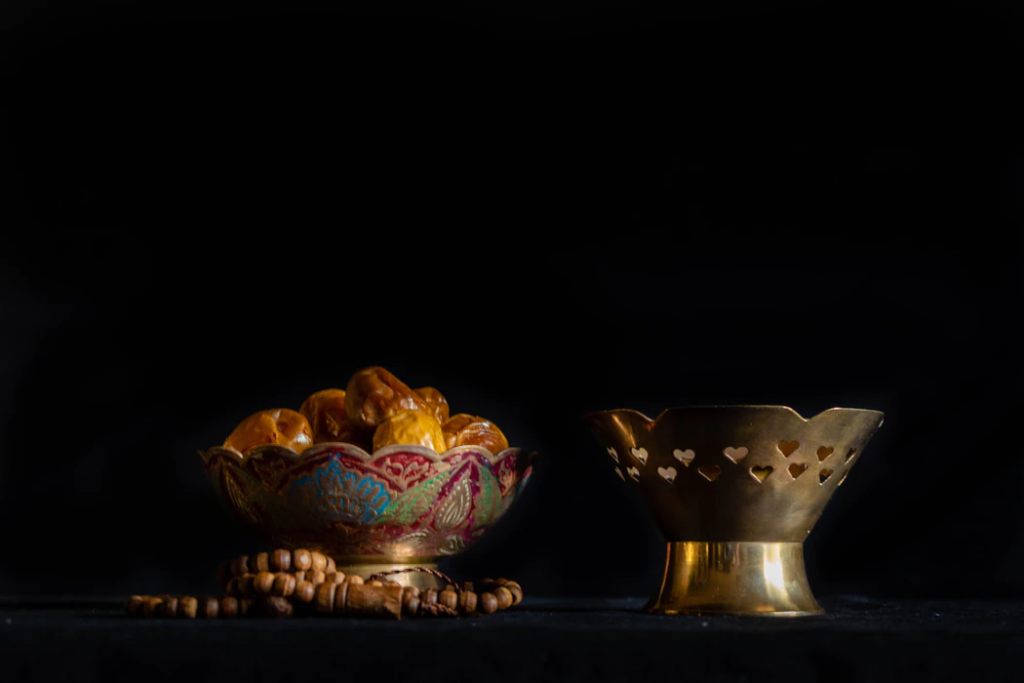 Although most people know that a large part of Ramadan is fasting during the day, much of the experience actually happens at night. While the rest of the city is asleep, Muslims gather at the mosque for late night prayers. In the quiet midst of twilight, all that can be heard is the melodious recitation of the Qur'an being read out loud and hundreds of people standing together in prayer.
Ramadan, as a whole, is a communal experience and it revolves around being with friends, family and the community at large. Every year, large family dinners happen when it's time to break the fast, gifts are distributed across the community and of course, people gather for prayer at the mosque between dusk and dawn every single day for 30 days. Often, the mosque is a place to reconnect with people that they only get to see during Ramadan.
However, the COVID-19 pandemic has forced mosques to close, eliminating social gatherings and created a sense of isolation. Ramadan began shortly after the beginning of the COVID-19 pandemic last April and this year will begin on April 13. Ramadan can be especially lonely for individuals who weren't always Muslim but are now reverts to the Islamic faith.
Reverts are sometimes the only person in their family who observe Ramadan. However, the community remains hopeful and is creating ways for everyone to stay connected virtually. Ramadan is not the only religious holiday that has had to adapt to virtual community celebrations. A few weeks ago, the Jewish community had to celebrate Passover while abiding to social distancing measures. The Christian community had to broadcast their Easter services online and churches had to remain closed. Strangely, it's comforting to know that people of all faiths are experiencing the same feelings of disconnection and seclusion during the pandemic.
---
Many mosques around the Greater Toronto Area have planned virtual programs to take place throughout the month, in an effort to keep the community connected. Islamic Society of North America (ISNA) Canada, a mosque located in Mississauga, has a month long virtual program schedule, with a variety of lecture topics and online webinars. They are also offering free meals to the community during every weekend of Ramadan.
This year, ISNA Canada is emphasizing their goal of keeping the community connected, while continuing to abide by the province's safety measures.
"Last year when COVID-19 hit, ISNA Canada witnessed firsthand the strength of community," an ISNA Canada spokesperson said. "We saw an increase in our volunteer base, an increase in virtual learning and overall a desire to be connected, engaged and give back."
What is Ramadan?
Ramadan is a month of fasting from before dawn until sunset to focus on increasing their spirituality and engaging in worship. Although the physical part of fasting entails abstaining from eating or drinking between sunrise and sunset for the month, it has a large spiritual component as well. During Ramadan, Muslims focus on making themselves better people overall, whether that be trying to give back to the community or increasing their dedication to the faith. Many Muslims also try to engage in extended prayers, especially at night, donate to charity and try to incorporate good deeds into their lifestyle. Ramadan is considered a cleanse for the mind, body and soul and the aim is to come out a better person than how you went in.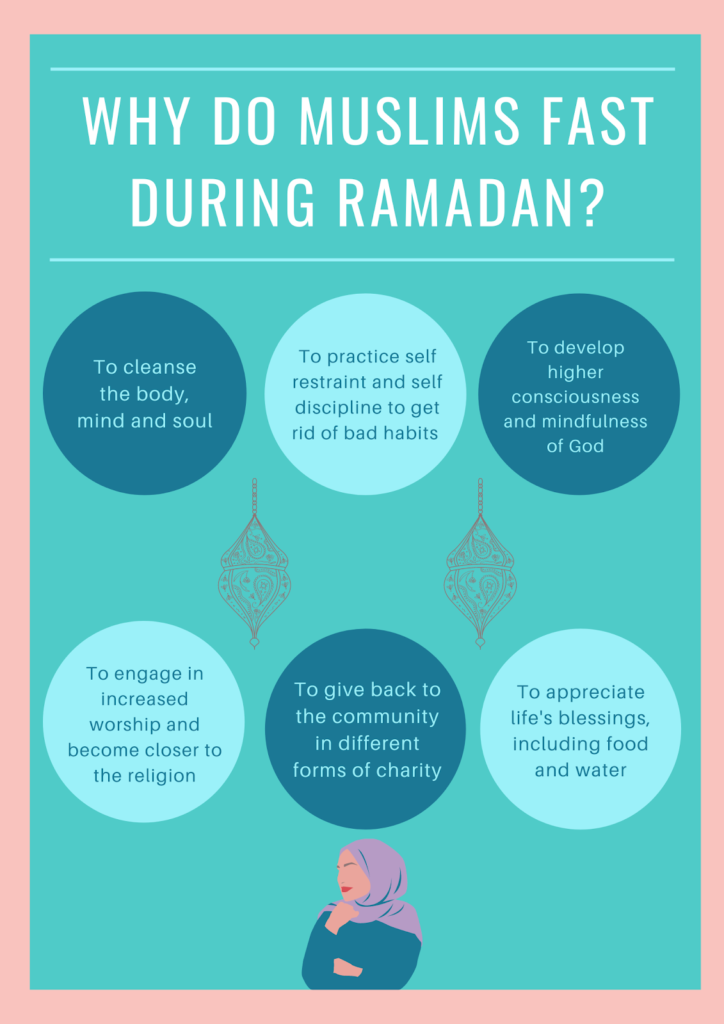 What does a typical day look like while fasting?
The days in Ramadan are quite similar to any other days in the year. Muslims still go to school, work or attend to daily tasks while fasting; the only difference is that there is no eating or drinking during the day. To begin fasting, Muslims wake up early to eat a pre-dawn meal called suhoor. During the day, it's business as normal and everyone goes about their daily routines. However, if you notice your Muslim friends, classmates or colleagues are a little more tired during this time, it's usually because they're fasting!
Between dawn and sunset, there are four prayers that take place at allocated times throughout the day. At sunset, it's time to break the fast with a meal called iftar, where many Muslims choose to eat dates and drink water first and then have a larger meal after. Shortly after, the night prayer is performed. There is also an option to perform voluntary ritual prayers at night called taraweeh, which only take place during Ramadan. Then, this cycle is repeated for the rest of the month, followed by a celebration at the end called Eid.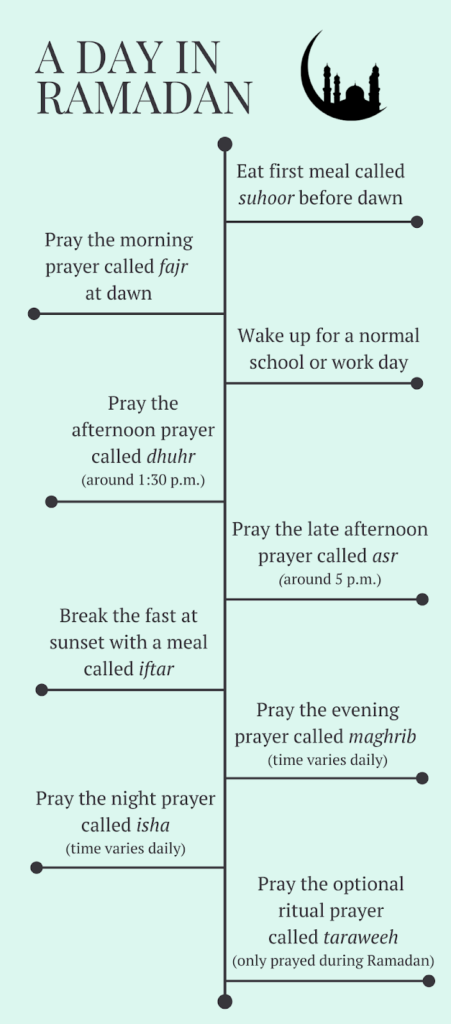 Is every Muslim required to fast during Ramadan?
In Islam, health and sustenance are very important, so there are a few exceptions of people who aren't required to fast. Individuals who are sick (physically or mentally), pregnant women, menstruating women, young children and the elderly are a few examples of people who are exempt from fasting. The general rule is that if fasting is detrimental to one's health, they do not have to fast. However, all able-bodied, healthy individuals should participate in fasting.
Although this year's Ramadan is going to be observed differently, the essence of the month stays the same. I still look forward to giving back to my community in Toronto, strengthening my faith and staying in touch with my friends and family online. Ramadan Mubarak to those celebrating!