Partnered with St. John Ambulance, the RU Therapy Dog program aims to improve students' mental well-being virtually
The Ryerson University Therapy Dog Program was forced to move online last year due to COVID-19. However, the program's aim to improve mental well-being has continued as a way to help students de-stress virtually.  
The program's partnership with St. John Ambulance has provided Ryerson students with years of comfort and stress relief, by allowing them to pet and cuddle the dogs on campus.
Nipuni Kuruppu, RU Therapy Dog Program assistant, reports that although the students are sad they can no longer pet the dogs in person, a great de-stressor for some is having light-hearted conversations with the dog handlers and other students that drop-in virtually.
"These conversations also involve students telling us about their involvement in the school, what programs they're in, and they get to tell us about their pets. It's a nice way to develop a sense of community and a sense of belonging," said Kuruppu.
The RU Therapy Dog Program hosts virtual drop-in sessions twice a week. However, moving online has also proven to have its own challenges. According to Kuruppu, fewer students attend and participate in the online version.
"Because of Zoom fatigue, not many students are wanting to tune in even though it's a break from their school work. They either don't want to be on camera or they don't want to be online for longer than they have to," said Kuruppu.
Therapy dog teams, consisting of a team handler and dog, go through extensive evaluation and training before they can be certified for therapy. Every team is on a volunteer basis, dedicating their own time to helping other people.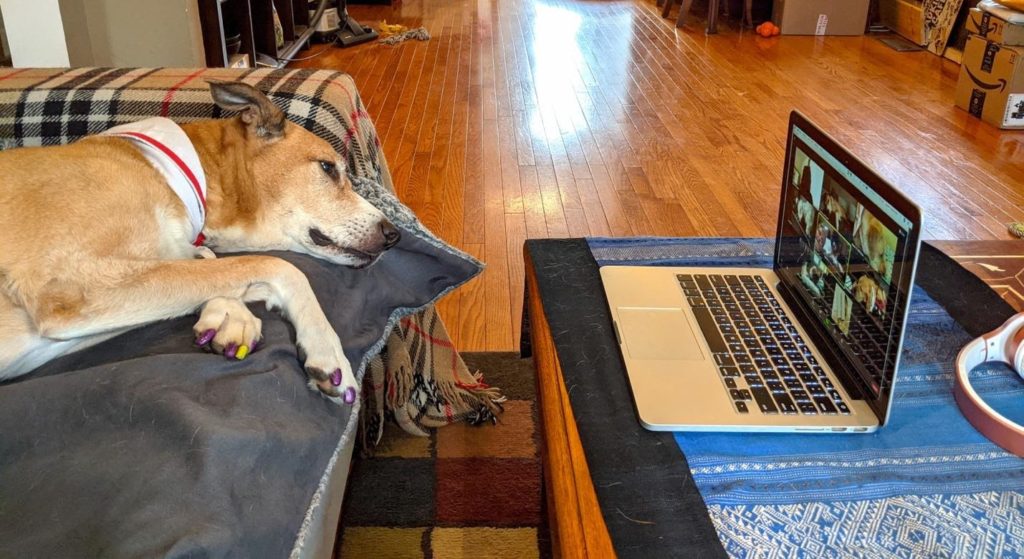 Christine Paradis, a Toronto branch adviser for St. John Ambulance Therapy Dog Program, said it's really hard when the students aren't engaging for both the handler and the dog. 
"It's very difficult for the therapy dog handlers, a lot of the students' cameras aren't on, so you don't know what kind of reaction you're getting from them," said Paradis. "The dogs end up going to sleep if there isn't a lot of action on the screen. It's not very rewarding for our dogs at all."
When asked if the therapy was as effective online as it is in person, Paradis answered, "not even close. We won't lie, we're doing the best we can."
Kendra Seguin, a second-year journalism student at Ryerson, started volunteering for the RU Therapy Dog Program after using their services to help relieve stress during her first year.
Different people engage in different ways. Seguin said she was never one to turn on her camera during these sessions. Instead, she would watch and listen to the more talkative students. Despite her presence lacking online, Sequin said she was highly engaged even if people were probably unaware of the fact.
"I think it depends on the person and what you're using therapy dogs for. If you're somebody who physically wants to pet the dogs and that is what makes you calm, then obviously online will not be as effective," said Seguin. "But if you see therapy dogs as an experience that is more than just petting a dog, and you can see it as talking to other Ryerson students, as talking to the handlers and making these connections with the Ryerson community, then it's still effective online."
Despite the struggles that have occurred from moving to a virtual platform. Paradis says she likes to remind her handlers that they are striving for quality, not quantity.
"You have to assume you made some type of impact. In person we can see that, we can see on their faces the joy and comfort they have with the dogs. Online it's harder. We just have to keep reminding ourselves that if we can bring out one smile that day, that's better than none," said Paradis.       
Students can attend the virtual meetings here.