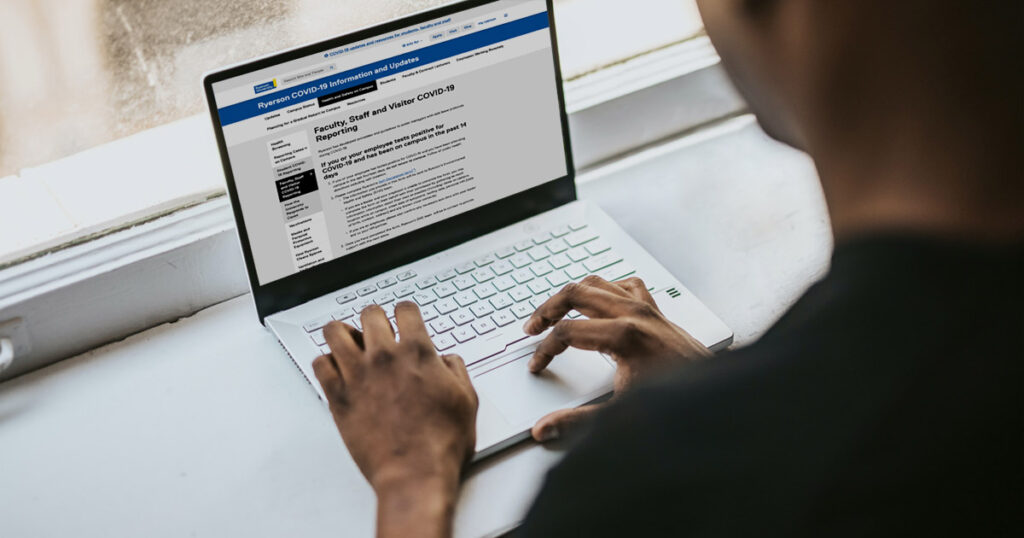 Ryerson is an outlier among Ontario's public universities when it comes to sharing information about confirmed COVID-19 cases on campus.
On The Record has found that 16 out of 23 public universities in Ontario report confirmed cases to their community with varying degrees of detail.
Ryerson is one of only seven schools that don't disclose any information.
This has been the university's policy since the start of the pandemic. And they're sticking with it — even now, after a string of recent cases in November and as campus prepares to return in January.
There have been 50 confirmed cases of COVID-19 on campus since the pandemic began. But this information is not clearly displayed on any official university channels, leaving the campus community largely in the dark.
On The Record has been able to confirm case information only through internal CUPE 3904 union emails. CUPE is notified of cases through Ryerson's Joint Health and Safety Committee.
CUPE president Laurie Jacklin says their members are disappointed with the lack of information from the university. She says CUPE members ask for more data, such as the locations of infected persons. Doing this is possible without revealing personal or identifying information, she said.
"Our members constantly ask for more data, such as the locations (buildings) visited by the infected person," she said. "Universities promote evidence-based research and our members are keen to access this data to make their own informed decisions about their safety while on campus."
Most Ontario universities choose to report their cases, even though a spokesperson for the Ontario Ministry of Colleges and Universities confirmed there are no official guidelines for post-secondary schools, and that the institutions are directed to their local health authorities for direction on contract tracing.
The decision hinges on finding a balance between maintaining people's privacy and providing enough information for the broader university community to feel safe and adequately informed.
View an interactive map showing how Ontario universities track their COVID-19 cases:
*Confirmed cases on the RMC campus are not released on the school's website, but are included in the overall Canadian Armed Forces numbers.
Health privacy is the specific reason Ryerson president Mohamed Lachemi gives for the university's decision not to make confirmed COVID-19 cases public.
"Given the small number of cases that we have had on campus, there is an increased risk of community members being able to determine the identity of an individual based on the location, date and/or circumstances of the case information," he said.
That concern doesn't seem to affect other Ontario schools. Both OCAD University and the University of Waterloo informed students and staff about their own COVID-19 cases.
OCAD's student population is nearly nine times smaller than Ryerson's as of 2018, yet their website reports every positive case on campus. OCAD has had four positive cases since the start of the pandemic. Waterloo's student population is roughly 3,000 more than Ryerson's as of 2021. Their website also reports every positive case on campus. Waterloo has had 85 positive cases since the start of the pandemic.
Reporting cases publicly is generally easier when there are more cases each week, says Amy Fairchild, dean of the College of Public Health at The Ohio State University (OSU).
"Publishing aggregate numbers, particularly rolling averages, does not compromise privacy," she said. "But if we had only a handful of cases a week, that could allow people to identify infected individuals fairly easily."
For example, she says, if one student calls in sick to her class and that week there is one case, it would be obvious who it was.
IN PICTURES: How time and a pandemic have changed Ryerson's campus
Compared to most universities in Ontario, OSU provides comprehensive data surrounding COVID-19, such as vaccination rates, on-campus testing results, and even historical case counts dating back to August 2020.
Fairchild says she was involved in the decision-making process at OSU to provide this information and has been a "strong advocate for sharing data as extensively as possible." Despite this, she says some people wanted even more details — case counts by faculty, case counts by program, case counts by residence buildings.
"Although we tracked all of those patterns behind the scenes and took action if we found any clusters, much of that data simply couldn't be shared because of the small numbers of cases in the majority of categories," she said.
Of the 16 Ontario universities that choose to publicly report cases, 14 have web pages dedicated to tracking cases on campus in a whole manner of ways throughout the pandemic.
Given how little of that information Ryerson chooses to share, how can members of the Ryerson community feel safe? Lachemi assured On The Record that impacted individuals have been notified, are being notified, and will continue to be notified in the future.
"The university follows the protocols outlined by public health agencies with regards to who should be informed of potential risk based on potential exposure and the privacy of the individual," he said in an interview.
READ MORE: