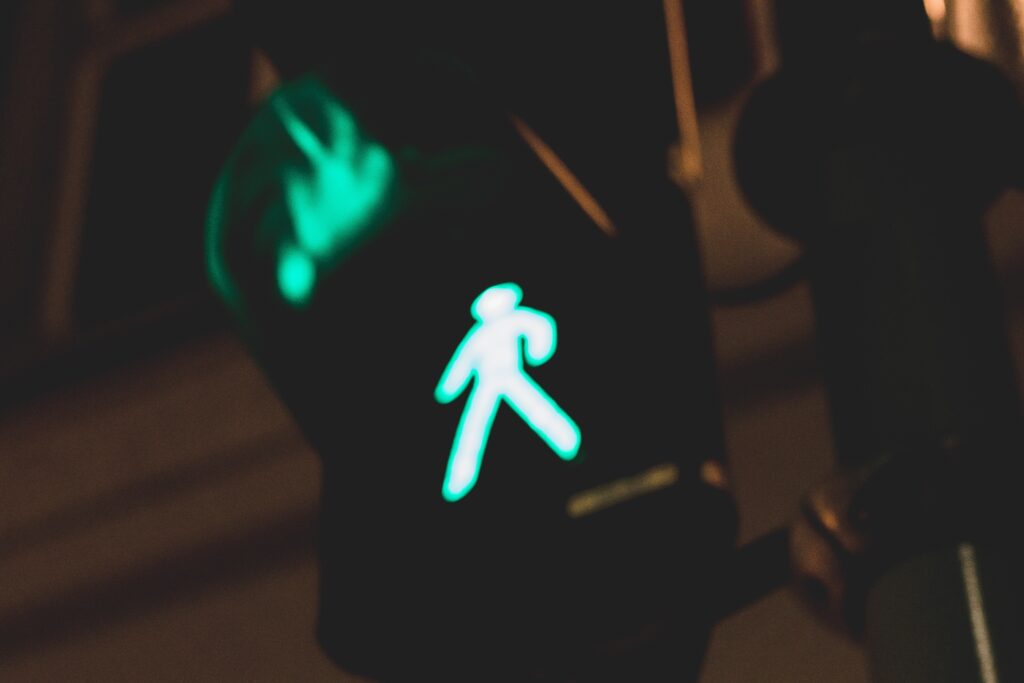 With students about to return to campus for the winter semester, the university hasn't done enough to prioritize pedestrian safety, says a Ryerson traffic safety expert.
Raktim Mitra, associate professor of urban and regional planning, said Ryerson's efforts to prevent traffic accidents have been inadequate.
"[During rush hour] when more students are getting off subways, the sidewalks are packed," he said. "These sidewalks are often blocked off due to construction, but apart from wider sidewalks, speed limits should be imposed [and] improved facilities should be considered."
RELATED: Pandemic learning left students with ADHD behind. Here's how a campus return could fix that
Turning vehicles are a significant cause of pedestrian collisions in an urban setting and many of these accidents are preventable, he said.
Mitra also said that since universities attract a lot of pedestrian traffic, improvements to street safety should have already been considered by the school.
"I'm not sure why we don't [already] have these [pedestrian] improvements for post-secondary schools," said Mitra. "Those interventions would have significant impacts at a low cost."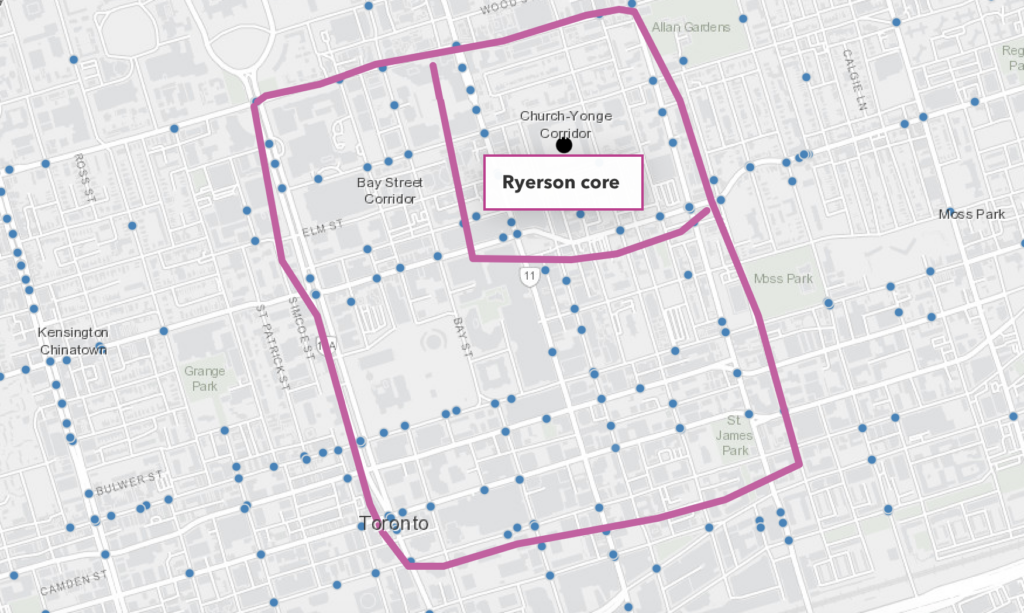 Traffic volume declined during the nearly two years of the pandemic, decreasing both the number of fatalities and the number of serious pedestrian injuries.
But pandemic restrictions are lifting and more vehicles are returning to the roads, just as pedestrians — including those who travel to and from Ryerson's campus — are also coming back to downtown corridors.
"There are a lot more people walking now," said Linda Rothman, associate professor of Ryerson's school of occupational and public health. "That worries me…many of the severe injuries seem focused in the downtown core, or where the real speed is."
Rothman, who is researching road safety trends, says she's discovered fewer accidents occurred downtown since March 2020, when pandemic shutdowns began.
That's in line with an On The Record data analysis using the Vision Zero Mapping Tool, which found that:
In the two-year period before the pandemic, there were 18 serious injuries and six fatalities within Toronto Centre.
In the nearly two-year period since COVID hit, the same area saw 15 serious injuries and one fatality.
This decline can be attributed to fewer cars on the road.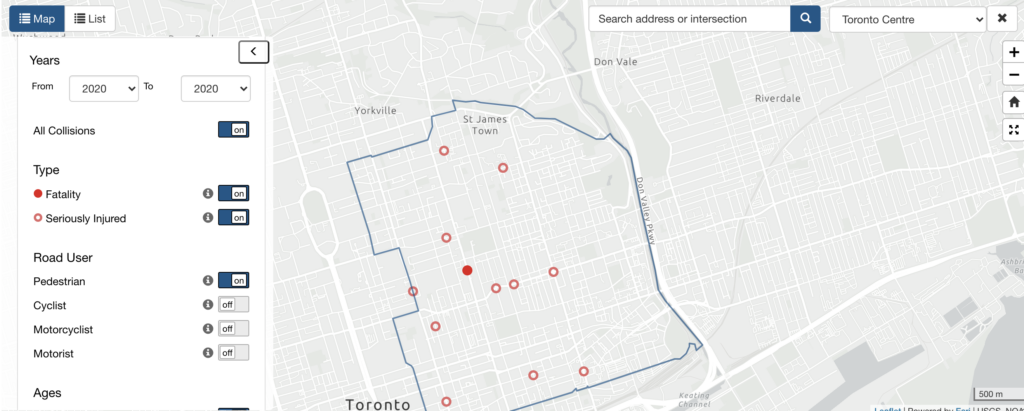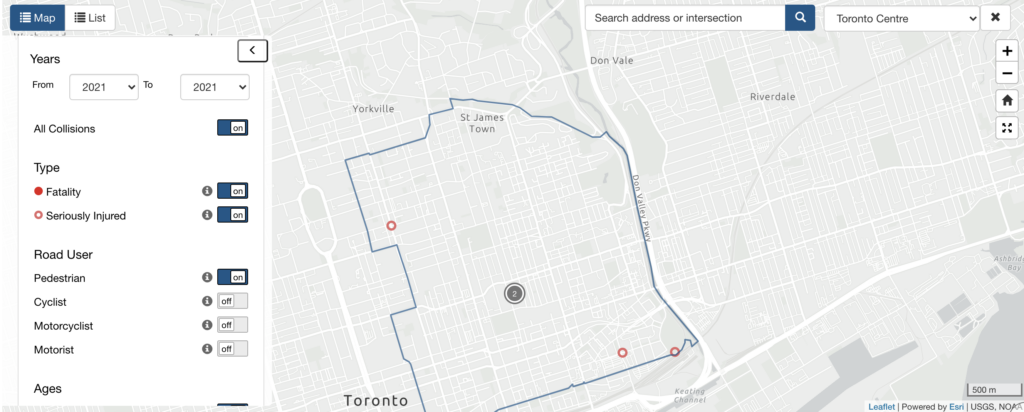 In 2019, 42 pedestrians were killed on the streets of Toronto, mostly from crossing intersections.
In 2020, 21 pedestrians were killed, half the number compared to the previous year.
And this year, with reporting complete up until Nov. 3, 20 pedestrians have been reported as killed.
Car traffic reached a low point around April 2020, when volumes at downtown intersections fell to between 30 and 50 per cent of pre-pandemic levels.
As of September 2021, traffic levels within the downtown core had risen to 75 per cent of pre-pandemic normal and are expected to continue rising.
At the same time, pedestrian traffic, which was down to 15 per cent of normal, had already risen to 35 per cent.
Further increase can be expected with the return to schools and work.
According to the Toronto police data portal, in 2019, the Church-Yonge Corridor alone saw four pedestrian collisions, with one fatality.
In 2020, though five pedestrian collisions were reported, there were no fatalities.
IN OUR COMMUNITY: Restaurant with long ties to Ryerson community members barely survived through COVID-19
IN OUR COMMUNITY: One café offers a lesson in surviving the pandemic
Mitra says having reduced speed limits on campus would have a positive impact on safety.
"When you get closer to a school, speed limits are often lower. There is research that suggests that the speed at which a car is travelling is very important when it comes to a pedestrian-vehicle collision," he said.
According to the World Health Organization, speed reduction matters.
Pedestrians have a 90 per cent chance of survival if they are struck by a vehicle travelling at 30 kilometres per hour or less.
The likelihood of survival drops to less than 50 per cent if a person is hit at 45 kilometres per hour.
According to data compiled by On The Record, very few speed limit reductions have been made on campus, though many have been put in place elsewhere downtown.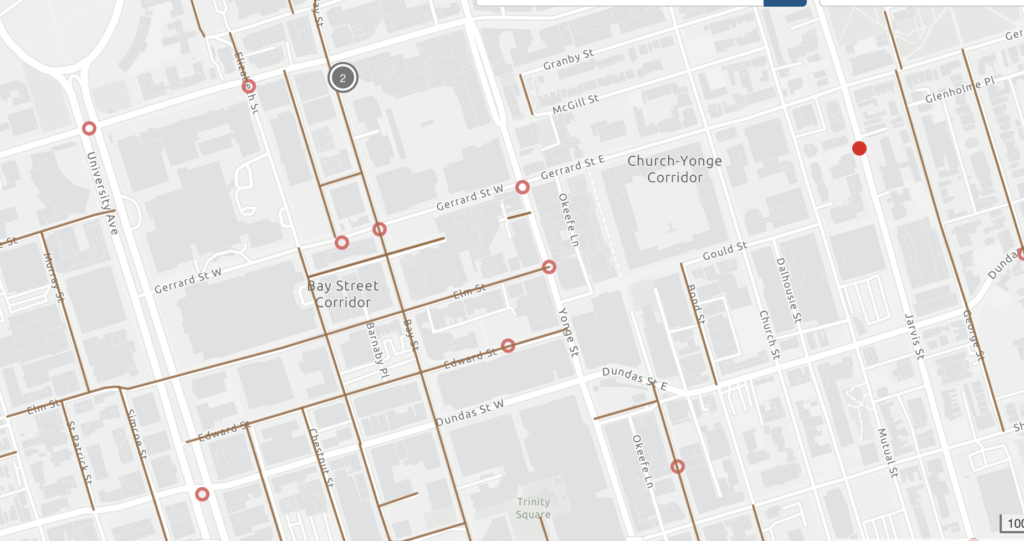 A 2020 study suggested that by lowering neighbourhood speed limits in Toronto from 40 to 30 kilometres per hour, the number of collisions involving pedestrians would drop by nearly 30 per cent.
Rothman, whose research also looks at the effectiveness of road safety initiatives, said the danger associated with more people and more cars on downtown streets could be mitigated by some new road safety infrastructure that has recently been put in place.
"Church Street in Toronto has developed a whole pedestrian safety corridor," she said. "[Downtown], there are also school zones with [watching] speed boards and zebra markings at school crosswalks," said Rothman. "Fifty automated speed cameras are moving around the city, so there are efforts [currently] being put in place."
Rothman said that since 2019, there have been over a dozen new safety features and engineering improvements, such as driver feedback signs, implemented on the streets of downtown Toronto.
That infrastructure uses radar technology, flashing beacons and other measures to detect a driver's speed. These measures have kept fatalities lower and pedestrians safer. 
When it comes to the winter however, factors like ice and slush also come into play, adding to the already prominent danger of reduced visibility due to both snow and darkness.
Urban planner Aria Popal said it becomes more dangerous to be a pedestrian as the streets get darker, especially during the colder months.
She said she's seen many safety issues on university campuses and that proper pedestrian infrastructure needs to be put in place.
IN PICTURES: How time and a pandemic have changed Ryerson's campus
She said that when the street lighting around a campus isn't good and when students cut across streets and create their own pathways through the snow, it creates a danger for both pedestrians and drivers.
In an article, Popal wrote that city officials must take charge to put in place appropriate pedestrian infrastructure.
According to a report prepared for the City of Toronto, most safety measures aren't too costly and can be implemented fairly quickly.
Small and cheap measures can act as the difference between "life and death."
Taking the example of rubber speed bumps, Popal was quoted in another article saying that this example of advanced infrastructure is advantageous to pedestrians and drivers, admitting that "drivers don't adhere to the law and frankly, don't care."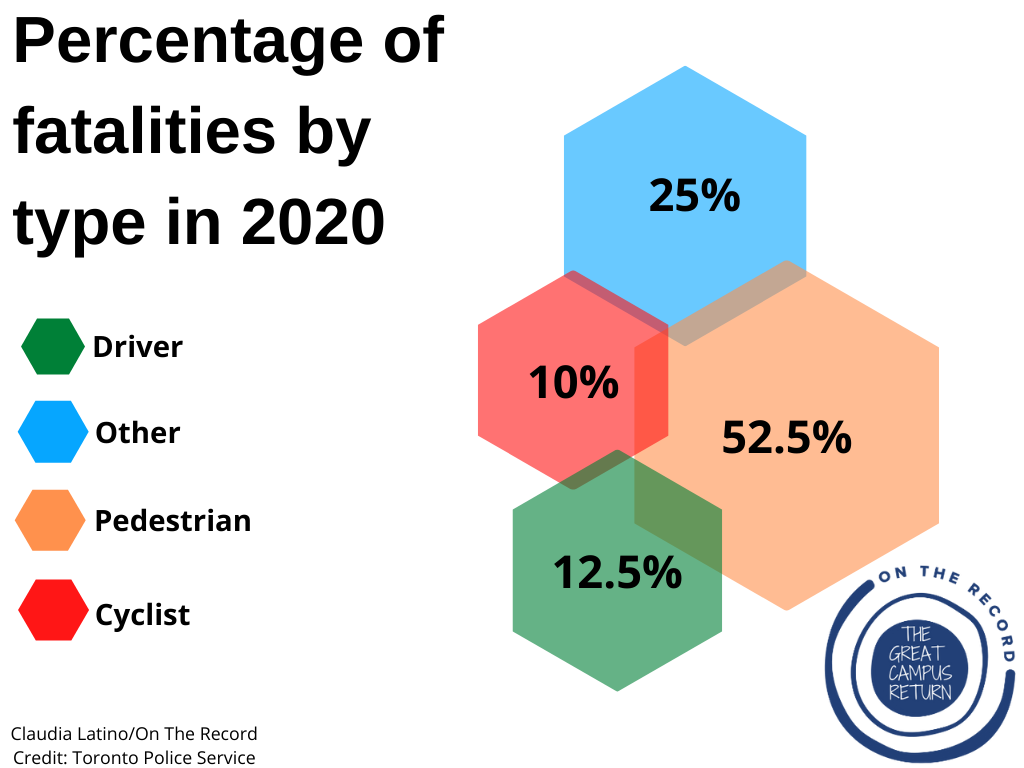 Hakeem Muhammad, spokesperson for the City of Toronto, agreed with Popal, stating that many drivers don't slow down near intersections and crossings, making mid-block crossings the "most prevalent type of pedestrian collision, accounting for over 40 per cent of fatalities."
Muhammad said that road safety strategies like Vision Zero, among many others, are increasingly important to the City of Toronto because "no loss of life as a result of a traffic-related collision is acceptable."
Popal also stressed the importance of groups like WalkToronto, Friends and Families for Safe Streets and Avenue Road Safety Coalition.
She said they are helpful in educating people on the importance of pedestrian safety.
These organizations promote educational campaigns and outreach work, like 'End of Daylight Savings Time' and 'The Art of Distraction'.
Their goal is to incentivize individuals, helping them develop safer practices when they are driving, cycling and walking.
"These practices include giving pedestrians the right of way, looking before turning, avoiding distractions, driving the speed limits, " said Popal. "Everyone [on the road] must assume pedestrian safety is their responsibility."
Ryerson said in a statement released to On The Record via email that "the pedestrianization of public streets was understood as a priority in the 2020 master plan."
The statement goes into detail about the Campus Core Revitalization project, which made permanent the pedestrian-only zone at Gould Street and Victoria Street by raising the street level and improving accessibility.
READ MORE:
The statement, which was released through the university's media office, said Ryerson is "uniquely integrated" into the downtown core.
However, it didn't contain answers to specific questions relating to students' return to campus and the impact that increased traffic might have on pedestrian safety.
It said only that Ryerson promises to "continue working with the City of Toronto to keep their projects aligned with city initiatives for pedestrian corridors."
According to Popal, to evoke change, both pedestrian and road safety must coincide.
"It is important to educate drivers as much as we preach to pedestrians [because] safety is our collective responsibility," she said. "The only constructive way forward is through education and accountability [as well as] eventual reconceptualization of our roads by design."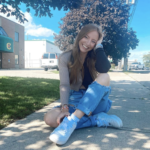 Madison Dolman was a Co-Business Editor/Reporter for On The Record during the Fall 2021 semester. She enjoys learning about the world of business as much as she enjoys black coffee, which definitely says something.