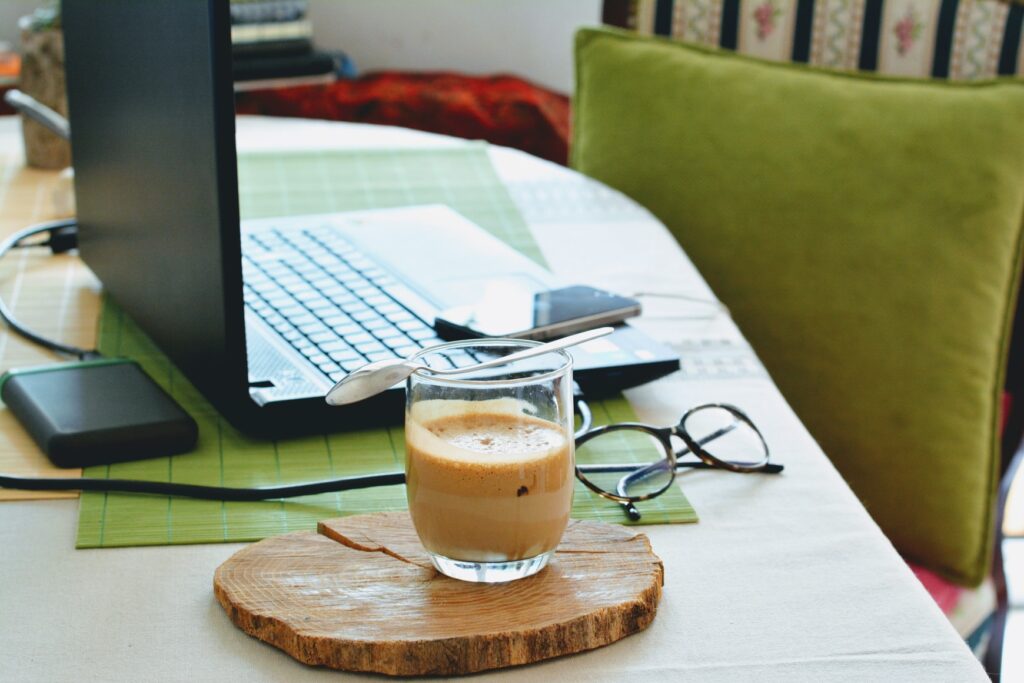 Online therapy may become a key to dealing with an expected increase in demand for mental health services when Ryerson students return to campus in January.
Ryerson's Centre for Student Development and Counselling (CSDC) said that it has plans to offer students a hybrid option between in-person and online sessions to create flexible opportunities for students and staff.
The therapy, which involves professional counsellors treating patients through a screen, over a phone or via text, is gradually becoming the new norm and experts say its pros outweigh its cons.
"There is more flexibility with online counselling that we have just never had before," said Kevin Alderson, a psychologist. "It's given us a choice."
Sandra Koppert, director of mental health advancement for the Mental Health Commission of Canada, said via email that students across Canada have found "having resources and support online increased accessibility."
Alderson has been doing online therapy since before the pandemic. He said it's been a convenient way to treat his patients in both Ontario and Alberta, the provinces where he's licensed to practise.
READ MORE:
He also said the pandemic has encouraged more clients to embrace online therapy.
"Now with online counselling, it's instantaneous and you can do it from anywhere," he said. "It's so convenient for the client. I've had clients sit in their cars … because, they're, for example, … working in the oil patch up north. And so they're actually in their vehicles as they're talking to me."
The demand for mental health counselling services is expected to grow as students return to campus after nearly two years of mostly online study.
A survey conducted by the Canadian Alliance of Student Associations (CASA) in May 2020 found that 60 per cent of students reported feeling worried about the pandemic. Seventy per cent were feeling stressed or isolated and 82 per cent reported feeling worried about their futures. The figures were higher for international and BIPOC students.
Those findings were reported in an information sheet distributed by the Centre for Innovation in Campus Mental Health, which also reported that: "Even before the pandemic, post-secondary students were experiencing high levels of mental health concerns."
That growth is reflected in the Ryerson numbers. According to this news article on Ryerson.ca, the demand for on-campus counselling services "increased considerably" in recent years, and in the last full year that students were on campus, the CSDC had more than 2,200 students coming to its offices seeking support.
Although online counselling is increasing in popularity, it's not without its critics.
Koppert said that although some users prefer online therapy, it created additional barriers for others. In an original research article published in the U.S, experts in psychology identified the main barriers therapists experienced when they switched from providing in-person therapy to online therapy.
The barriers included: building emotional connections between the professional and their client in terms of understanding emotions (52 per cent), being distracted within an online setting (53 per cent), struggling with creating a professional environment from home (28 per cent), and establishing privacy and confidentiality on both ends of the session (54 per cent).
RELATED: Students, profs find the 'silver lining' in remote classes
Alderson agrees there is some truth in that. By not being able to observe a person's physical movements and facial reactions, important cues may be missed.
But Colleen Stiles-Shields, a clinical psychologist and assistant professor at Rush University Medical Center in Chicago, said that attention to detail with clients can actually be heightened when it's not an in-person session.
"When you don't have the person in front of you, you pay attention to different things — the tone of their voice, the tempo of words and the breaths they're taking," she said in an article published by the American Psychological Association.
Alderson agrees. "One of the things I pay more attention to now is so much more of the non-verbal communication," he said. He also noted that he is much more aware of his clients' eye contact control, anxiety levels and signs of distress.
"I actually feel like I'm even more present online than I am if I'm seeing you live, which is probably the exact opposite of what most people would expect from an online therapist. But it may well be one of the reasons why it's proving itself to be as effective and in some cases, more effective than in-person counselling," he said.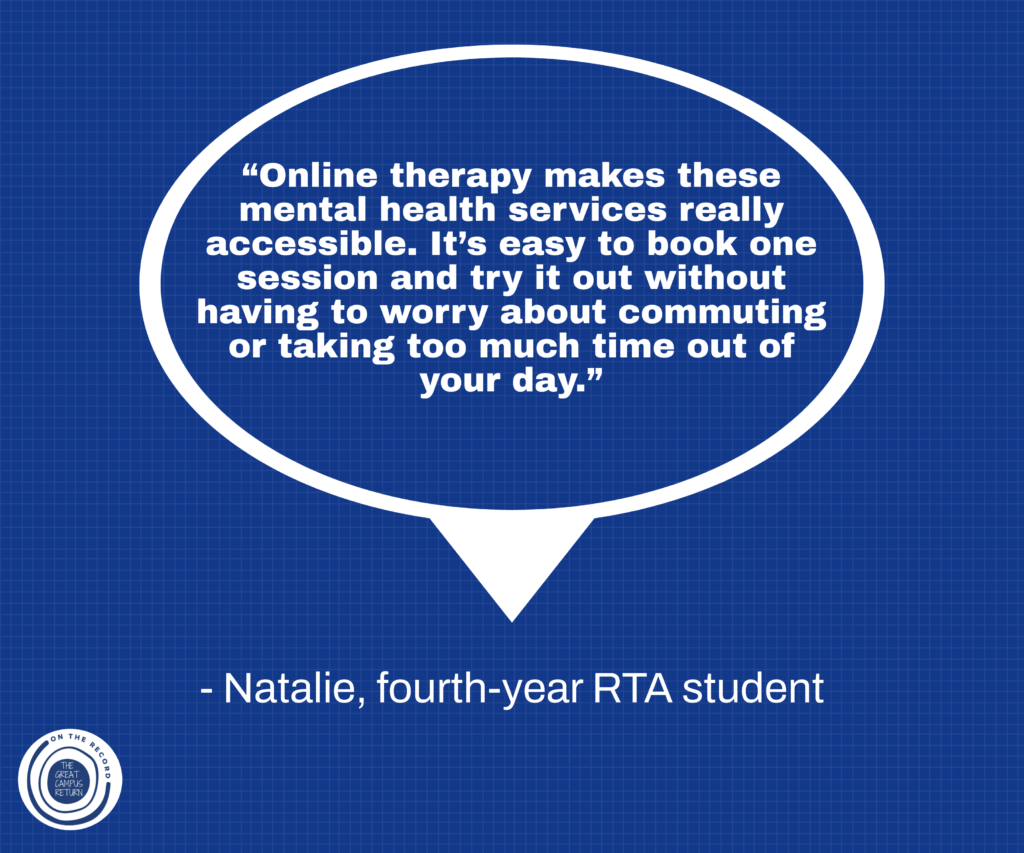 Natalie, a fourth-year RTA student who has asked to be identified only by first name, said she would prefer in-person therapy after completing sessions from April to August in 2020, and then resuming online therapy in August of this year.
"One of my biggest issues with online therapy is that I live with roommates," she said. "I do not want them to hear what I am talking about, so privacy was a huge concern."
When Natalie wanted her privacy, she would tell her roommates she was about to have a therapy session whenever they were home, even coming up with mutual agreements to respect each other's privacy.
"I would ask them to please keep [their] headphones in," she said.
"For my first session in my apartment, I actually sound-proofed myself by hiding under a blanket, which made me feel childish but also eased my worries," said Natalie.
Natalie does recognize some advantages to online therapy, with its convenience being a real plus.
"It [online therapy] makes these important mental health services really accessible. It's easy to book one session and try it out without having to worry about commuting or taking too much time out of your day," she said.
IN PICTURES: How time and a pandemic have changed Ryerson's campus
Alderson noted that the majority of his clients still prefer to receive therapy online because it is so convenient.
He also said online therapy helps deal with patients in another way — it removes the fear of being stigmatized and the anxiety that comes with publicly attending a clinic or private practice.
"It can be so discreet in seeing a therapist today that nobody, and literally nobody, would know that they're getting help," Alderson said. "That would be a real advantage to students, as well."
With the winter 2020 semester fast approaching, Koppert anticipates a gradual return of hybrid counselling at many post-secondary institutions.
"Continuing to have various types of support (counselling, peer support, crisis support, wellness programs) and various delivery methods (online and in-person) will be key so students can connect with support that suits their needs and preferences," she said.
READ MORE:
Koppert is also promoting wider implementation of the national standard, a set of voluntary guidelines for promoting better mental health that can be utilized to support post-secondary institutions and their unique setting.
"It is guided by key principles, such as being student-centred, focusing on health promotion and harm reduction, and continuous improvement," said Koppert. "These and other principles have been reiterated before and over the course of the pandemic as being essential."
Koppert added the national standard will be reviewed every five years as a part of the process of continuous improvement and ensuring relevance.
"These commitments have created new opportunities for post-secondary institutions to collaborate and learn from one another, as they identify opportunities for further action to enhance support for students," said Koppert.
In response to the COVID-19 pandemic, Ryerson has also established a partnership with Keep.MeSafe — an online, multilingual counselling platform that provides immediate support 24/7. It has been in effect since April 2020.