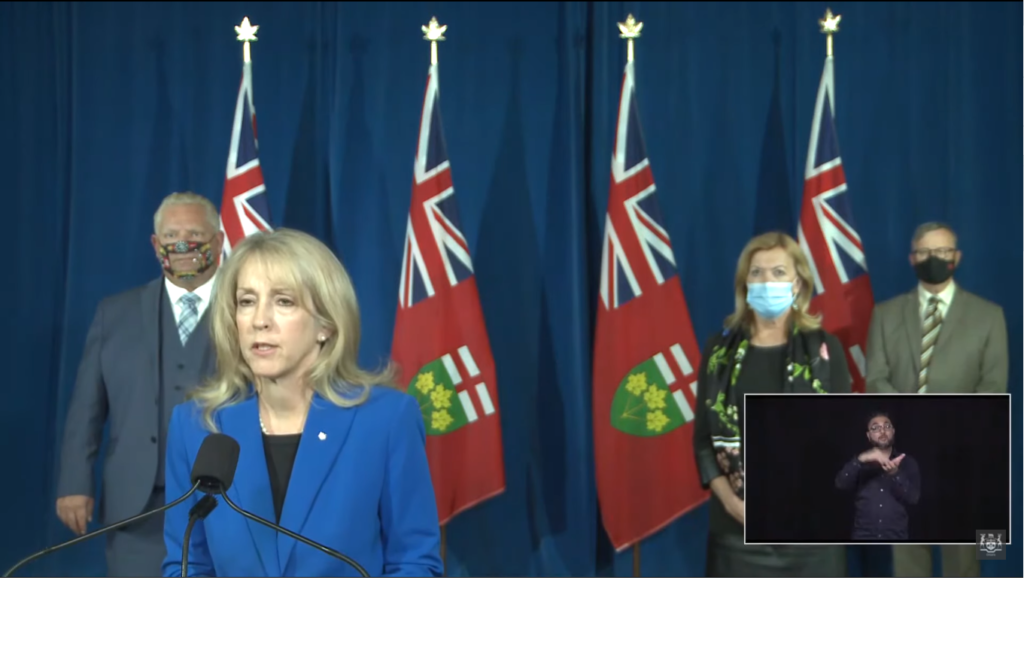 The Ontario government has announced new visitor restrictions to protect residents in long-term care homes from COVID-19.
Visitors to long-term care homes in what the province classifies as highest-risk regions will be restricted to staff and essential visitors, like caregivers. The new restrictions will take effect on Oct. 5.
Residents or their substitute decision-makers can identify up to two family members or friends to register as essential caregivers, according to a news release published by the Ontario government.
"This kind of support is critical," Premier Doug Ford said at a press conference on Sept. 29. "We must do everything we can to help those that are isolated during these difficult days."
Minister of Long-Term Care Merrilee Fullerton also announced a $540 million investment into protecting residents, staff and caregivers at long-term care homes.
Of that, $405 million will be allocated to help with operating pressures due to COVID-19. This includes infection prevention, staffing supports and purchasing additional supplies and personal protective equipment. The province will also be providing eight weeks' worth of personal protective equipment to long-term care homes in case of outbreaks. The supplies will be available starting on Oct. 5.
"COVID-19 demands a culture of continuous learning: the more we learn, the better we can plan and prepare for future waves," Fullerton said in the release. "Our government is committed to applying what we have learned during this outbreak to build and strengthen a long-term care system that works in the best interests of our residents and the people who work so hard to keep them safe."
Today's announcement outlined the last pillar of the province's Keeping Ontarians Safe fall preparedness plan. Past pillars were announced each work day since last Tuesday.