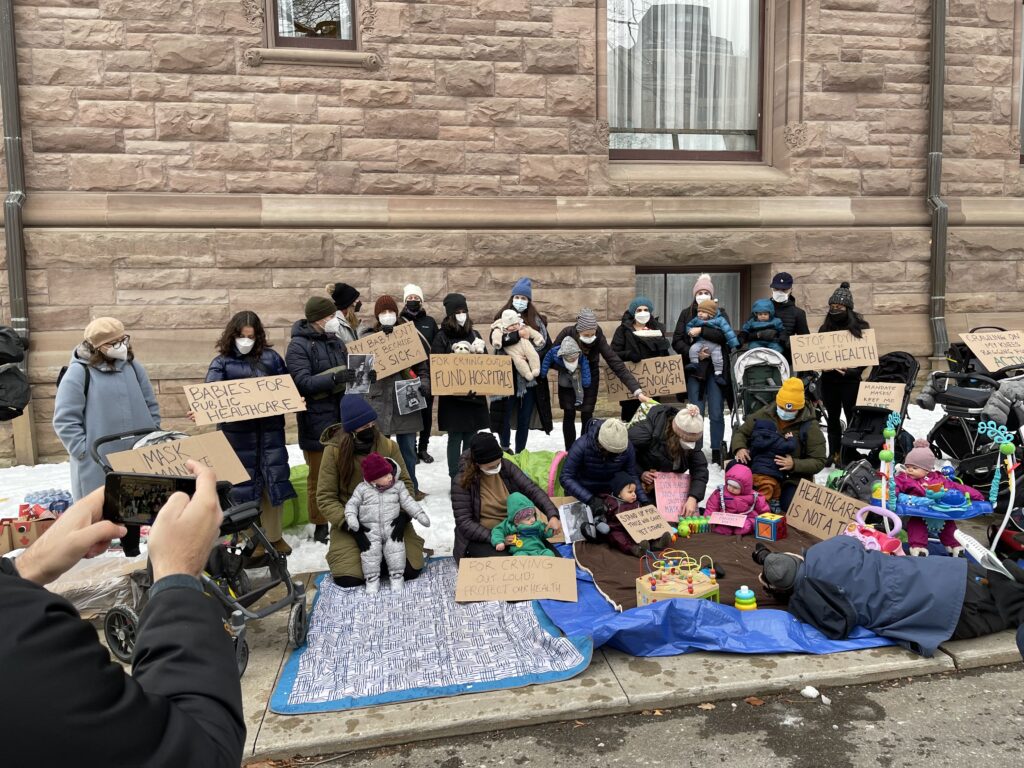 Listen to the story here:
Bundled in winter onesies, hats and gloves, babies joined their parents outside the Ontario Legislative Building today to demand the return of a universal mask mandate.
The 'Babies for Public Healthcare' protest was organized by a group of parents and friends, including Anjali Helferty, the event organizer and mother of 10-month old Anushka.
"This came together so quickly and easily," Helferty said. "We wanted the kids to have a good time. That's really important when bringing babies to something… It's making its point, but has the right spirit of energy and joy that babies bring."
Parents are "demanding an emergency response to Ontario's pediatric health crisis," according to the event's Facebook page. More specifically, they seek the reinstatement of a universal mask mandate, improved air quality at schools and daycares, vaccines for children, and provincial investment in long-term funding for a robust health system.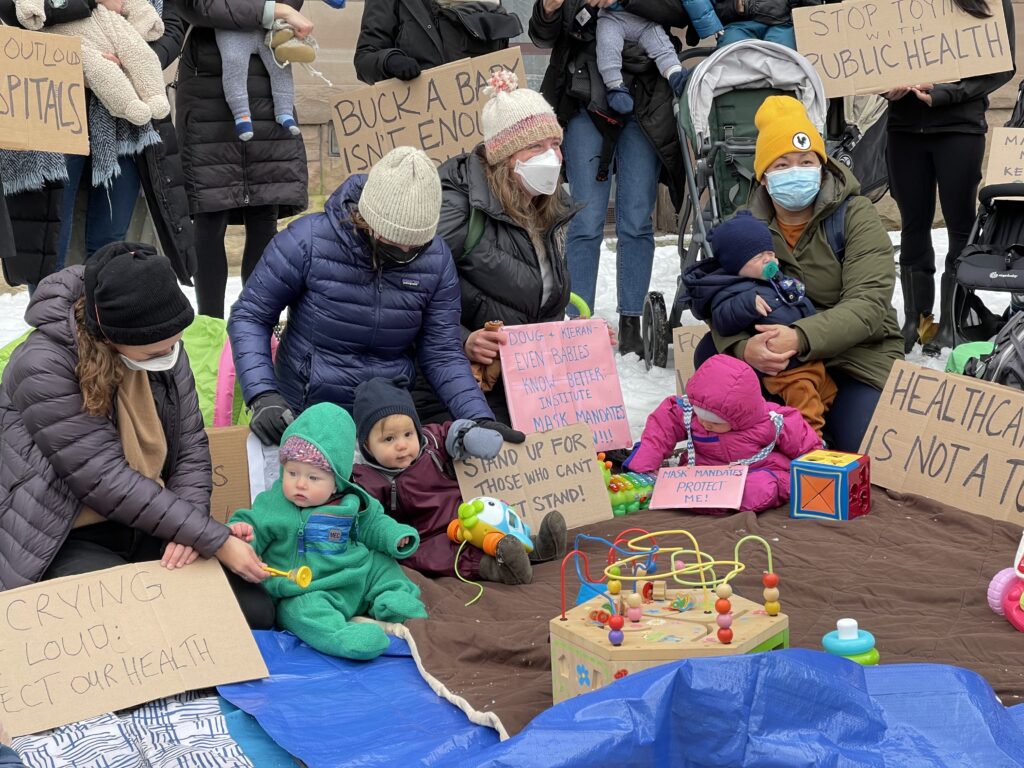 "The mask mandate is the stopgap," said Helferty. "It's the thing we know — from the last couple years of COVID-19 — works within a couple weeks to reduce the load of viruses and help people be healthier, which would then free up space in ERs, pediatrics and family doctors, etc."
Since late October, Canada has seen a shortage of infant and children's acetaminophen and ibuprofen. Corry Lomer, a mother attending the protest, said the lack of children's Tylenol is a concern.
"Nothing is happening," said Lomer, "There's no sense of urgency."
Earlier this week, Health Canada announced it had purchased more acetaminophen and ibuprofen from abroad and that it would be available for sale across the country "in the coming weeks."
MPPs John Fraser and Dr. Adil Shamji both attended the demonstration, voicing their concerns with the Ford government's treatment of Ontario's health care system.
While Premier Doug Ford asked Ontarians to mask up earlier this week, he did not reintroduce a universal mask mandate despite requests from doctors, including those at childrens' hospitals.
"This government lives in an alternate universe. They're telling us that patients and children will get the care they need in a timely manner and that simply is not the case," said Shamji.
"When your child can't get their breath every minute is distress," said Fraser. "This is what's happening to hundreds, if not thousands, of parents in hospitals and in homes across Ontario."
In spite of the cold weather, members of the parental collective are confident that they will meet and protest again until changes are made.
"I think there's a baby as young as four weeks at that protest today," said Zoë Mager, the concerned mother of a toddler. Babies "really have no political presence. They have no pull in the public sphere. They don't really have a voice and they're the most vulnerable. It's really our responsibility to stand up for them."