Chef navigates COVID-19's disruption of the restaurant industry with street smarts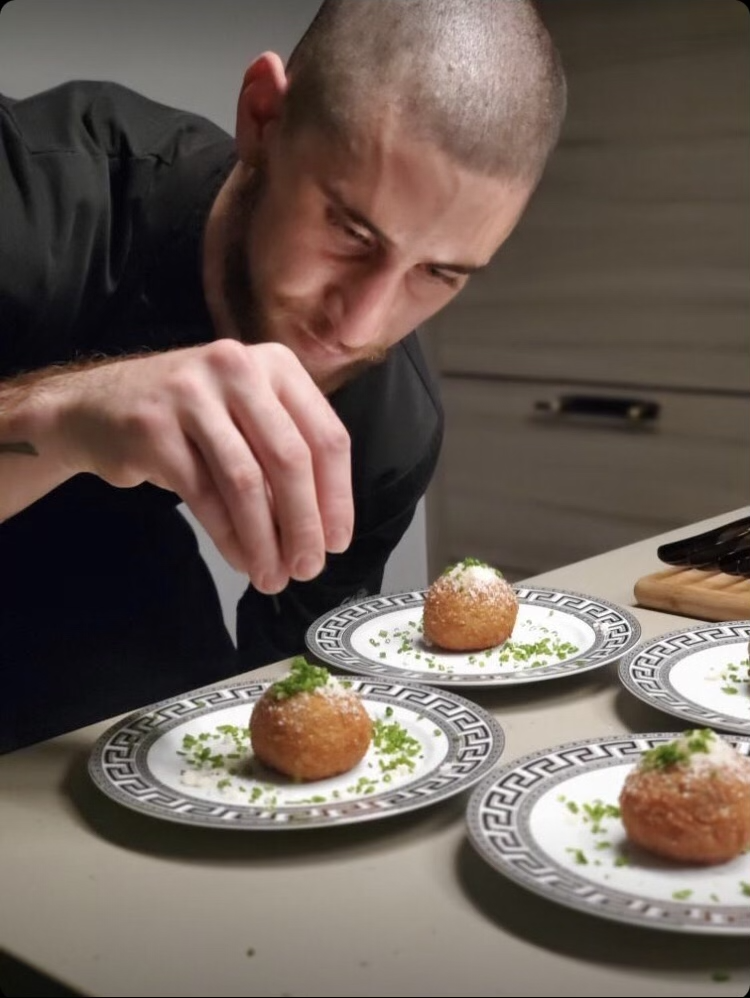 It's New Year's Eve 2020 and two small children play around an old, black, wooden dining table as their family look at old photo albums. Traditional Russian songs play softly in the background, as they reminisce and talk about how the children have grown since they were all together last.
Down a long hallway and into the kitchen, a 25-year-old, laser-focused chef named Alec Thomas puts the final touches on the signature dish of the night — duck à l'orange. Hours of preparation have boiled down to mere minutes. Execution and timing are everything. First, he gently ladles the creamy mascarpone risotto. Then, he fans out the sliced duck breast, cooked to perfection with golden, crisp skin. Next comes the fragrant à l'orange sauce, dashed generously over the duck. Lastly, he garnishes the outside of the plates with candied apricots.
The dining room in customer Tony Tikhomirov's Toronto-area home falls silent as chef Thomas enters with dinner, a trail of steam and the sweet smell of citrus following him into the room. Murmured "oohs" and "aahs" build as he places a plate in front of each guest.
Thomas says, "ladies and gentlemen, enjoy!"
Now 26, Thomas has combined survival instinct with street smarts and business savvy to navigate the COVID-19 wreckage of Toronto's restaurant industry. After they were both laid off from their restaurant jobs due to the pandemic, Thomas and his coworker-turned-business-partner Arya Hamedani launched a gourmet, home-catering business called Arya Hungry?
Thomas, a serial adapter, has seemingly found opportunity in the pandemic.
Last summer and fall, before winter lockdown, Arya Hungry?'s services were booked solid every weekend. They got great feedback from clients, and word spread — they've amassed more than 4,000 followers on Instagram at the time of press. The chefs' abilities to quickly adapt allowed them to survive, which is increasingly rare in the struggling food industry. The Fifteen Group, a hospitality consulting agency, conducted a Canada-wide survey of its clients in December 2020. The outlook was bleak. The survey found that 98 per cent of the company's clients have had their revenues negatively impacted since the start of the pandemic, with three-quarters of those reporting a decline in revenue of more than 50 per cent. Half of those surveyed were unsure they would survive the winter, and 93 per cent of restaurants laid off or terminated employees.
With many local food businesses closing, Thomas and Hamedani saw an opening. People still wanted to eat great food, they realized, but didn't want to cook it themselves.
What sets Arya Hungry? apart from other restaurants and catering businesses isn't just the high-quality dishes they cook, but the care they show their clients and time they spend on the experience, says Hamedani.
"When a client sets up an event with us, they are speaking with the two chefs that will be cooking in their home," says Hamedani, "and I think that really means something to people."
Tikhomirov, the CEO and founder of a digital marketing agency, says the food Thomas created on New Year's Eve was beyond any of his expectations. "He transported us back to our times in France, to a place we loved and to the cafés we used to go before the pandemic," he says. "It was like a small miracle."
Thomas's success is a far cry from his turbulent beginnings. After ongoing conflict with his father led to his banishment from the family home at age 17, he scrounged enough money to rent a tiny bedroom in a shared house in Bolton, Ont. It felt just a few square feet larger than a prison cell. Then, he burned through his money — buying weed, booze and cocaine — until he only had only $6 to his name. Thomas says will always remember the number six. He was verging on homelessness, had nowhere to go and no one to turn to.
He called up three different dealers who each spotted him half a pound of weed. In the span of roughly two weeks, Thomas had sold it, repaid his loans and delivered his rent. He soon had enough money to rent an apartment in downtown Toronto. Then, after roughly three years in the city, the course of his life changed in a few days. In April 2017, he got a job at Scaddabush, an Italian restaurant chain, at Front Street West and Simcoe Street. Within 48 hours, he was also accepted into culinary school at George Brown College and completed a one-year program.
Thomas's longtime friend Justin Bailey, who's also an employee at Arya Hungry?, watched his transformation: "It was like a switch just flipped." He says Thomas went from "cutting up coke in our washroom," to cooking up carbonara in the kitchen. 
The late nights in clubs turned to late nights at the dish pit or at the sauté station, where Thomas worked closing shifts ending anywhere from 2:30 a.m. to 5 a.m. Once he got back from the restaurant, Thomas continued honing his culinary skills. He worked on school assignments or pulled a random cookbook from a pile beside his stove to try a new recipe. Around 6 a.m. he would pass out wherever his beat-up office was — either in his bedroom or in the living room. Thomas usually slept in his chef's whites so at 7 a.m., he could wake up, go to class, and repeat it all again the next day. He also stopped using or selling drugs.
His rediscovered passion for food drove the frenzy. He'd always loved cooking; his fondest childhood memories are kitchen moments. On Christmas Day his entire Italian family would go to his grandparents' house in Mississauga, Ont. There was an unwritten rule that his mother, aunt and nonna were the only ones allowed to cook, but they had to shoo him from the kitchen almost every other minute because he wanted to join. As he got older, however, his mother began sharing her cooking secrets. By age 10, he could make a béchamel sauce, a cheese sauce, and eggplant parmigiana.
If Thomas's long, winding road from being that little kid in the kitchen to catering sophisticated events proved anything, it was that he could adapt. And that became important yet again this winter, when COVID-19 caused more disruption.
January's stay-at-home order and evolving circumstances during the pandemic forced Thomas and Hamedani to adapt yet again. Arya Hungry? was put on the back burner, amidst rising case numbers and escalating provincial restrictions. And so, the duo pivoted again. Their next venture, ChickMagnet, is a fried chicken sandwich shop on Queen Street West, operating out of the Beverley Hotel. They have been consistently selling out since opening day on Feb. 2, 2021.
While Arya Hungry? and ChickMagnet have been Hamedani's concepts, Thomas is also working on his own brand: Covassi and Co., named for his maternal grandparents' last name. The plan within the next five years is to open a café of the same name, with farm-to-table, northern-Italian-inspired cuisine.
Much like the days when he was sharpening his culinary skills at Scaddabush and in school, Thomas is still up until all hours creating recipes, developing menus and refining his palate.
"I have an opportunity to seize my dream and make it a reality," says Thomas, "and I am not going to miss my chance."