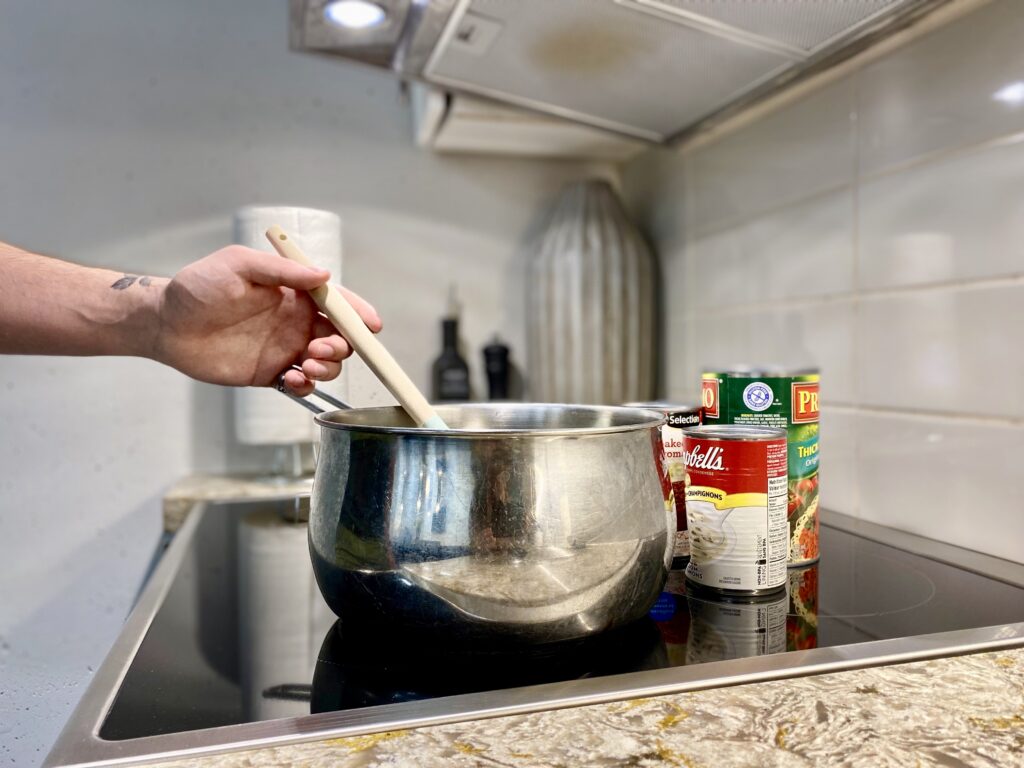 Listen to the full story here:
It's the right month to take a second look at those "humble" cylinders of green beans and canned peaches.
February is canned food month, and despite their second-class reputation, you can't beat the cost. After all, they've long been the secret weapon of savvy seniors and cost-conscious consumers looking for affordable and convenient meal options.
Food prices rose to 11.4 per cent in September 2022, according to Statistics Canada — the biggest documented increase since 1981. Meanwhile, the average price of canned foods such as beans went up by only seven cents between October 2021 and March 2022.
Canned foods can be cheap, and grocery prices are rising, but food industry expert and University of Toronto professor David Soberman says that doesn't mean more people will be buying them. Although he does wonder whether "the actual consumption of canned foods increased in this inflationary environment?"
"We're in an inflationary environment, and a lot of the inputs that go into the production of food, mainly energy, which is a raw material, and labour, are increasing, and that has meant that we're dealing with pretty high inflation," said Soberman.
Michael Widener, food and health geographer and associate professor at U of T, says canned food was essentially invented so people could have food when the farming season ended, and "the art of preservation's been around for a long time."
"I think we've just gotten better at it with increased technology," said Widener. "They have a very long shelf life, so it's really easy for a store to make an investment in stocking up on some type of canned food and leaving it on the shelf for a while."
Widener says store owners don't have to worry about losses that might be incurred if canned foods were to go bad because they have such a long time to sell it as opposed to fresher foods.
He also says there are no corresponding energy costs that go along with maintaining a freezer, unlike the infrastructure required for frozen foods or frozen produce, "because you can just put canned food on a shelf at room temperature and you're OK."
Keenan Sprague and his father, Rick Sprague, who work at a nearly-100-year-old canned food company based in Prince Edward County, sell various canned goods, including soups and beans.
"There used to be a lot of canneries in Ontario, but over the years, they've closed down, and now when you go to the grocery store, most of the cans you see are from the U.S.," said Sprague.
The Sprague facility is smaller-scale when compared to many canners, so they do a batch process, which Sprague says "is sort of like home canning, but just more like on a bigger scale."
"Chances are oftentimes you're canning produce, vegetables, and fruits at their peak ripeness, and once it's canned, it's now called shelf-stable, meaning it doesn't require a kill chain, it doesn't require refrigeration, it doesn't require refrigerated trucks, it doesn't require the energy that you're using in your own freezer," said Sprague.
"There's a whole series of refrigeration supply chains that you can avoid with cans, so that's a cost savings there."
Sprague says that canned foods can create a tight seal, increasing the shelf life. "For university students, it's a great budget-friendly food," he said.
Moreover, Widener points out that canned food is everywhere — and cheaper to ship than fresh fruit and vegetables coming in from the southern hemisphere.
"You'll find them pretty often in a corner store that may not… have fresh fruits and vegetables, but they may have the canned goods that can kind of round out a healthy diet," he said.
Although canned food is affordable, young people tend to avoid them.
Andrew Coppolino, a chef and food columnist for CBC, told On The Record that the canned food aisle should be given a second look because "there's a lot of really good stuff in there that can be both nutritious and convenient and cost-saving as well."
Coppolino says if you look at the label of the cans, you may find they are more nutritious than you think. Adding canned vegetables into your meal can be a great way to incorporate more vegetables cheaply, he said.
Despite that, Sprague believes young people may be turned off by the idea of canned food. "The canned category, in general, has been overlooked by the younger generation," he said.
Canned foods may be inexpensive and last longer, but that does come with downsides. Widener says that canned foods have a lot of nutrients, but they "lose some of that… for a variety of reasons, like the heat treatment that goes into the actual processing of the cans."
"Sometimes canned foods are treated in order to enhance their taste and to increase their ability to be preserved for a long time," said Soberman, "and the two things that are done is often salt, and more sugar are added."
That could mean a person eating canned goods regularly "may be getting too much sugar or too much salt," he said.
But, as Coppolino notes, you can also rinse off canned foods, like beans, before you cook them to reduce the salt content.
The Journal of Culinary Science & Technology backs him up: finding that rinsing and draining canned beans reduces sodium content per serving by 41 per cent while draining alone results in a 36 per cent sodium decrease.
Tips for Turning Canned Food into Delicious Meals
Coppolino suggests creating a flavour base by adding foods such as carrots, celery, and onions to your canned goods. He says that beans can make for a "deeper, richer flavour" with just a few additions and some extra cooking time.
"If you were just to eat them heated up straight out of the can, adding some mustards, adding some sort of hot sauce or Sriracha or something can add huge flavours to a really humble dish of beans,"
Coppolino says adding things like sugar or maple syrup to a bean dish can help add a richer flavour to a normally plain dish and suggests that students shrug off the stereotypes and just try to add canned food to their menus.
Here are some recipes that On The Record thinks you might enjoy and what they might cost you in canned goods:
Taste of Home is a great place to start your canned food recipe search.
Prep/Total Time: 30 min.
Makes: 4 servings
Ingredients
1 tablespoon olive oil
2 cups cubed peeled butternut squash (1/2-inch cubes)
1 large onion, chopped
1 large sweet red pepper, chopped
1 teaspoon ground cinnamon
1/2 teaspoon pepper
1/4 teaspoon ground ginger
1/4 teaspoon ground cumin
1/4 teaspoon salt
1 can (15 ounces) chickpeas or garbanzo beans, rinsed and drained
1 can (14-1/2 ounces) diced tomatoes, undrained
1 cup water
Chopped cilantro, optional
Directions
In a Dutch oven, heat oil over medium-high heat. Add squash, onion and red pepper; cook and stir until onion is translucent and red pepper is crisp-tender, about 5 minutes. Stir in seasonings until blended.
Add chickpeas, tomatoes and water; bring to a boil. Reduce heat; cover and simmer until squash is tender, about 8 minutes. If desired, top with cilantro.
Nutrition Facts
1-1/2 cups: 217 calories, 6g fat (1g saturated fat), 0 cholesterol, 455mg sodium, 38g carbohydrate (11g sugars, 9g fiber), 7g protein.
Total Time Prep: 10 min. Cook: 35 min.
Makes: 6 servings (1-1/2 quarts)
Ingredients
2 cans (15 ounces each) cannellini beans, rinsed and drained
1 can (10-3/4 ounces) reduced-fat reduced-sodium condensed cream of chicken soup, undiluted
2 cups cubed cooked turkey breast
1-1/3 cups fat-free milk
1 can (4 ounces) chopped green chiles, drained
1 tablespoon minced fresh cilantro
1 tablespoon dried minced onion
1 teaspoon garlic powder
1 teaspoon ground cumin
1 teaspoon dried oregano
6 tablespoons fat-free sour cream
Directions
In a large saucepan, combine the first 10 ingredients; bring to a boil, stirring occasionally. Reduce heat; simmer, covered, 25-30 minutes or until heated through. Top servings with sour cream.
Nutrition Facts
1 cup with 1 tablespoon sour cream: 250 calories, 2g fat (1g saturated fat), 47mg cholesterol, 510mg sodium, 31g carbohydrate (0 sugars, 6g fiber), 23g protein. Diabetic Exchanges: 3 lean meat, 2 starch.
Prep: 10 min. Bake: 35 min.
Makes: 15 servings
Ingredients
2 cans (15 ounces each) sliced peaches in extra-light syrup
2 tablespoons brown sugar
1 teaspoon ground cinnamon
1 package yellow cake mix (regular size)
3/4 cup sliced almonds
1/2 cup cold butter
Directions
Preheat oven to 350°. Pour 1 can of peaches into a greased 13×9-in. baking dish. Drain remaining can of peaches and add to baking dish; sprinkle with brown sugar and cinnamon. Sprinkle with cake mix and almonds.
Cut butter into very thin slices; arrange over top, spacing evenly. Bake until golden brown and fruit is bubbly, 35-40 minutes. Serve warm.
Nutrition Facts
1 serving: 234 calories, 11g fat (5g saturated fat), 16mg cholesterol, 242mg sodium, 34g carbohydrate (22g sugars, 1g fiber), 2g protein.