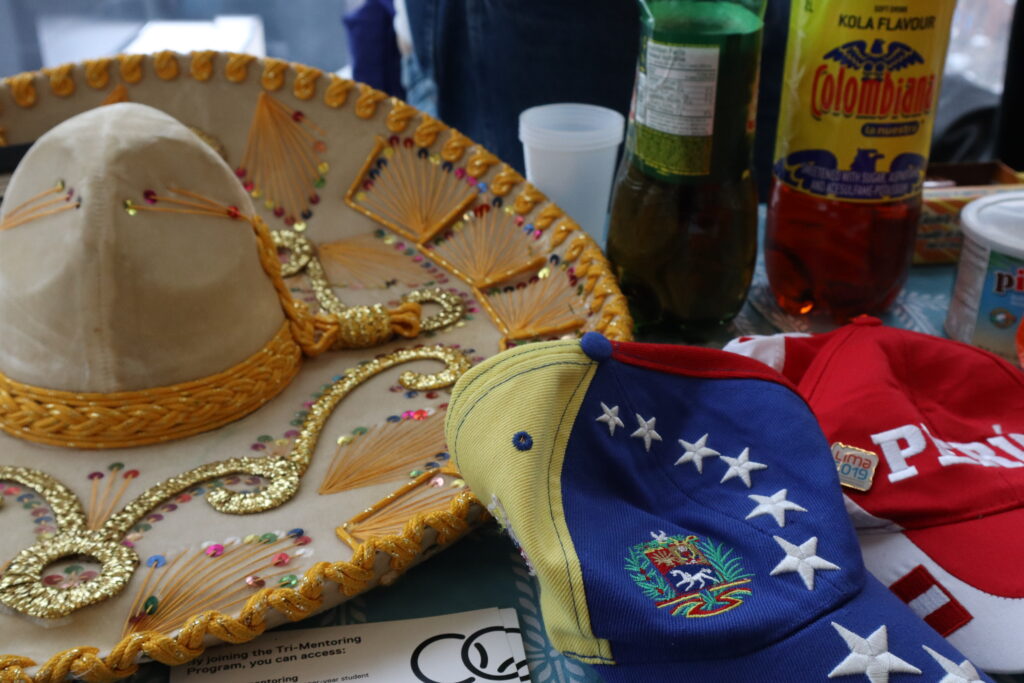 Listen to the story here:
On Feb. 28, Toronto Metropolitan University (TMU) hosted its first Culture Fest since 2019 in an effort to celebrate the school's multicultural diversity.
The two-hour event was organized by International Student Support (ISS) and Student Life and Campus Engagement (SLCE). Attendees could sample foods from many different cultures, play interactive games and explore booths from various student groups. The event made a return after a three-year pause due to the pandemic.
Culture Fest "allows students to feel pride and belonging in celebrating their culture with friends and peers," a representative of ISS said via email. "The inclusion of food is a great way for community members to break bread with each other, share a meal, and discover fun and interesting things about peoples' backgrounds."
Culture Fest's dishes — all free — included Mediterranean-inspired baklava, Thai spring rolls and Caribbean-style jerk chicken. They also provided a vegetarian chickpea and rice dish.
"We're such a multicultural city and school, so we're hoping to show ourselves to everyone who is interested in our culture," said Andrés Eduardo O'Brien Ramírez, a fourth-year graphic communications student and president of the Organization of Latin American Students (OLAS), which had a booth at the festival.
The OLAS booth, decked out in various flags, a festive sombrero and a vibrant pinata, provided traditional snacks from all over Latin America, including Columbia, Peru and Venezuela.
Alongside OLAS, the Hong Kong Student Association (HKSA) also presented a booth with multiple Hong-Kong inspired dishes, including beef stir-fried noodles, soft-flour cakes and dried squid.
"I just want them to try something new and hopefully they like it," said Tiffany Huang, a second-year early childhood studies student and event associate for HKSA. "Because this is very unique stuff."
Both Huang and Ramírez said they hope to have more students join their groups as a result of Culture Fest, and said they welcome students from all different backgrounds to get involved.
As students enjoyed the food, they were invited to join in on games like Kahoot, which quizzed them on their cultural knowledge.
"I love cultural events and people showcasing their culture," said Trisha Parco, a first-year new media student who attended the event. "I hope it gets bigger."
Ramírez agreed and said they want to see Culture Fest make an annual return. "I hope it gets even bigger and bigger so we can do it in a bigger place with so many different student groups that represent their culture."
Looking ahead, ISS representatives said they're excited to bring Culture Fest back to campus, hoping to return it to a yearly event. "We are open to future collaborations with cultural and regional-based student groups at TMU to enhance student engagement."