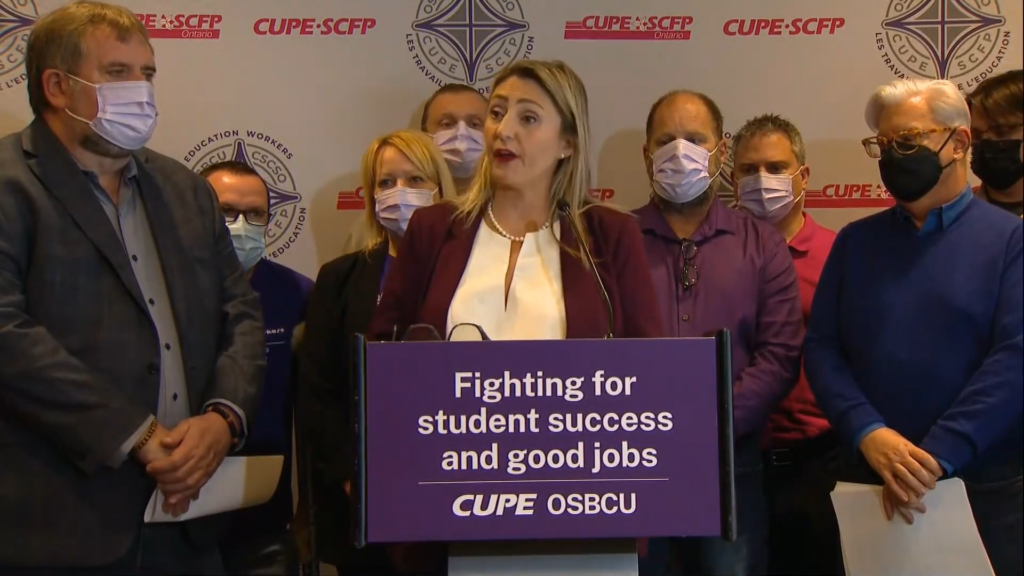 Listen to the audio version of this story here:
The Canadian Union of Public Employees (CUPE) issued another five-day notice of a province-wide strike on Wednesday, after less than a week of unsuccessful negotiations with the provincial government. The job action is set to take place on Nov. 21 should an agreement not be reached.
Laura Walton, president of CUPE's Ontario School Board Council of Unions, says the government offered an annual raise of 3.59 per cent, or $1/hour raise for each year of a collective agreement, to low income workers. Despite this being an acceptable figure for CUPE, Walton says there are a number of other issues the two groups could not see eye-to-eye on.
The union representing 55,000 librarians, custodians, bus drivers, early education workers and school administrators is asking for more support personnel in schools. This includes early childhood educators in every kindergarten classroom and more educational assistants, library workers, custodians and secretaries.
"We did everything we said in good faith to get a deal," education minister Stephen Lecce told reporters at Queen's Park. "How is it possible after significantly increasing wages multiple times, repealing legislation, staying at the table…we are in a position, again, where children may be out of class with their lives disrupted?"
Lecce says that the government has increased their offer multiple times, but "each and every time it was rejected." 
However, Walton stated Wednesday that it was never solely about wages. "This fight started with a focus on services for students," she said. "We will not abandon parents just because Doug Ford waves a loonie in our face."
Read more:
"We are not that easily bought, nor that easily distracted," Walton added. "We have implored. We've practically begged. This government refused to put a single cent into new student services."
"Underfunding education has its own price and a cost doesn't just show up in the ledger," Mark Hancock, CUPE national president, said at the press conference Wednesday. "The cost is reflected elsewhere. The cost of underfunding will be held by multiple kids, when we see that they aren't getting what they need in schools."
Lecce said that the government is committed to remaining at the negotiating table to reach a deal and keep children in school after the pandemic disrupted their education.
"[The union] needs to start reflecting on how these disruptions impact working people and their kids. It shouldn't be a casual thing that you do every other week," said Lecce.
"Out of our 55,000 members in the education sector across Ontario, not one of them wants to go on strike," Hancock said. "A strike is always our last resort and it's never something that we take lightly. Our members would much rather be in schools working and helping kids succeed in their classes, I can tell you that."
CUPE walked off the job for two days last week despite Premier Doug Ford's controversial Bill 28 banning strikes during collective agreement. Named the Keeping Students in Class Act – which utilized the notwithstanding clause and required any ongoing strike to be terminated – was repealed on Nov. 7, after backlash from private and public labour unions.
The Ford government also withdrew an application to the Ontario Labour Relations Board to declare last week's strike as illegal.
Read more: