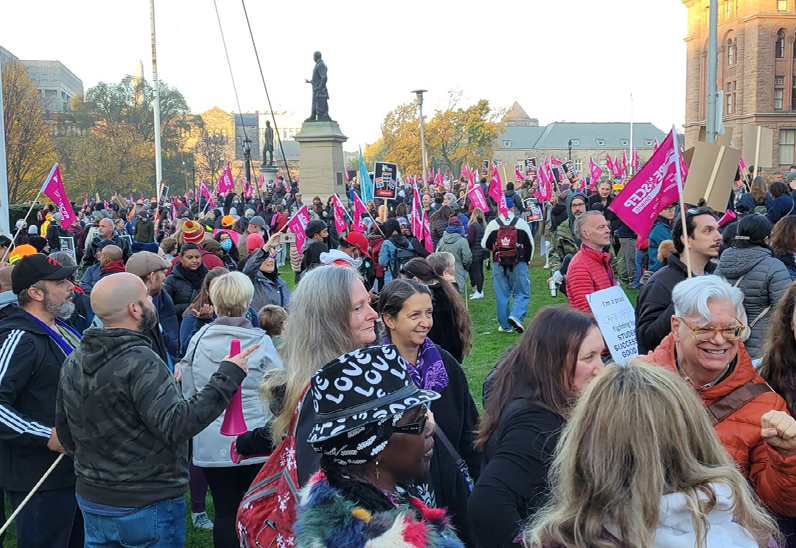 Listen to the audio version of this story here:
As the Canadian Union of Public Employees (CUPE) and Premier Doug Ford's government head back to the bargaining table over wage increases, students pursuing a degree in education report concern for their future careers.
Although these negotiations specifically focused on education support staff, negotiations are upcoming between the Ontario government and teachers — and future educators are anxious.
"Every single [education student] I've spoken to is looking to get a second job," said Andreana Cassar, a fourth-year concurrent education student at York University. "The CUPE strike has really opened my eyes… I often question if the salary will be enough to live independently."
Education students are not only worried about whether their future salaries will sustain them, but also whether they will maintain the right to advocate for themselves through protesting.
"Every Canadian has a right to speak their mind, to protest peacefully, and advocate for themselves," Cassar said. "Behaving the way that Ford did, it was his way of sending a message that they're not going to be flexible in the teacher negotiations."
On Nov. 1, CUPE, which represents public workers in many sectors such as health care, education, and social services, initially asked for a 11.7 per cent increase for annual wages for Ontario's education support workers.
"This started because the Ford government didn't want to pay workers, the lowest paid education workers in this province, a living wage," said Laura Walton, president of CUPE's Ontario School Board Council of Unions, at a press conference last week. "Education workers have been overlooked, under-appreciated and legislated into poverty."
When the Ontario government offered a 1.25 and two per cent increase on raises depending on an employee's salary, CUPE workers gave official notice of their intent to strike. In response, the government passed Bill 28, called the Keeping Students in Class Act, which promised to help students catch up after the pandemic by removing education workers' rights to strike. The bill included invoking a section of The Charter of Rights and Freedoms, known as the notwithstanding clause, so the bill — which made their strike illegal — could function outside of the legal protections provided by the charter.
"The first thing one of my professors told me was that this field is not very high-paying and we're doing it out of passion for supporting children's education," said Harny C. Chan Lim, a former early childhood educator who currently teaches college students part-time.
"Thinking back, I disagree with it. We shouldn't be compromising finances just to support children," they said. "Education is very important, but we should also be compensated fairly."
Many people working in education feel that the use of the notwithstanding clause was outrageous and unprecedented.
"There's no reason for it," said Diana Andrews, a middle school teacher for the Toronto District School Board. "We were at the bargaining table. We've bargained every three-to-four years for generations. We've gotten through it, schooling has continued."
Despite a lack of governmental support for the pay increase, many educators are still hopeful, especially with how many unions came together to support CUPE.
The support is historic, Andrews said. "For my particular union, the Elementary Teachers' Federation of Ontario, I can tell you that even as recently as less than 20 years ago, we were not affiliated with CUPE. We're all fully 100 per cent supporting… You can't control millions of workers who walk off the job because that massively impacts people's daily lives."
On Nov. 7, Ford said he would rescind the bill and restart negotiations, prompting CUPE to announce they would be shutting down protests as a sign of good faith. He is expected to introduce legislation to repeal the bill today.
"Doug Ford really worked to silence [CUPE workers]," said Cassar, who is inspired by the educators protesting. "But there is power in numbers."