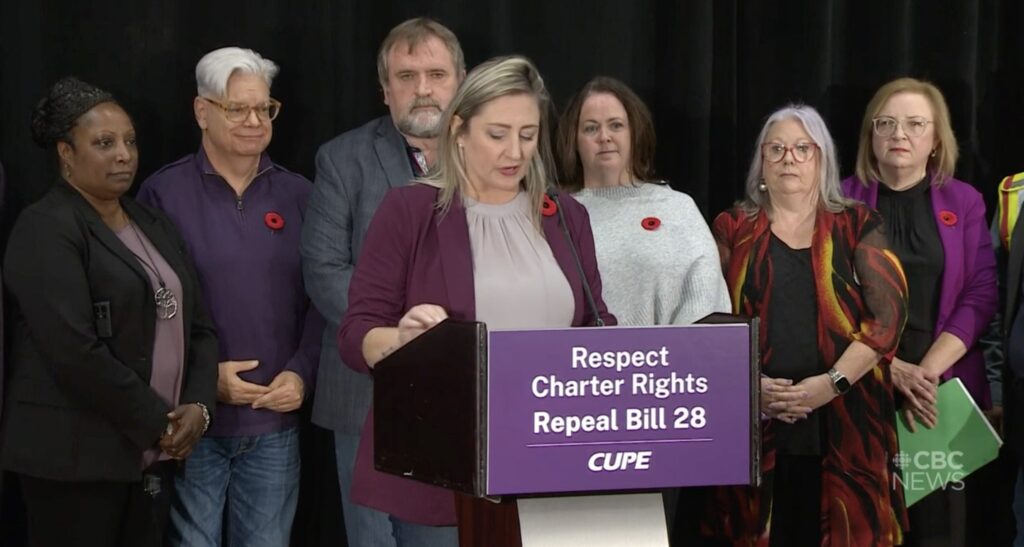 Listen to the full story here
The Canadian Union of Public Employees (CUPE) says it will end its political protests after the Ontario government agreed to repeal Bill 28.
Protests will end Tuesday, announced Laura Walton, the president of CUPE's Ontario School Board Council of Unions, at a press conference Monday.
The announcement comes after Premier Doug Ford offered to repeal his government's recent bill — which limits education workers' pay and constitutional right to protest — as long as CUPE agrees to end its strike and return to work.
"We're willing to make a fair deal. One that offers more help for lower income workers," said Ford in a press conference early Monday. "We want a deal that's fair for students, fair for workers, fair for parents, and fair for taxpayers, and we know we can get there."
The union says it has Ford's offer in writing, and will be working with the premier to negotiate a better deal for education workers. Representatives have said repeatedly that they will do everything in their power to ensure that the bill is rescinded fully.
Bill 28 prohibits strikes for at least the next four years, and sets pay increases at 2.5 per cent for those earning less than $43,000 and 1.5 per cent for those earning more than that.
"We haven't spent our leverage, our leverage is just getting started," said Walton. "Our commitment to the people of Ontario, to the parents, to the kids, is we are going back to the table with open minds, open hearts, and we're ready to negotiate. And we call on the government to do the exact same."
However, Walton warns that if the new negotiations fall through, another strike is still possible. "We're not going into this with our eyes on that," she said, "but with our eyes on getting our workers a real deal."
A recent survey of Ontarians by Abacus Data found that 62 per cent felt the provincial government was to blame for the strike and 71 per cent wanted the Ford government to renegotiate a fair deal.
Bill 28, as originally written, utilizes the Charter of Rights and Freedoms notwithstanding clause to operate in contravention of specific legal rights granted by the charter. The overwritten charter sections are 2,7, and 15, which deal with rights such as security of peaceful assembly, security of person, and equality rights, among others.
According to Walton, workers will be ready to return to work on Tuesday. However, their actual returns will depend on the specific school boards they work for.
Mark Hancock, CUPE national president, said that while the union has written confirmation that Bill 28 will be repealed, there is no specific timeline yet for when it will happen.