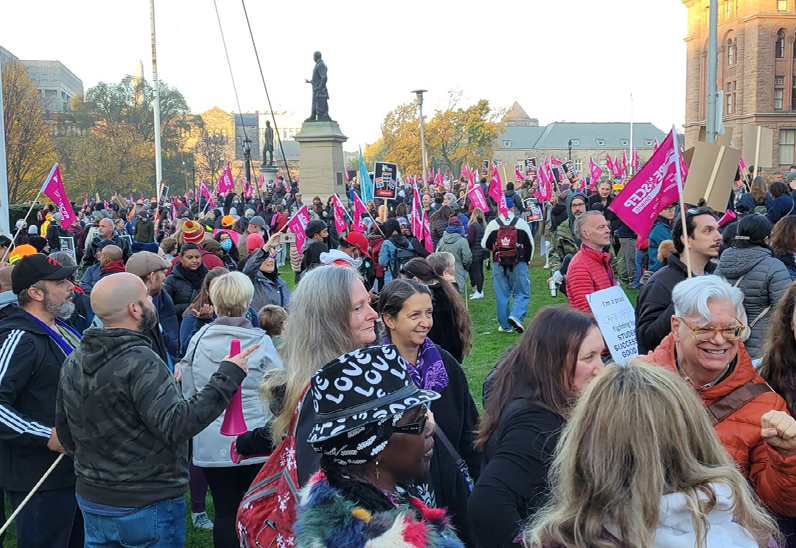 Listen to the audio version here:
For a few days this week, Ontario was on the precipice of a general strike.
On Oct. 30, the Canadian Union of Public Employees (CUPE) served the Ontario government with strike notice after disagreements over wage increases for education support workers.
In response, the government passed Bill 28, which makes strike action illegal and imposes fines of up to $4,000 per day on individuals who take part. Many saw this as an extreme overreach by the Ford government, with other unions gathering in support of CUPE.
Despite the bill, CUPE went on strike on Nov. 4 as scheduled. The multi-day "political protests" garnered public and private sector support for a general strike.
Faced with the prospect of a general strike, Premier Doug Ford's government promised to repeal Bill 28 if CUPE stopped their strike and went back to the bargaining table.
At a press conference on Monday, Laura Walton, CUPE president of Ontario School Board Council of Unions, said the union will not hesitate to serve another strike notice if a deal cannot be worked out.
"This started because the government didn't want to give the lowest-paid education workers in this province a living wage," said Walton. "What this government did was bring us in and say if you don't take this, then we're going to legislate you and not only are we going to legislate you, we are going to rip away all of your rights."
CUPE was initially seeking an 11.7 per cent salary increase for education workers across the province — which would amount to $3.25 per hour — but cut its wage proposal by more than half when the Ford government indicated it would not provide anything close to that amount.
In response, the Ford government passed Bill 28, legislating a contract with a 2.5 per cent salary increase for those who make under $43,000 a year and 1.5 per cent for those over that. It invoked the notwithstanding clause in order to override CUPE's right to protest and make their threatened strike illegal.
General strikes happen when workers from different industries refuse to work to achieve a common goal. It would be "essentially shutting down the province," said Sam Andrey, director of policy and research at Toronto Metropolitan University (TMU).
"If a strike like this were to have occurred, there is a possibility various public and private sector unions would have seen their workers walk off the job in solidarity," said Andrey. "The fact that the government caved is a sign that they heard this message and realized this was an inappropriate use of the clause."
Canada's last general strike was the Canadian Labour Congress' strike of 1976 when over a million workers walked off the job as a result of Bill C-73, which limited wage increases nationwide.
Peggy Nash, a senior advisor at TMU's Centre for Labour Management Relations, said workers' decision to go on a general strike should not be taken lightly.
"Working people don't exercise the right to strike carelessly. It's a very serious decision, because it not only affects the employer, it also affects workers personally," said Nash. "Most people are living paycheque to paycheque, and don't have a lot of money to see themselves through if they're on strike."