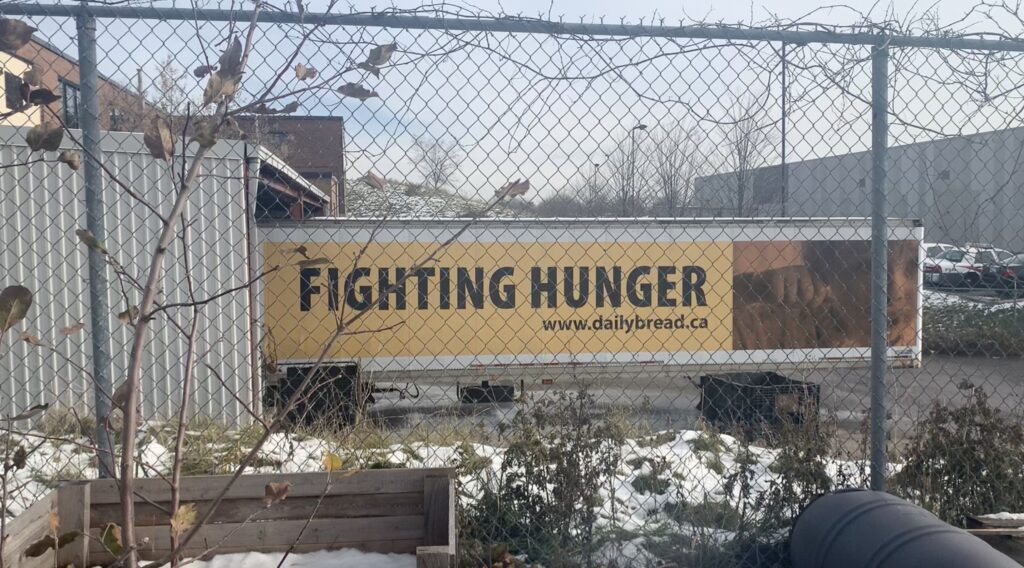 Listen to the audio version below:
This year Toronto food banks had a record-breaking 1.68 million visits between April 2021 and March 2022, up 16 per cent when compared to last year's visits, new data released Monday by Daily Bread Food Bank shows.
It's part of a trend of increased food bank usage across Canada. The 2022 HungerCount report released by Food Banks Canada last month found that food bank visits are at their highest since 1976. Visits have jumped by more than 30 per cent when compared to 2019 — before the pandemic exacerbated affordability and economic pressures.
The HungerCount report highlights the burden food insecurity has on the country and the growing concern over Canada potentially entering a food crisis.
Diane Dyson, vice president of research and advocacy at Daily Bread, says these projections are frightening. "At Daily Bread alone, we are serving as many clients in the span of three months as we would in a year before the pandemic."
The increased demand, coupled with rising food insecurity, has led to Canadians using food banks as their go-to long-term emergency response to food insecurity. Many food banks have sounded alarms over the burden this puts on them.
"Right now, the percentage of food being donated is just not enough for us to meet people's needs, so we supplement and purchase food," said Dyson. "We're spending $13 million a year on buying food to make sure that people don't go hungry. That went from $1 million a year [pre-pandemic] to basically $1 million a month."
Yet, according to the HungerCount report, people are still going hungry at record levels. One in five Canadians have gone hungry over the past two years due to the culmination of rising food and housing prices along with low incomes – creating "'the perfect storm'" in increased demand for food banks.
Data collected by Daily Bread Food Bank shows since November 2021, Toronto food banks have seen 1.99 million visits. At this rate, the data projects hitting the two million mark by the end of this year.
Jess Vega, a student at the University of Toronto, used a food bank in September for the first time. "It felt like a last resort. I have to admit a part of me was embarrassed," Vega said. "Trying to pay tuition, keep up with my rent, buy textbooks and really just live my everyday life affected my budget. I felt like I had no options."
According to the Daily Bread data, food bank clients have "a median of $8.01 left per person, per day, to pay for food and all other necessities" after paying rent and utilities.
Vega is not the only young person who has turned to food banks over the past year. According to the HungerCount report, one-third of food bank users are young people. The report also shows that there has been an increase in individuals aged 18 to 30 accessing food banks.  
"I'm glad food banks are an option, but more needs to be done, so people like me aren't stuck in these situations forever," said Vega.
Dyson said that ultimately, food banks "want to become obsolete so that nobody needs [them]." But for this to happen, long-term policy solutions must be implemented. Dyson says food insecurity is not simply about food — it's about the cost of living.
Tim Li, a research coordinator at PROOF, a program that studies solutions to food insecurity in Canada, says that about 5.8 million Canadians are currently living in food-insecure households and are struggling to put food on the table because they don't have enough money.
"[The bottom line] is that we have a serious problem that needs to be dealt with," said Li.
FoodShare, a Toronto-based food charity, is currently working on tackling food insecurity in Toronto through its Right to Food campaign. Campaign coordinator Hansel Igbavboa says that we must move away from seeing food as a commodity, to seeing it as a human right.
In 1976, Canada signed the United Nations Covenant on Economic, Social and Cultural Rights, accepting a legal responsibility to respect, protect and fulfill the right to food. As the HungerCount report notes, 1976 was the last time food bank visits were as high as they are now.
Then in 2001, Toronto City Council unanimously adopted the Toronto Food Charter, highlighting the city's commitment to food security. Despite this, Torontonians are still facing record levels of food insecurity.
Igbavboa says that right now, FoodShare is calling on the city to update the charter, so that food-insecure people are at the center of all policy decisions surrounding food. 
Though this is just one solution. "The city needs to refocus their priorities," Igbavboa said.