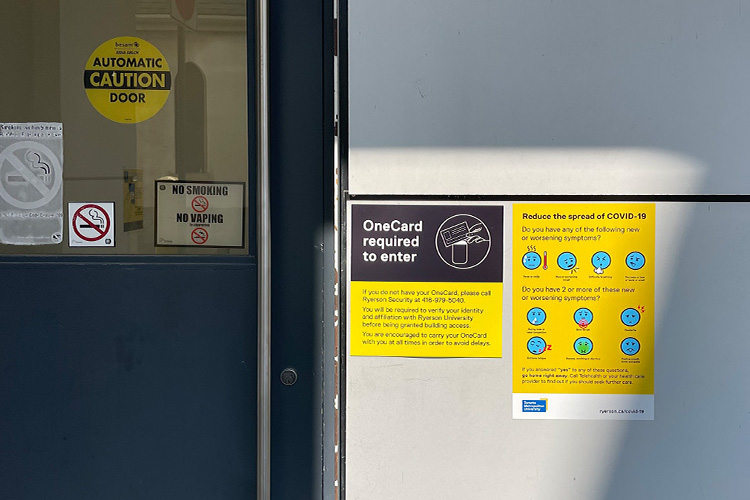 The decision to suspend Toronto Metropolitan University (TMU)'s COVID-19 protocols for the Fall semester was based on Ontario's current public health measures, said president Mohamed Lachemi.
In an interview with On The Record on Monday, Lachemi explained how the university formulates its COVID-19 policies whenever it makes changes.
"I think we have been very consistent from the beginning of the pandemic," said Lachemi. "We work very closely with public health agencies and the government to gather important dates, information and direction."
Effective Sept. 6, TMU's vaccine and mask mandates are on pause, leaving the choice up to students and faculty between whether or not they wear a mask. They also no longer have to submit proof of vaccination through the TMU Safe mobile app when coming to campus.
Although the university has encouraged its community members to continue wearing masks while indoors and remain up-to-date with vaccinations, some TMU students are concerned with the policy.
Mariam Barrow, a first-year media production student, said the university dropped its COVID-19 protocols too early.
"They should still be limiting capacity for events and in the classrooms for the time being, considering we are about to enter flu season and COVID-19 is still lingering," said Barrow.
First-year science student Gabriela Politi is concerned with the removal of vaccine and mask mandates, fearing the possibility of a return to remote learning.
"We have seen [masks] minimize all sicknesses the past two years. I'd be upset to lose in-person classes because of another student or faculty member's contagion," said Politi.
Last month, the Ontario Medical Association hosted a virtual panel where physicians spoke about COVID-19 and other health-care issues that could arise in the coming months. Doctors warned of a likely increase in COVID-19 cases in the fall, considering that more people will likely gather indoors.
James Tiessen, director of the master of health administration (community care) program at TMU, said: "I don't see what else the university can be doing given the context of what is happening. I think the province and society have moved on. Public health is no longer requiring masks or vaccines in most settings, so the university is compelled to move along with it."
However, Tiessen added that we still need to continue protecting ourselves on a mostly maskless campus.
David Fisman, a professor of epidemiology at the University of Toronto, said via email that universities should be focusing on controlling airborne spread at this point of the pandemic. This can be achieved with a combination of masking, ventilation and air filtration.
On TMU's COVID-19 information and updates page, the university says it has enhanced the air quality in classrooms and workspaces. It also states that there have been additional steps to ensure that there is appropriate ventilation indoors to extract air contaminants and bring in fresh air. No further details have been provided.
TMU administration also outlined in their Sept. 6 statement that they may need to reinstate previous COVID-19 requirements, should public health indicators change.
To view the full list of health and safety protocols TMU has in place to minimize the spread of COVID-19 on campus, visit: https://www.torontomu.ca/covid-19/health-safety-on-campus/