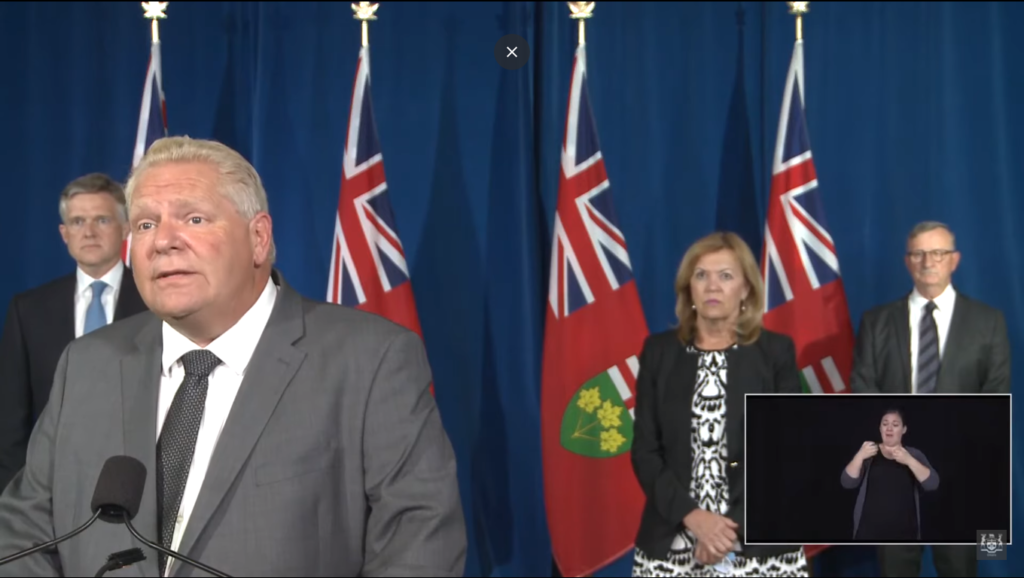 Ontario is officially experiencing a second wave of the COVID-19 pandemic, Premier Doug Ford said at a press conference on Monday. The announcement comes after the province reported 700 new cases of COVID-19 that same day.
The second wave will be more complicated, more complex and worse than the first, said Ford. "We do not know yet how bad the second wave will be," he said. "The reality is, it is up to each of us. Together, our collective actions will decide if we face a wave or a tsunami."
Monday's announcement also comes after the Ontario Hospital Association published a statement calling for Toronto, all GTA regions and Ottawa to return to stage two restrictions. That would place restrictions on bars, restaurants, places of worship, weddings, gyms, movie theatres and other non-essential businesses.
"Without public health measures in place to limit opportunities for disease transmission, Ontario will soon see higher numbers of hospitalizations, admissions to intensive care units (ICUs) and more deaths," Anthony Dale, hospital association president, said in the statement.
The government said it is not returning to stage two restrictions at this time. Minister of Health Christine Elliott acknowledged the Ontario Hospital Association's concerns but said that she is taking advice from Dr. David Williams, chief medical officer for Ontario, and other public health experts.
"We do not want to turn back a stage unless we absolutely have to, but if we do have to, we will because the most important thing is the health and well-being of the people of Ontario," said Elliott.
Ford also announced that $52.5 million will be invested to recruit new health care workers and retain existing ones, $26.3 million will go toward personal support workers (PSWs) and support care workers and $26 million will go toward nurses. Another $200,000 is earmarked for fast recruitment tools and assisting non-hospital care centres to make quick changes to their visitor policies.
Monday's announcement is the fifth pillar to the province's fall preparedness plan, titled Keeping Ontarians Safe. The pillars of the plan were announced one at a time over the past few days. The last part of the plan will be announced tomorrow.