Listen to the audio version of this story:
The rise in popularity of Tik Tok has made accessing new fashion trends even easier and it's showing up on campus this fall. Tik Tok documents the popularity of aesthetics as the For You page aggregates users' interests, which provides users with quicker access to trends.
Due to the easy accessibility these styles quickly go in and out of popularity and can involve impulsively consuming, this leads to companies selling out quickly and not being able to keep up with the ever-changing demands of the fashion world.
"Social media is intrinsic to fashion because it can capture changes in style immediately. This is especially the case for authentic social media imagery created by regular people, as opposed to influencers," said Henry Navarro, associate professor in the school of fashion at TMU.
"Contrary to what the fashion industry wants consumers to believe, fashion isn't dictated by fashion designers or brands, added Navarro. "The fashion industry simply documents where society is headed, style-wise, and creates products addressing those style currents."
Most fashion trends this fall are further developments or adaptations of trends from the spring and summer, said Navarro. Some of the noteworthy ones he pointed out are:
Fuller silhouettes (wide-legged pants, maxi skirts and oversized shirts and jackets—but made out of warmer materials such as leather, wool, twill, and shearling)
Chunky footwear, from platform sandals and boots to clogs and chunky sneakers. These amplify the fuller fall silhouettes or provide a focal point for trimmed bottoms
Contrasting fabrics as we transition towards colder weather: layering see-through materials (lace, tuile, mesh, chiffon)with more substantial fabrics (denim, canvas, faux leather).
Here are some of the fashion trends we documented around the TMU campus: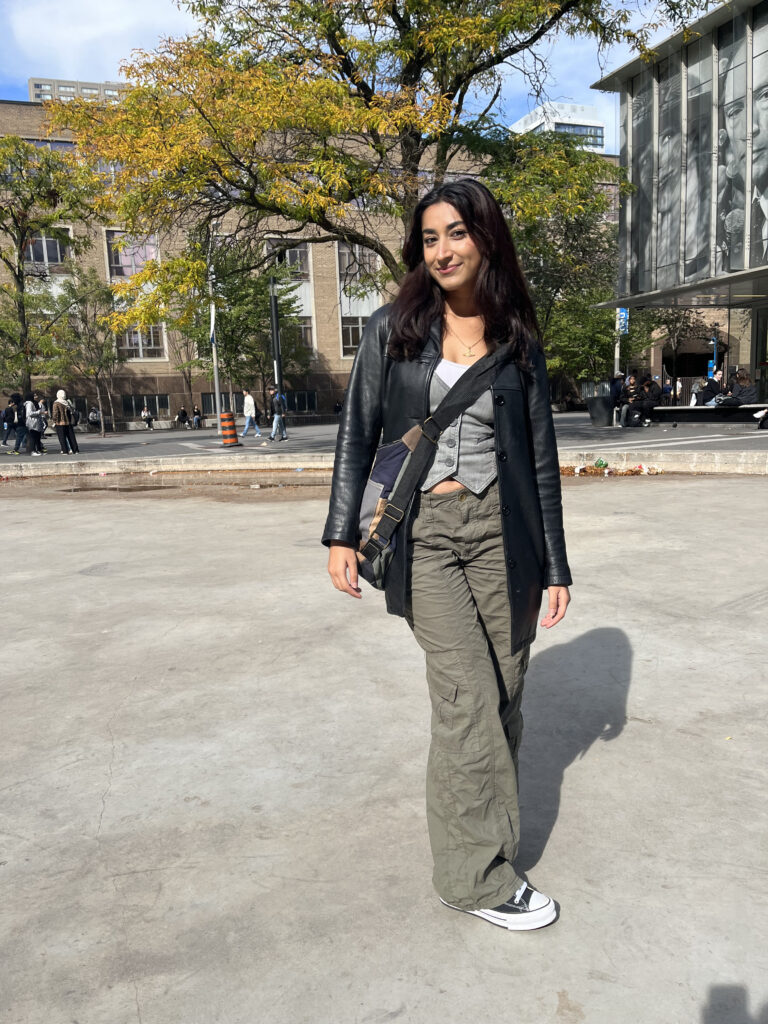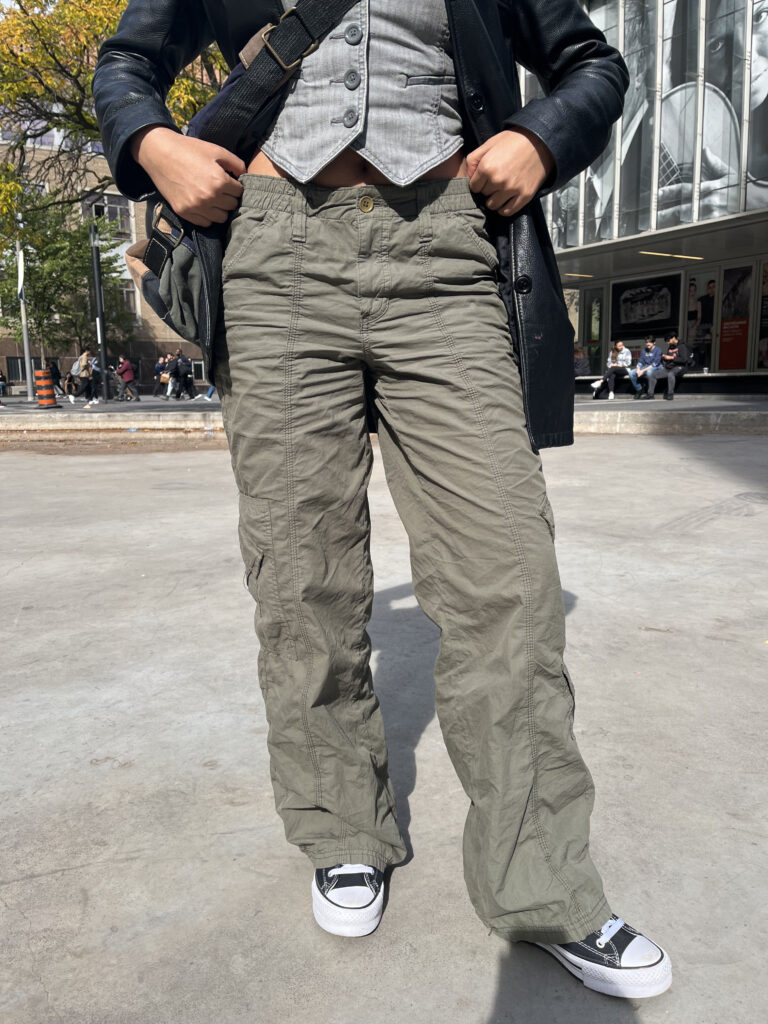 Trend: Cargos, leather overshirts, vest
This is Zarina Noorzard, a first-year masters of criminology and social justice student. She says she wanted to wear something that captured fall. Noorzad gets her inspiration from Pinterest, Tik Tok, and also people-watching. "This vest, I never would've bought this, but I thrifted it because I saw Bella Hadid wear it,"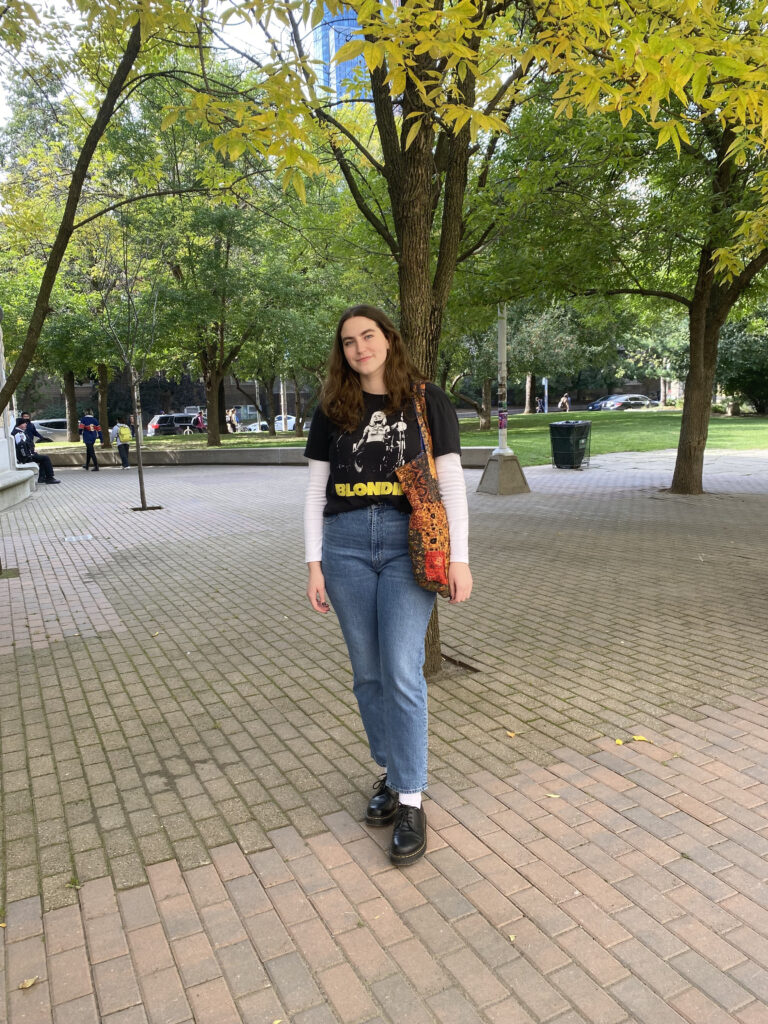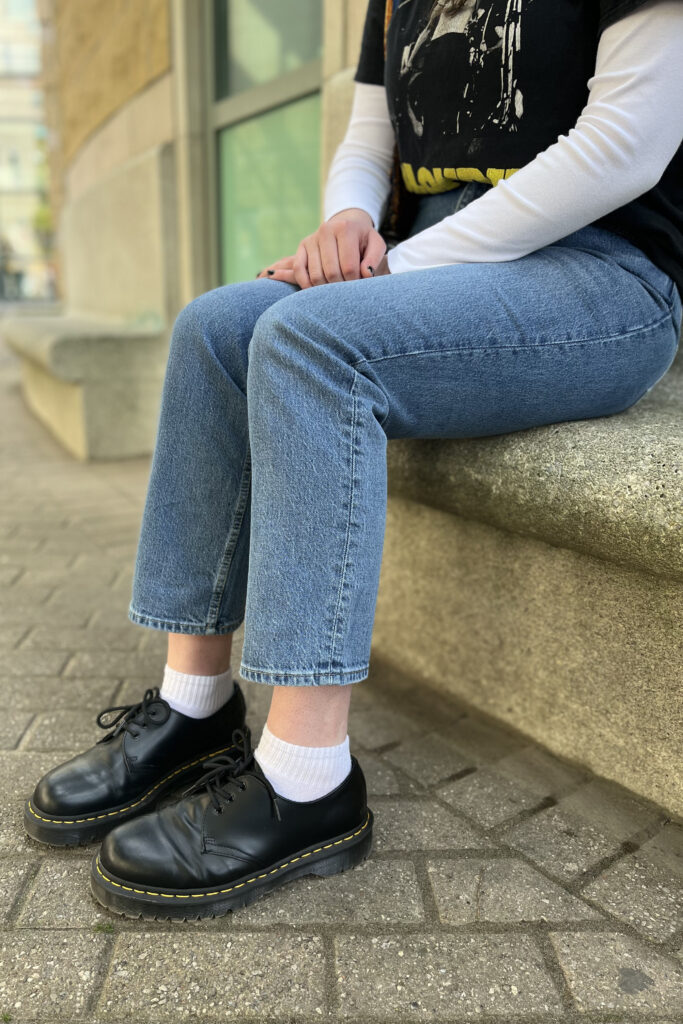 Trend: Chunky loafers
Tia Greco is a second-year student, majoring in sociology. She layered a graphic t-shirt with a long sleeve shirt and is wearing chunky loafers."I get fashion inspiration from a lot of different places. Sometimes I'll see a cool outfit on Pinterest or even on campus, and I'll try to recreate that with my own personal style," said Greco. "Lately I've been getting style inspo from Johnny Knoxville, his outfits are casual but the pieces he wears are super cool."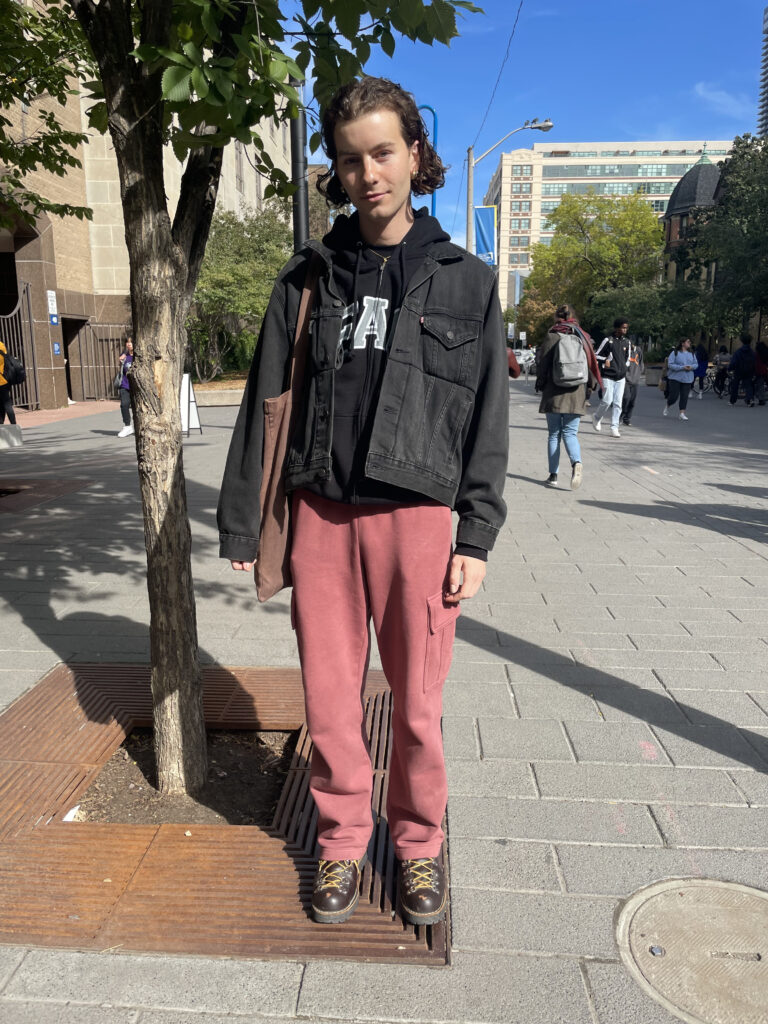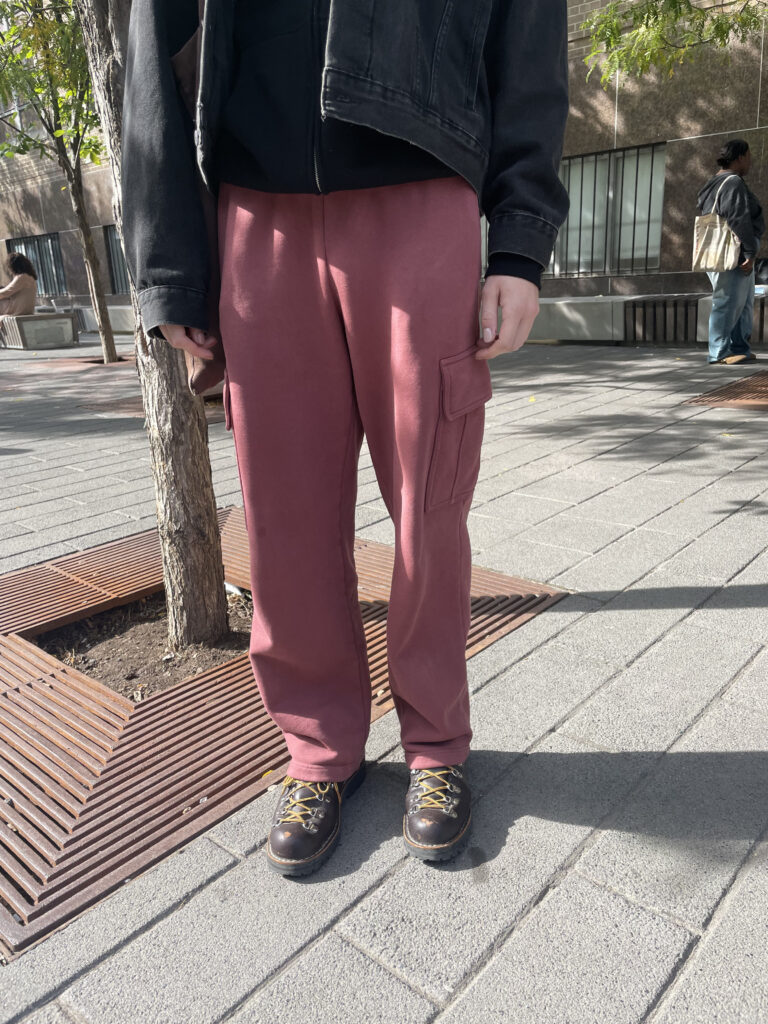 Trend: Cargo sweats, denim jackets
Saje Benoit is a third-year professional communications student. "My fall fashion inspiration comes from my dad, who has always had really good jackets," said Benoit. "I like really oversized stuff because I feel like it is fun to be girly in the face and hair and wear lots of jewelry but then wear big clothes. It's a fun contrast."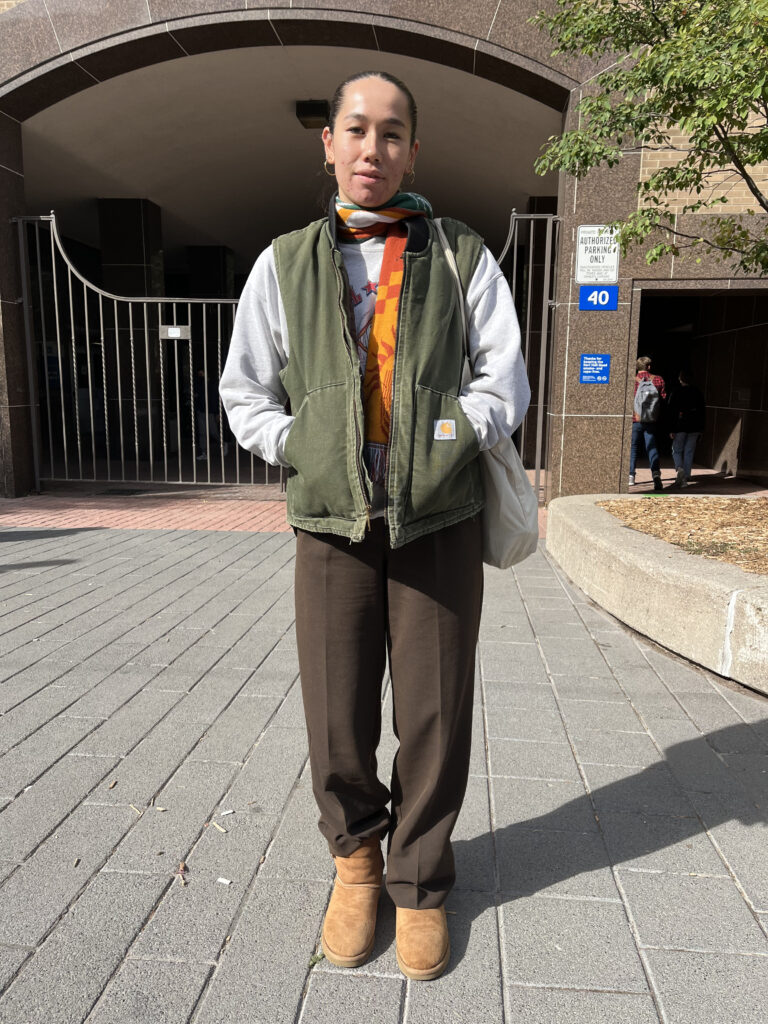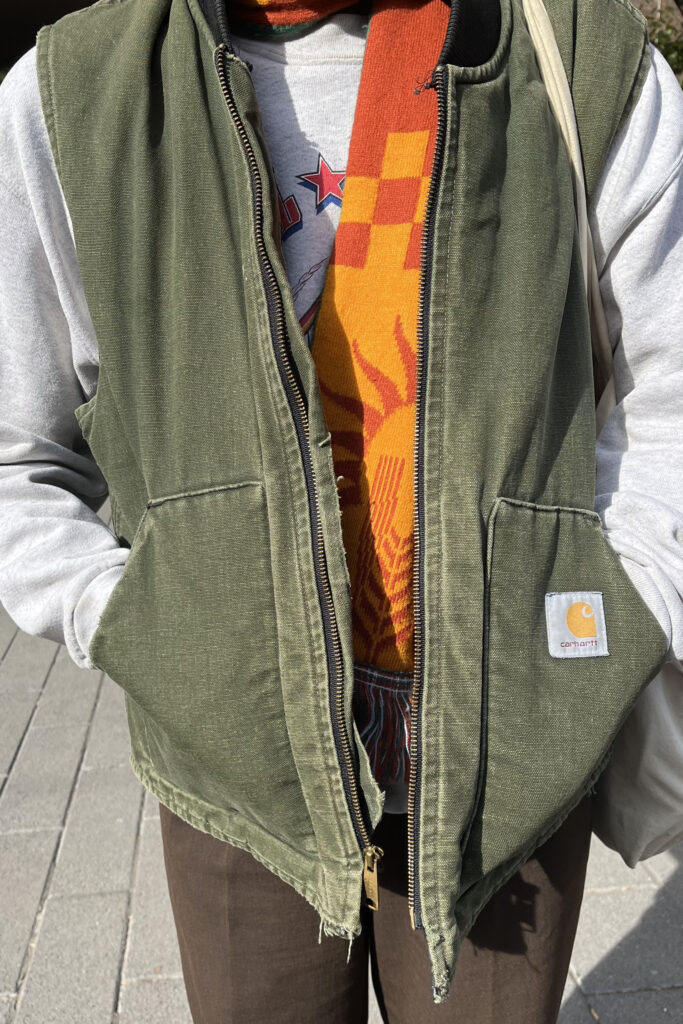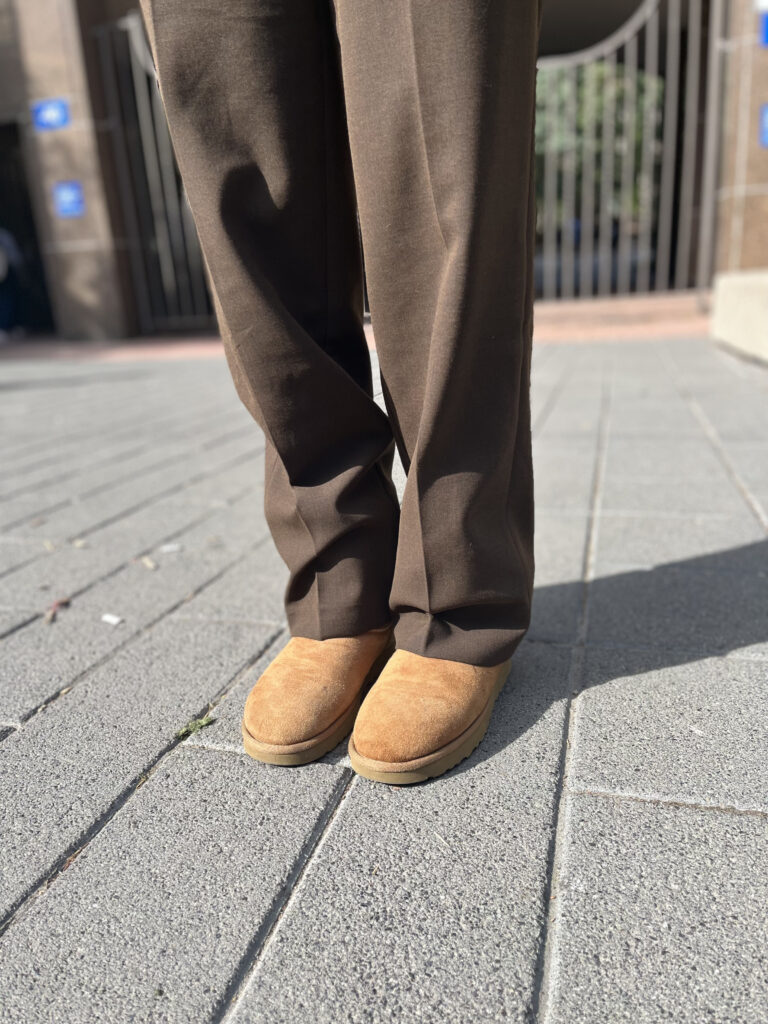 Trend: Wide leg dress pants, scarf, vest, Uggs
Rhea Yee is in her fourth year of creative studies. She said when deciding on her outfits she looks for a balance of being comfortable, functional, and cute. "I love layering," said Yee. "My favorite fall trend is scarves. I have a lot of scarves that I can wear with different outfits to add to it." Mini uggs are another trend that are a staple for the season. They are often styled with a baggy oversized pant or trouser.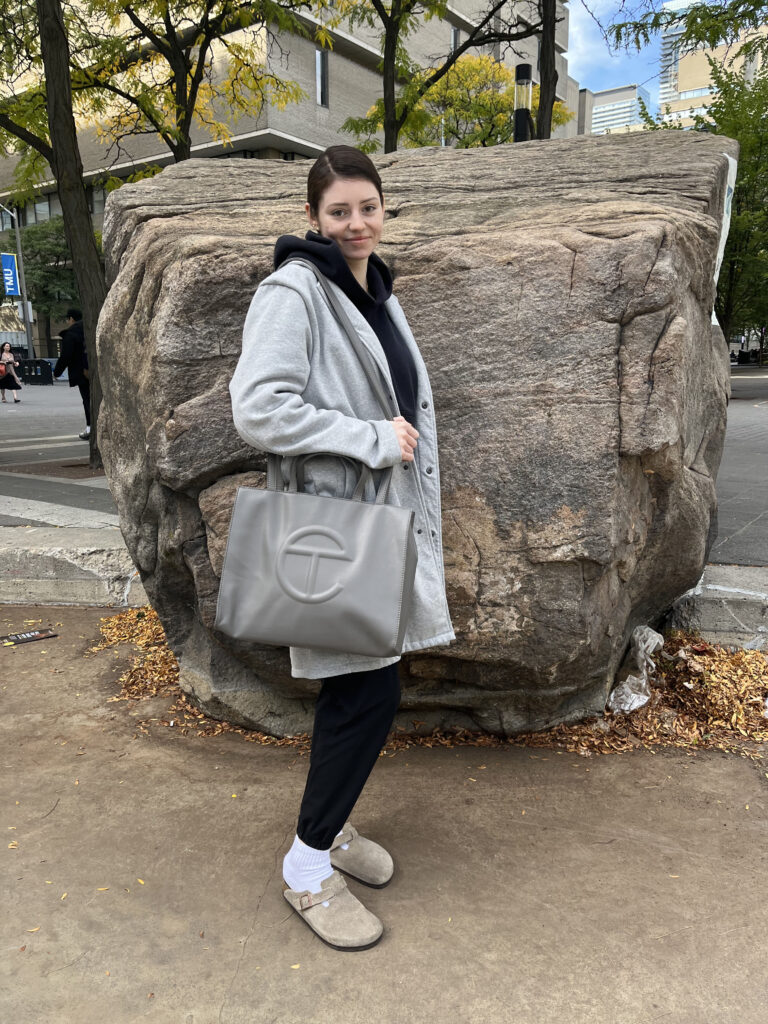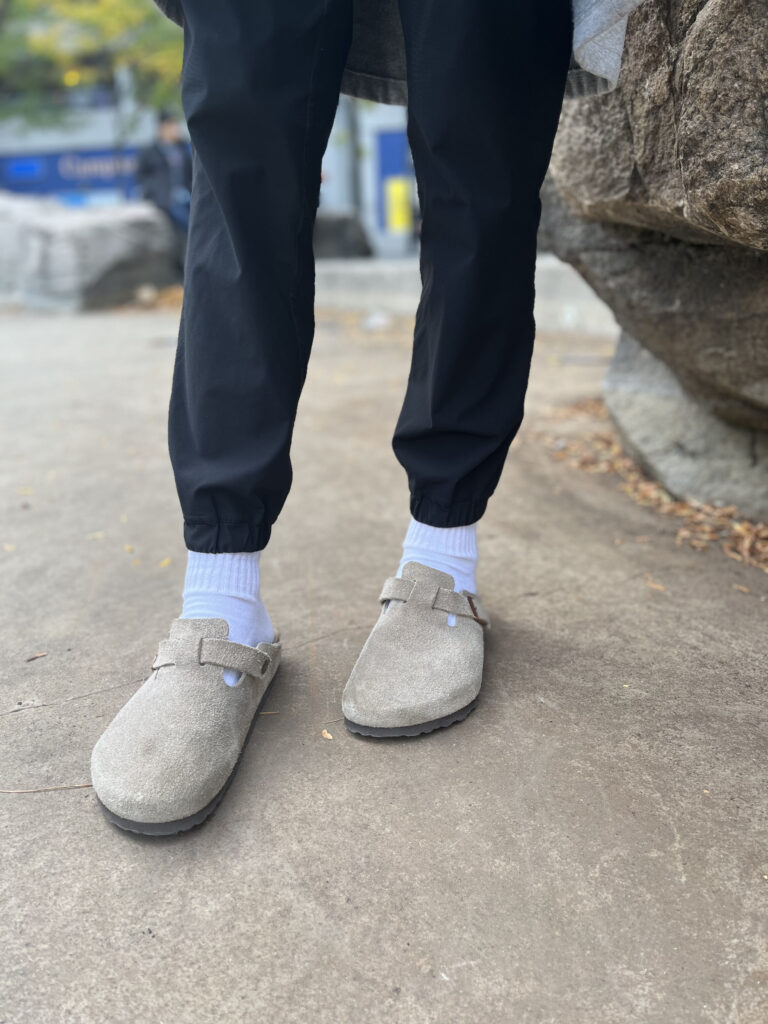 Trend: Birkenstock Bostons
Megan Morley, is in her first year of her master of criminology and social justice. As a commuter, Morley said comfort inspired her look, which still also ended up being stylish and trendy. "The Birkenstocks are very popular on social media, right now, namely Instagram and TikTok," said Morley. "I heard about them from Daniel Simmons (influencer and YouTuber), who my friends know. He is a guy, but I really like his style. These are a unisex shoe, so I decided to rock them as well."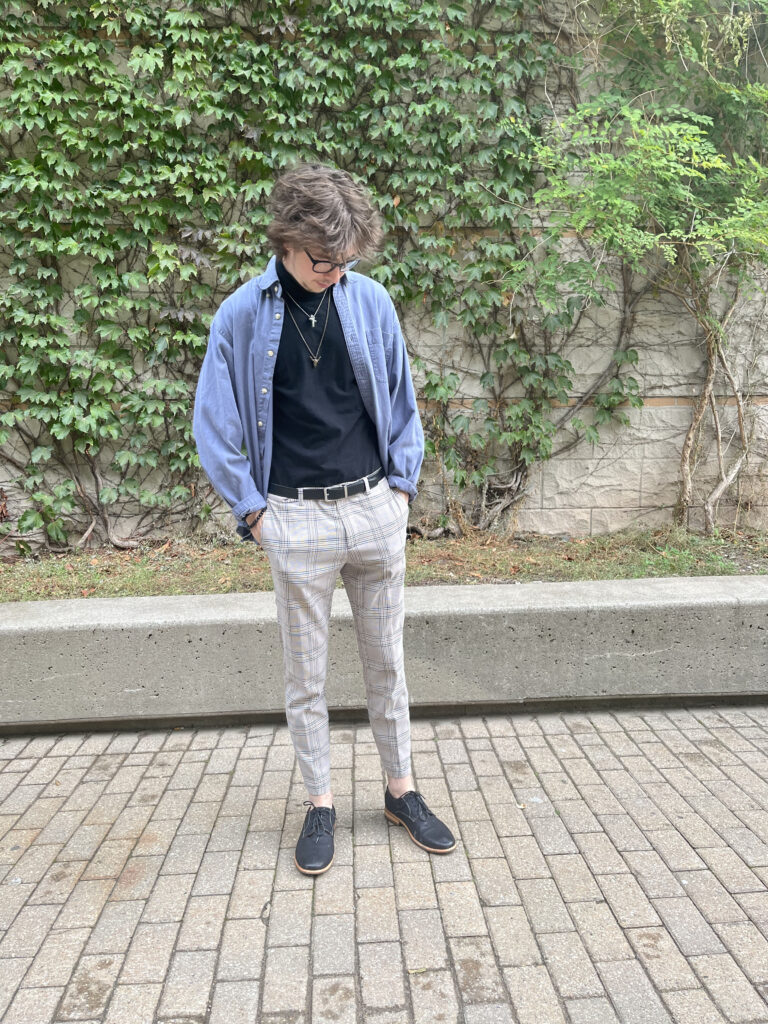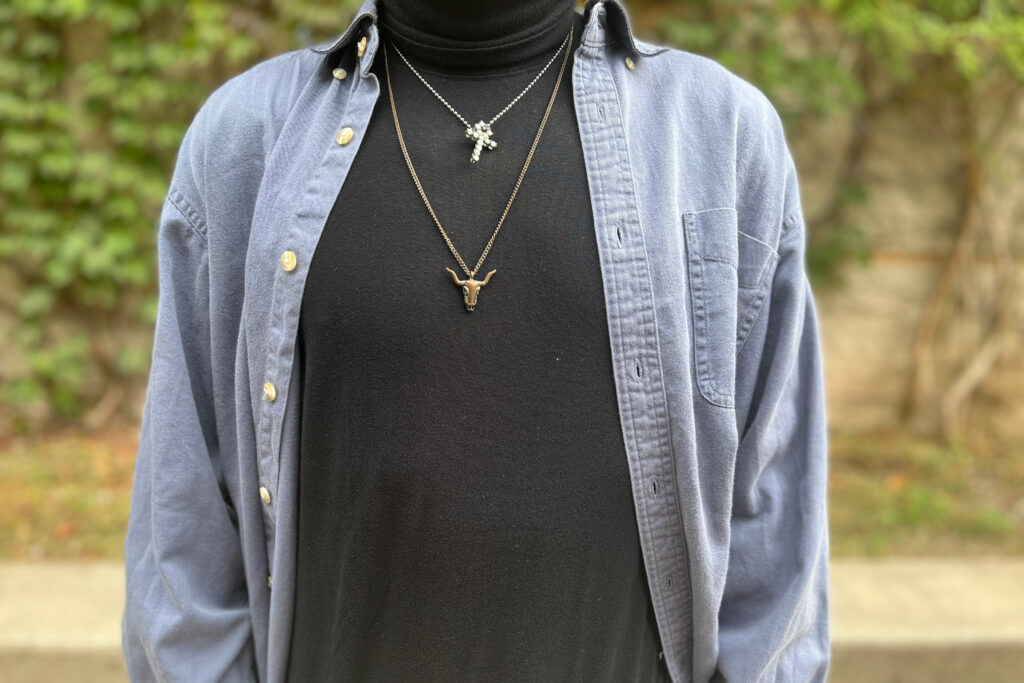 Trend: Overshirt, Turtleneck, plaid pants
Nathan Kennedy is a fourth-year journalism student. Kennedy says his style is streetwear combined with business casual. "My favourite fall trend is honestly just layering. I love being able to build an outfit with multiple layers that complement each other."