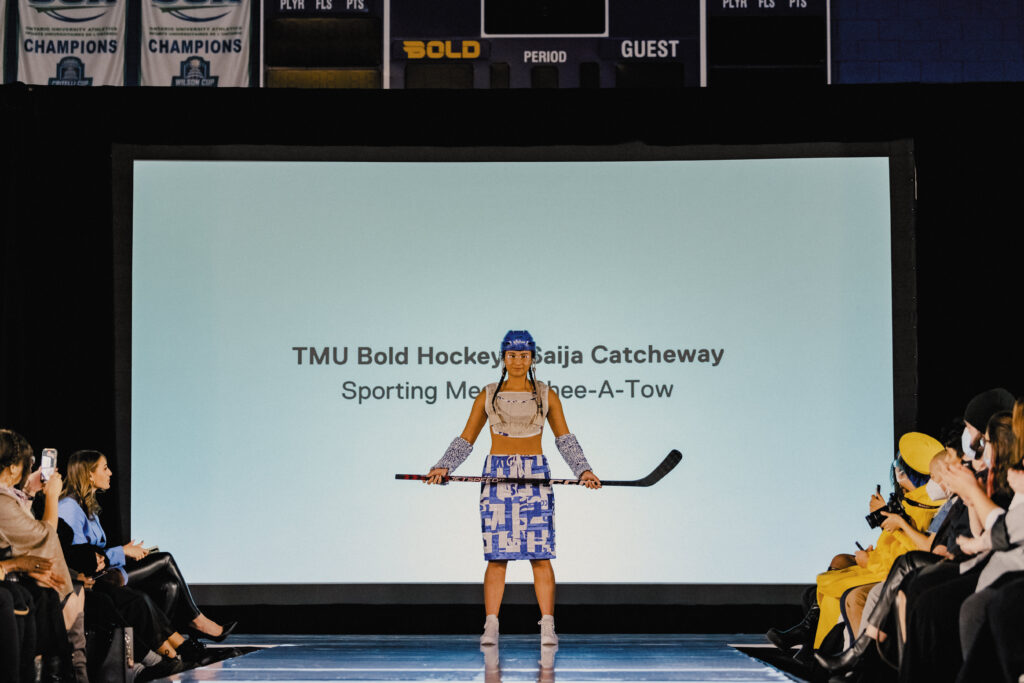 Listen to the audio version below:
Sashaying their way down the runway, TMU students and staff modelled 27 unique looks constructed from old Ryerson-branded merchandise at the Upcycled Gear Fashion Show on Monday night, at the Mattamy Athletic Centre.
The limited edition clothing collection—part of TMU's ongoing Branded Materials Transition Project—is a collaboration between The Creative School, athletics and recreation and the Office of Sustainability.
"TMU has always maintained a strong commitment to sustainability, which continues as we transition to our institution's new name," said TMU president Mohamed Lachemi in a press release. "I am proud to see our community thinking of creative and positive ways to upcycle and reuse our branded items."
After the university announced its name change in April, the transition project began collecting Ryerson-branded items, and in the fall, TMU put out a call to the community to drop off a wider variety of old branded materials, On The Record previously reported.
In a recent press release, the university said 11,000 kilograms of materials have been collected to-date, 800 of which were saved from landfills by being debranded and recirculated. This includes apparel, water bottles, backpacks and notebooks.
The limited edition garments were designed by TMU fashion students, alumni and local designers. TMU Bold student-athletes strutted the stage, bringing the tailored looks to life.
For the show, class of 2020 alumni Jessica Frankel created a vibrant blue and gold patchwork vest and pants set. Her mother Sandy Frankel, "a proud parent" in the audience, says her daughter was immediately on board when a former professor asked her to join the show.
"I think it's amazing, this is what she does," said Sandy Frankel. "[Upcycling] is her thing, so it's right up her alley."
Sam Tinajero-Alvarado from the Bold rugby team was the first student to open the show. This was her first-ever runway appearance.
Tinajero-Alvarado is passionate about fashion sustainability, and had been wondering what would happen to all the Ryerson-branded materials — so she was happy to find out about the show and to participate.
"Plus, it's great exposure for all teams, specifically club teams who don't gain as much viewership and tend to be overshadowed by varsity teams. We get to spotlight everyone: teams, athletes, designers and students altogether!"
Most of the outfits in the upcycled gear collection are up for auction until 6 p.m. Wednesday. All proceeds, along with ticket sales for the show, will go to the TMU Bold Equity and Inclusion Award to support student-athletes from equity deserving groups.