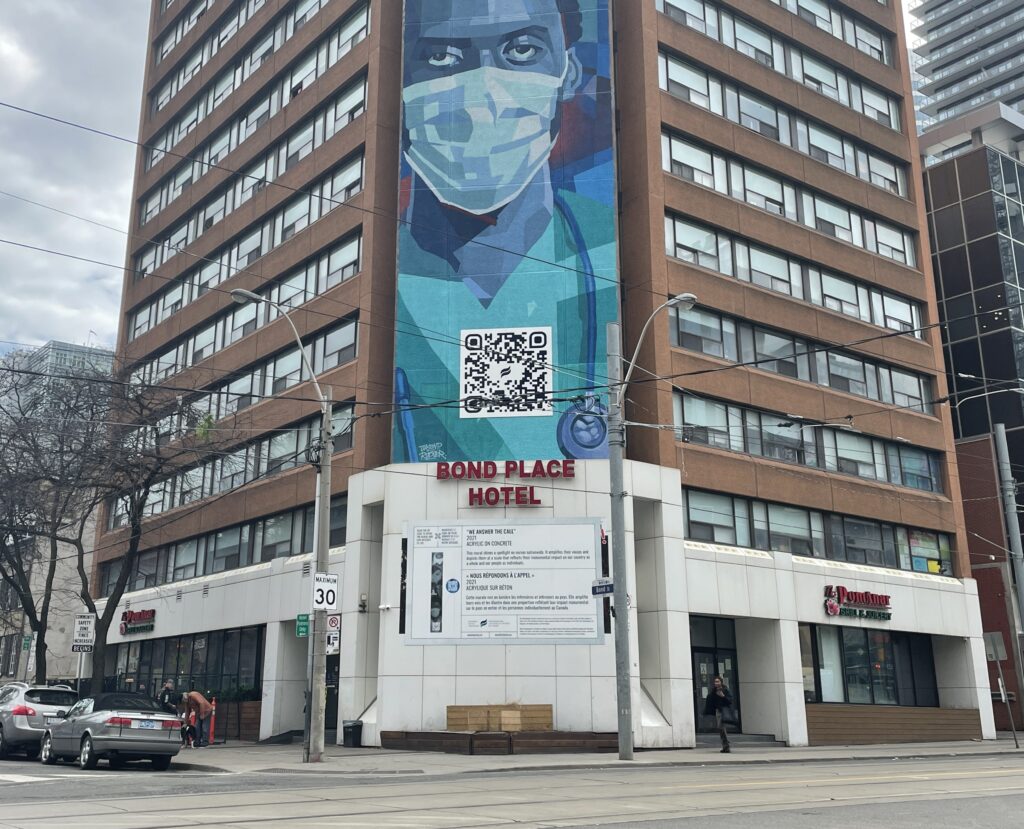 Residents of the Bond Place Hotel, a homeless shelter in downtown Toronto, have been sharing stories about poor living conditions at the residence on a Twitter account called "Voices from The Bond." The residents posted details about issues with food quality, as well as concerns over accessibility and service restrictions. The hotel's lease is controlled by the City of Toronto and is set to expire at the end of April. Residents expressed concerns over being displaced, with temporary COVID-19 shelters in the city shutting down.
"Everything has been a battle since they first put me here," said Jennifer Jewell, a resident of the Bond Place Hotel. Jewell has been living at the shelter since November 2020 and has been struggling to get support from workers at the site for her physical disability. "It took 14 months for them to give me accessible shower equipment. So (prior) to that I just wasn't showering most of the time," she said.
Jewell says that during her second day of living at the shelter, she expressed concern about living 14 flights of stairs up from the ground floor. She was worried what would happen if there was a fire. In her first three months of living at Bond Place Hotel, a fire did happen, and it required staff to evacuate the whole building. Building management sent staff members through to clear the rooms out, but Jewell could not travel down that many flights of stairs.
"The staff argued with me (and) told me three separate times that I had to go down the 14 flights of stairs and (that) he was gonna leave me behind if I didn't. So I got left behind," she said.
Once Jewell began doing interviews with the press, she was moved to a lower floor. She is one of the few residents speaking publicly about these issues because other residents are afraid of being evicted.
"If there's somebody that causes some problems or that they don't like having to deal with or having to accommodate, they'll find other reasons to kick them out," she said.
Dixon Hall Neighbourhood Services, an organization that provides shelter services for homeless and vulnerable populations in Toronto, and oversees Bond Place Hotel, says that they've been in touch with residents consistently.
"There are complex needs associated with the community that lives at The Bond," said David Reycraft, the director of housing services at Dixon Hall. According to Reycraft, the issues residents say they're experiencing have been persistent and Dixon Hall works closely with the residents at the Bond to communicate about them.
Regarding the Twitter account, Reycraft said they have been made aware of it and reached out to the residents, but that they hadn't heard back as of last week.
"We haven't had any response at this point," he said.
Jewell claims the residents have been in touch, and they have terms they want to be met first before continuing. "Our condition for meeting with them is to start organizing the mandated monthly resident meetings that are supposed to happen once a month," she said. "We haven't heard back from them yet."
In a statement on behalf of Coun. Kristyn Wong-Tam, her chief of staff, Robin Buxton Potts, says that they've spoken with residents of the Bond Place Hotel in the past, but that the residents working on the Twitter account have not reached out as of this week. She said Wong-Tam's team has shared these concerns with the shelter, support and housing administration at the City of Toronto.