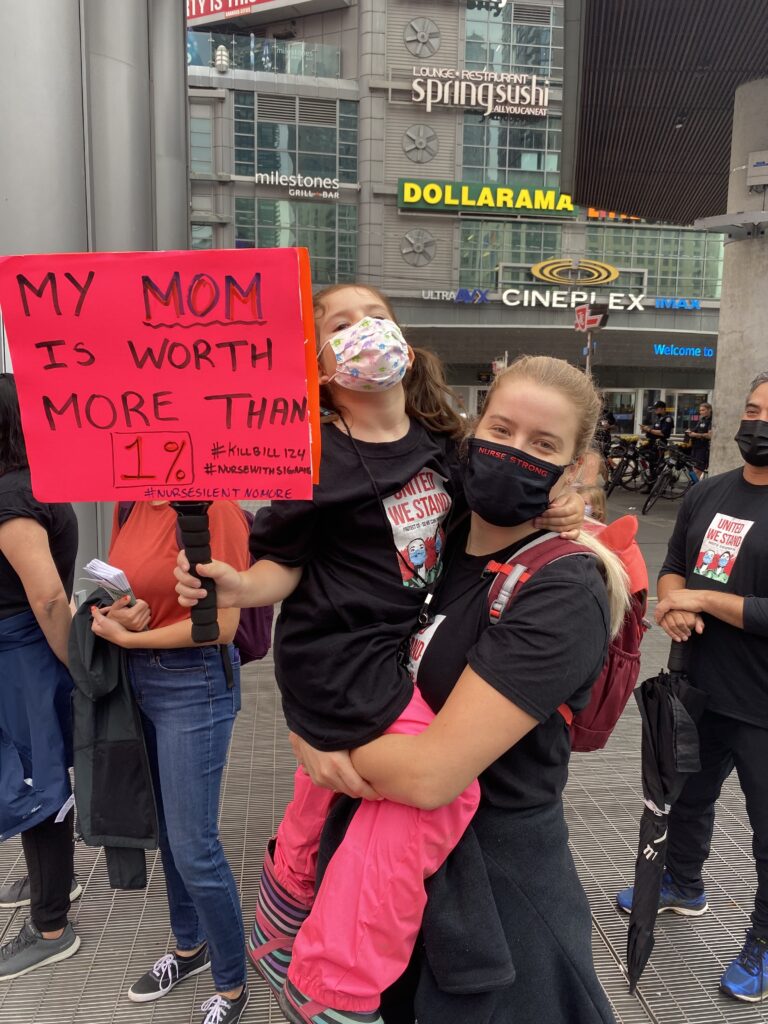 I was five or six years old the first time I remember visiting a hospital. I needed antibiotics for my ear infection that came on suddenly in the middle of the night.
I was sitting at my mom's triage desk in the emergency department at St. Joseph's Health Centre, where she'd already worked for four years. The yellow liquid was fed to me through the squirt of a syringe; it tasted like bananas. I liked bananas. 
For years, I've relished the fact that I have nurses in my family. My dad, who I often refer to as "Superman," was a nurse at St. Joseph's for many years before pursuing a medical sales career.
My grandmother has been a retired registered nurse for 14 years now, since she proudly ended her career at Trillium Health Centre, now known as Mississauga Hospital, in Mississauga, Ont.
Needless to say, I don't need to go very far to seek medical attention.
While I can say it's a privilege to have your dad take your bloodwork and that I find comfort in knowing that I visit the same hospital and see the same doctors and nurses every time I run ill, I never knew how much my mother was truly suffering in the workplace — that is, until the COVID-19 pandemic. 
Since March 2020, nurses have been on the front line of health care, tirelessly fighting the deadly disease.
From the outside looking in, we see hundreds of thousands of individuals entering hospitals across Canada daily, intensive care units completely full and we often hear the phrase, "I just had a bad nurse," as we complain about wait times and under-staffing.
The truth? This burnout and exhaustion being exacerbated by the COVID-19 pandemic is causing a mass exodus from the nursing workforce and will be detrimental to the effects of day-to-day care.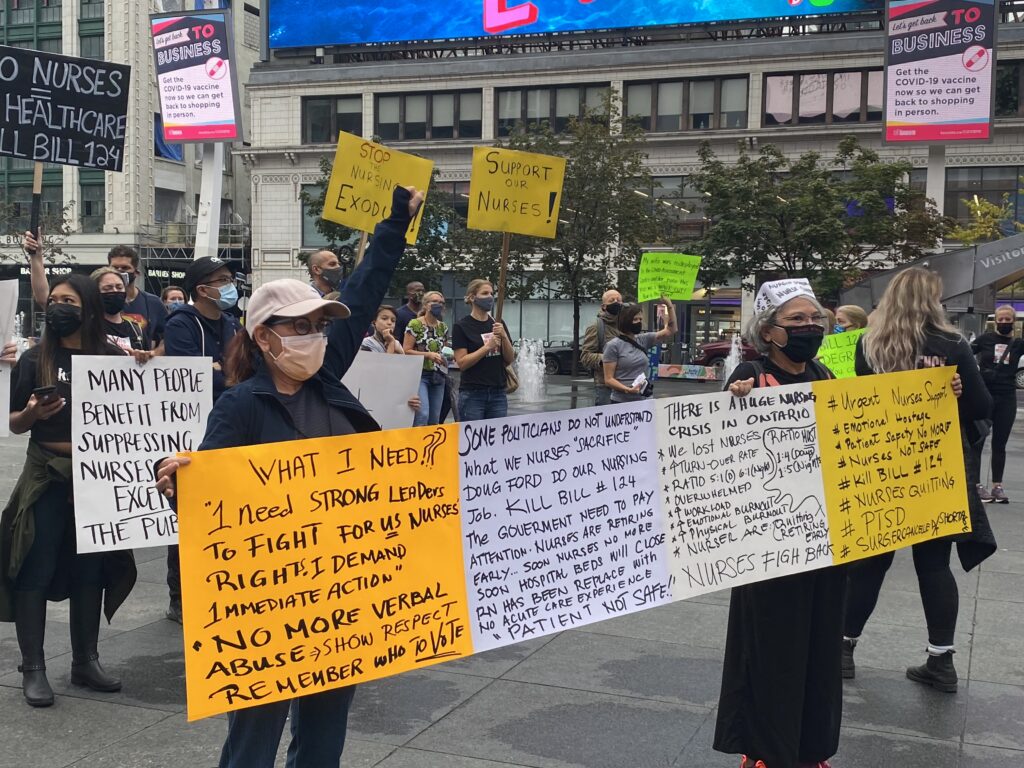 On Saturday, Oct. 3, just one day before Ontario Premier Doug Ford was to return to the legislature, dozens of nurses gathered to march from Queen's Park to Yonge-Dundas Square.
This act of rallying together was an effort to exempt Ontario nurses from Bill 124. Bill 124 limits compensation and salary increases and benefits, with a one per cent rate per three-year period.
This rate is lower than inflation; since the beginning of the pandemic, in April 2020, nurses with experience of 25 years have seen a 48-cent raise.  
Since Bill 124 has been put in place, my mom has undergone a switch from full time to part time. I've watched from the sidelines as several other nurses, whom I'd consider to be like second mothers to me, have all followed in unison.
Behind the revolving doors of the hospital, it's not the way we imagine it to be.
From the outside, we don't see it for what it really is. One nurse in charge of three patients due to nursing shortages is the norm now, which means that patients may not receive the care they require.
New nurses straight out of school are getting thrown into the fire with barely any clinical experience, expected to follow suit of nurses with 30 plus years of experience.
These are no longer conversations to be had at the dinner table, these are real issues worth discussing with the Ontario government, which has long since seen eye-to-eye with health-care workers.
Nancy Halupa, a nurse and co-founder of the Instagram account @nursewithsign416, spoke out about her feelings while her son, Matteo, held up a sign in support that read, "My mom cries after every shift."
Halupa is discouraged about the way that nurses are being treated.
"I'm tired of feeling like an inadequate mother or friend because I'm too busy thinking about what I did wrong; it's time that the people in power take ownership," Halupa said. "I've been silenced for 23 years and I'm not doing it anymore."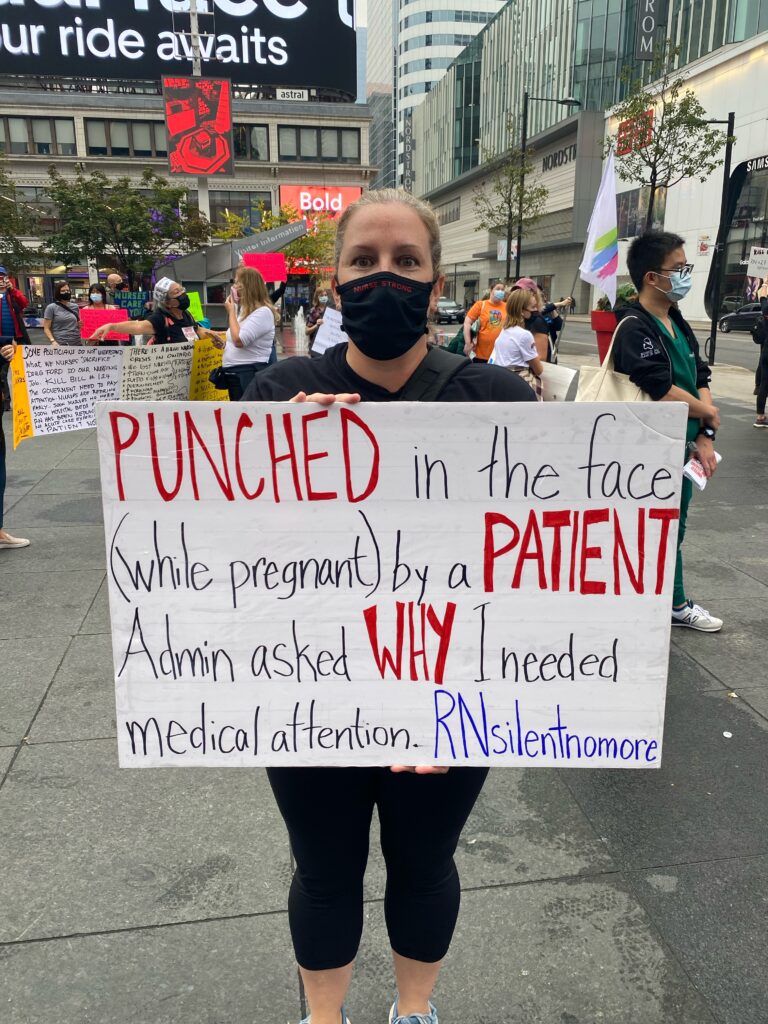 @nursewithsign416 is an Instagram account that works to raise awareness to the health-care sector.
With more than 7,000 followers gained over the course of a few months, the image captions are littered with the hashtag, #KILLBILL124, in an effort to show support for our Ontario nurses. 
Many others spoke out at this rally, including emergency physician, Dr. Christopher Keefer.
"Morale is at a breaking point; health-care workers get into this because we love caring for patients and it breaks our heart when we can't do that to the level of quality and skill that we've been trained to do," Keefer said. 
Looking around the square, I couldn't help but shed a tear.
Some nurses had come from as far as Kingston, Ont., to show their overwhelming support while others had just finished a night shift at Toronto General Hospital.
These nurses are underpaid, overwhelmed and are quitting in unprecedented numbers. The worst part? The days of suffering began long before the pandemic began.
Although the concerns with health care grew more into focus alongside the pandemic, nurses have been silenced for decades, unable to speak up for themselves in regards to their poor working conditions.
My mom goes to work, as do the rest of the nurses in Ontario, and in turn they get neglected, punched and verbally abused by multiple patients day after day, year after year.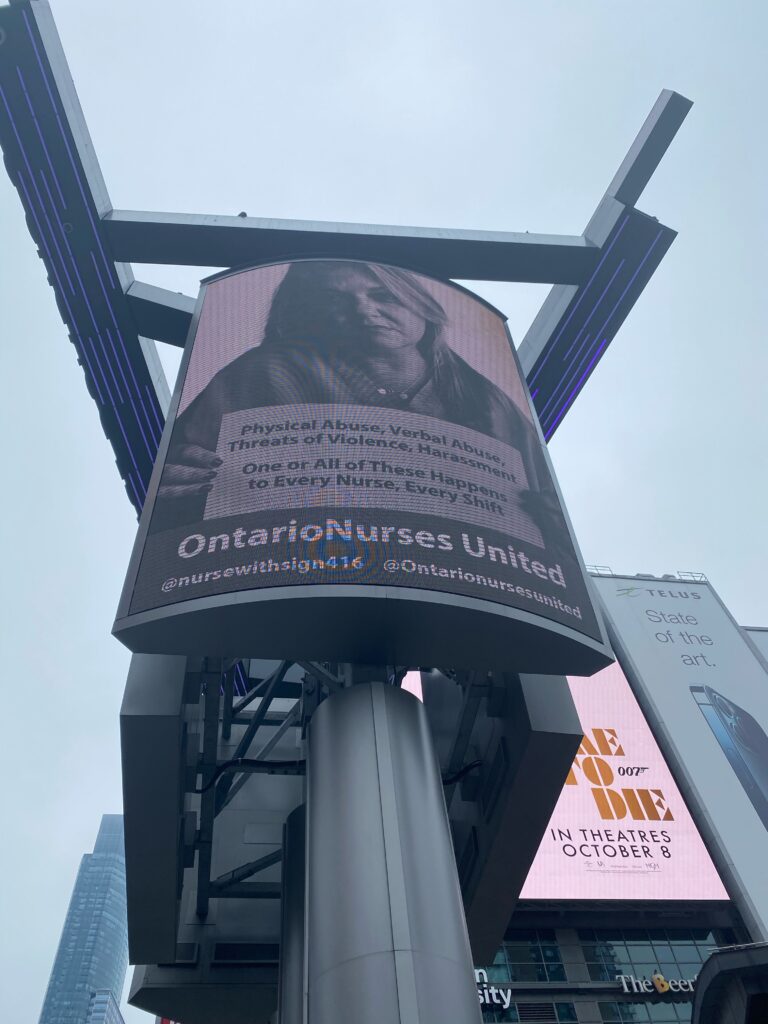 As a nurse's daughter, I recognize that the time to act is now.
Leading up to the next provincial election, we must work together to eradicate Bill 124 and publicize the names of those who agreed to put forth the movement.
We are calling for justice and respect, two things nurses were never given, even at the forefront of the pandemic.
With that being said, I have one question for you: Don't you think that my mom, my dad and my grandmother are all worth more than one per cent?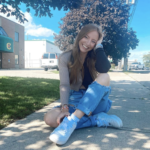 Madison Dolman was a Co-Business Editor/Reporter for On The Record during the Fall 2021 semester. She enjoys learning about the world of business as much as she enjoys black coffee, which definitely says something.