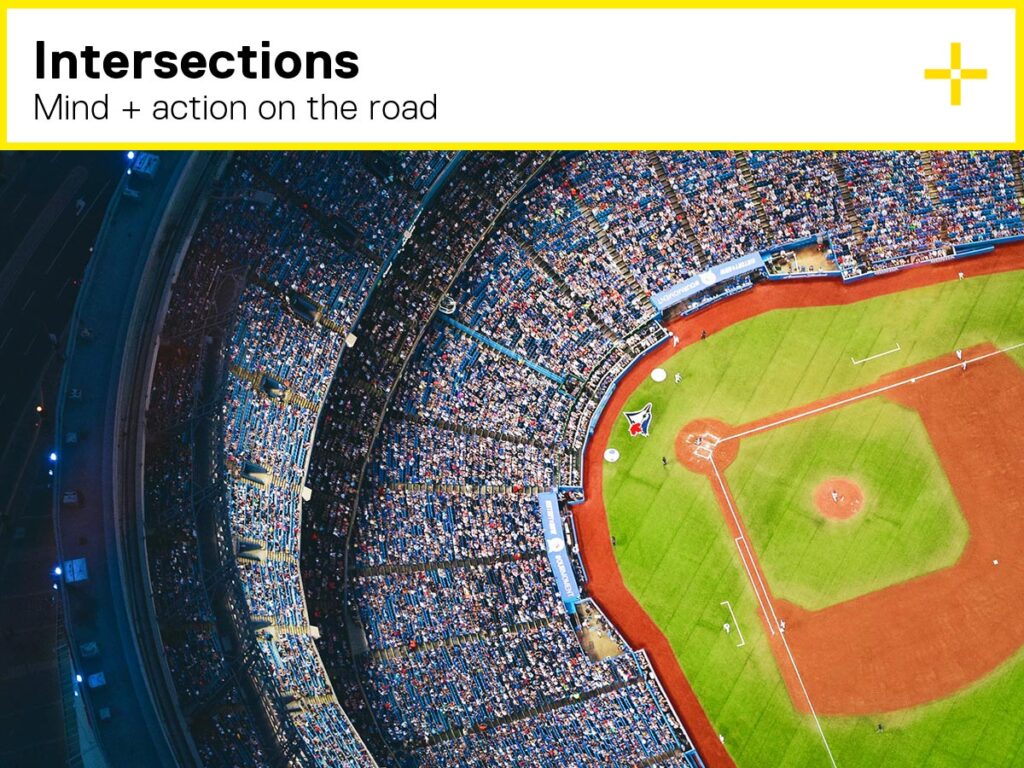 The COVID-19 pandemic and the innovation of technology within the field has unequivocally affected sports, a panel of sport professionals said.
On Sept. 28, Ryerson Alumni Relations hosted "Intersections – The Future of Sport" as a part of Ryerson's 2021 Alumni Week. The panel, moderated by Ryerson alumni alongside Justin Bobb, director of equity, diversity and inclusion at Maple Leaf Sports & Entertainment, addressed how the sports industry has coped with the ongoing pandemic.
"Technology and two main stakeholders — the fan and the athlete — I believe is where we fundamentally see the business model of sport change," said Cheri Bradish, director of sport business at the Ted Rogers School of Management at Ryerson University.
Greg Douglas, senior consultant with Monitor Deloitte and a former Olympic athlete, agreed that the business of sports is rapidly changing due to digital transformation.
"In sport, we see where organisations, clubs, teams, athletes are having to transform their businesses very quickly and engage with new digital channels," said Douglas. "So, I think we'll continue to see that as we come out of the pandemic."
Fan and amateur interactions with sports have also evolved along with the rise of digital channels. Bradish noted that e-sports and single-game betting are on the rise and "so much new money is coming into the country [from it]."
"The number of students who are engaged in [e-sports] internationally, globally and locally — both in Toronto and at Ryerson — is real," said Louise Cowin, executive director of athletics and recreation at Ryerson. "And I think as a department, we have to find a way to really situate where we're going to align with e-sports… It's really about leveraging this moment, how we might also use that into the future as well."
Cowin added that the pandemic has affected student athletics, but thinks that the long-term financial impacts have yet to be seen. "I think that at the moment we are at a place of great rejoice and happiness that we see a bright year ahead and we hope for a bright future ahead."
Julio Ramirez, an assistant in international scouting for the Toronto Blue Jays, spoke about how sports are growing globally and his recent experiences travelling to scout baseball athletes. "Over the years, we've seen growth in different countries. Specifically speaking, Brazil…we've signed some kids," he says.
Sport technology innovation has also paved the way for more open conversations about the health and safety of players.
"Whether it is concussion-based or mental health-based, we see a lot of concern and attention… looking at technologies that can help the individual athlete and then their team, grassroots or high performance, get better," Bradish said. "[These] are global conversations."
Cowin dove further into mental health and spoke about the impact that the COVID-19 pandemic has had on student athletes and how Ryerson is dealing with it.
"I think [we have] the opportunity to really provide a welcoming environment for all students, to see their place as fitting and belonging in our recreational programs, in our recreational spaces, to reduce barriers and really seek out equity deserving groups by making sure that who we are and what we offer is welcoming and engaging for all," Cowin said. 
Cowin added that although student athletes have a lot on their plate, "the university ecosystem is really an internal team that supports their success."
She says many students have full-time classes, readings, papers, tests and part-time jobs to finance their education and that the whole department of athletics and recreation is there to support students.
"I think that university athletic departments are uniquely placed to support young people in their journey towards their athletic and academic endeavors."
This notion of seeking equity for young people doesn't necessarily transcend into recreational sports, however.
"During the pandemic, I saw the pictures of some communities where the basketball hoop had a piece of two-by-four over it and then another community that had a tennis court with people playing tennis," said Ramirez.
"I think it's time as a society, as a city, [that we look at] how we are ensuring that everyone has access to recreation because we know that it is important for mental health, physical health and people within the community."