The government also announces new restrictions on bars, restaurants, nightclubs and strip clubs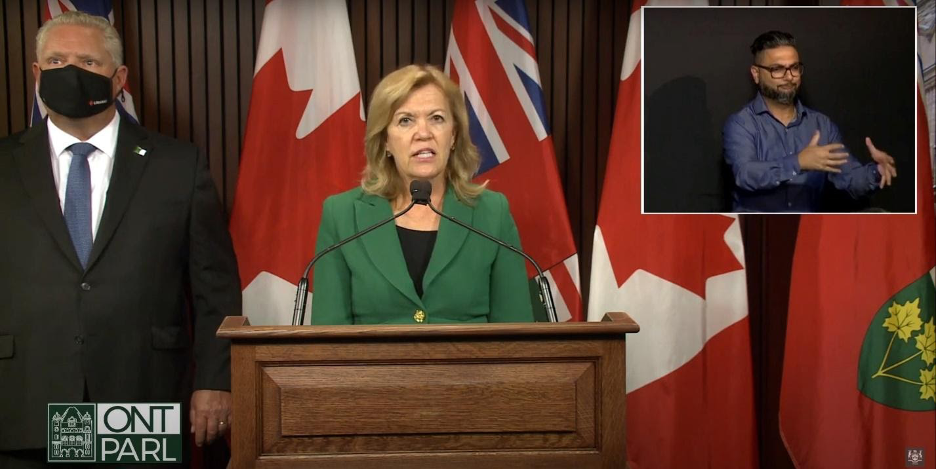 Premier Doug Ford has announced over $1.5 billion in funding towards adding hospital beds, reducing surgery backlogs, performing critical diagnostic scans and moving patients out of hospitals and into other forms of care.
The Friday announcement came during Queen's Park's fourth press conference on its COVID-19 preparedness plan, Keeping Ontarians Safe. Ford said the province would secure 1,400 hospital beds and move 20,000 patients to out-of-hospital care.
"We know every additional hospital bed we secure puts us in a better position to fight the next surge," Ford said. "Every hospital bed we free up, it can make all the difference in the world."
The premier said that about $740 million will go towards clearing surgery backlogs for cancer, heart disease, cataracts and other critical surgeries. That money is also earmarked to increase diagnostic scans like MRIs and CT scans. Ford said the goal is to perform 50,000 surgeries and over 180,000 diagnostic scans still backlogged from the pandemic.
Another $100 million will go towards increasing capacity outside hospitals. The premier said Ontarians could expect 484,000 more home-care visits and an increase of 1.4 million hours put in by personal support workers, or PSWs.
"The PSWs, I love you guys. You're absolutely amazing," Ford said.
Christine Elliott, the province's minister of health, provided details on the added capacity Ontarians could expect: "More patients can receive care that they need closer to home or in their homes. This includes investments in home and community care to help reduce pressure on hospitals and expanding digital and virtual health-care services." She added the province would also work on "increasing access to mental health and addiction supports across the province and by optimizing the delivery of virtual care."
Ford also used the press conference to announce increasing restrictions on restaurants, bars, nightclubs and strip clubs.
All strip clubs across the province will be closed, while the other restricted venues face new service hour restrictions. Effective tonight, all bars, restaurants and nightclubs will close at midnight. They will stop serving alcohol after 11 p.m. effective tomorrow. These restrictions won't apply to delivery or take-out venues.
Ford said Toronto mayor John Tory and regional mayors in the GTA had been expressing concern over outbreaks among staff and patrons. The premier said the vast majority of restaurateurs had been responsible and the measure was precautionary. "We have to be careful," Ford said. "I don't think it's the end of the world if people stop drinking at 11 and close it down at 12 o'clock."
Friday's press conference was one of a series outlining the province's Keeping Ontarians Safe plan. The plan outlines six steps the Ontario government is taking to keep the pandemic under control as the province reopens. So far, the province has been detailing the plan's pillars in separate daily press briefings. Past briefings have covered comprehensive flu shot programs, an expanded testing regimen at pharmacies accompanied by a saliva test pilot program and a billion-dollar investment in preventive measures for at-risk areas such as retirement homes, schools and penal facilities.
At least two more press conferences detailing the last two pillars in the province's preparedness plan are expected in the coming days.