Running to catch the train last minute, waiting forever for the right train to show up, dealing with seemingly endless line changes. It can leave you both out of breath and restless all at once, and yet, there's an opportunity to relax hidden within. According to an article from the Harvard Business Review, commuting can be good for your mental health. Authors James R. Bailey and Andy Cohen explain that routine action can provide a sort of ritual and that is a, "process we repeat… to add some stability and certainty into an otherwise unstable and uncertain world."
In a pre-pandemic life, just under a quarter of the population of Toronto commuted to work using public transit. Though, according to a report by StatCan, 42 per cent of those who used public transit to get to work switched to telework and 34 per cent switched to another form of transport by June 2020. While COVID-19 has turned people's lives upside down, experts agree that a little routine can ground the workday. Commuting time can serve as a warmup, wind-down time and a mental and physical barrier in an individual's workday.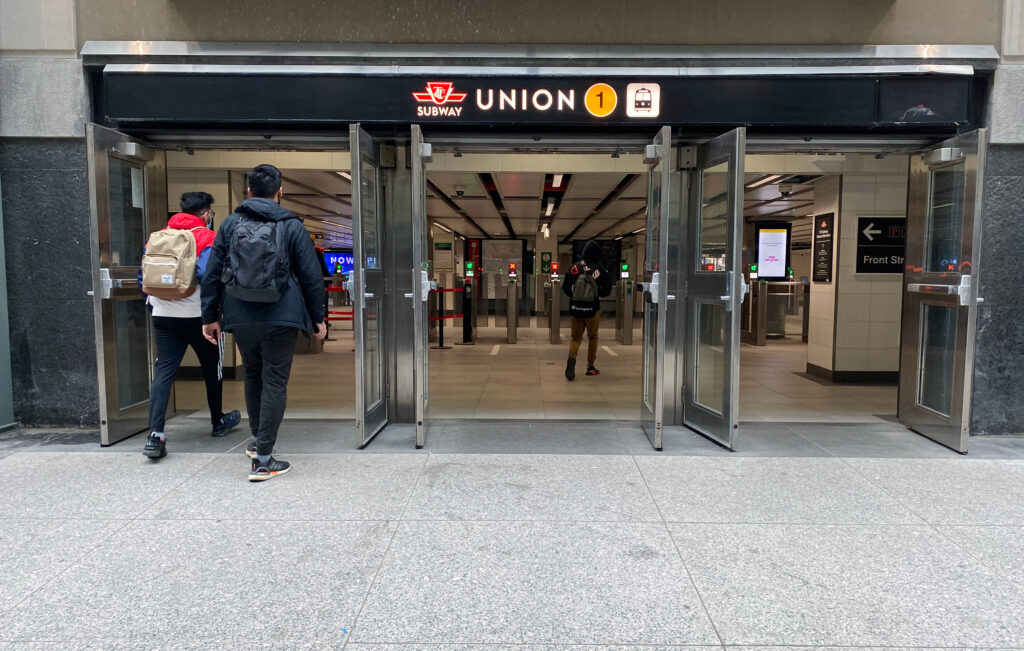 Getting to work in the morning can be compared to the warmup an athlete performs before competing. According to a study published in the Journal of Functional Morphology and Kinesiology, mental warmups help athletes feel, "​​more ready to perform, more ready to use psychological skills, more ready in terms of thoughts, body and feelings, and more mentally warmed up overall."
The same benefits can be enjoyed by commuters on public transit preparing for the workday. Performing small tasks associated with work, like catching up on emails, taking in the news, and making task lists can be manageable activities that help people prepare mentally to be at work all day.
A commuter's return trip can then be utilized as personal time in an otherwise packed day. When days are filled with meetings, projects and emails, and nights are filled with chores and sleep, commuting can be a blessing in disguise. Being stuck on a train for periods of time with nothing to do, except watch your favourite TV show, catch up on reading or write in your journal, can easily become a good thing. When society expects us to fill every minute with busy work and hustle culture is the new norm, taking 20-40 minutes to oneself can fulfil a commuter's need for quiet time.
David Robson, a writer for the BBC, says that the evening commute can be an excellent time to reflect on the lessons learned that day. A study conducted by the Harvard Business School showed trainee IT workers who spent 15 minutes reflecting at the end of the day performed 20 per cent better than their colleagues. Though individuals can become antsy waiting to get off their train or bus, having time that forces them to do nothing can also turn into time for personal fulfilment.
Working during the pandemic has become synonymous with working from bed in pyjamas. According to an Ipsos poll done for Global News, around 64 per cent of Canadians believe that they've achieved a better work-life balance working from home during the pandemic. Though finding this balance may have been necessary while the world turned upside down, it can become hard to maintain with no separation of spaces. If nothing else, commuting creates a physical barrier between work-life and home-life. Ontario recently introduced the Right to Disconnect legislation, which allows employees to hold off on work responsibilities until the morning after. This, in conjunction with a physical commute, can become the perfect combination for commuters to create healthy boundaries with their jobs, rather than mixing working and living spaces.
Sooner or later, the return to the office will come. When this happens, in whatever capacity, Torontonians will return to their commutes. It's up to the individual commuter to create healthy boundaries, and utilize this time for themselves. Rather than letting the stress consume the commuter, it's up to individuals to take advantage of the time for themselves.