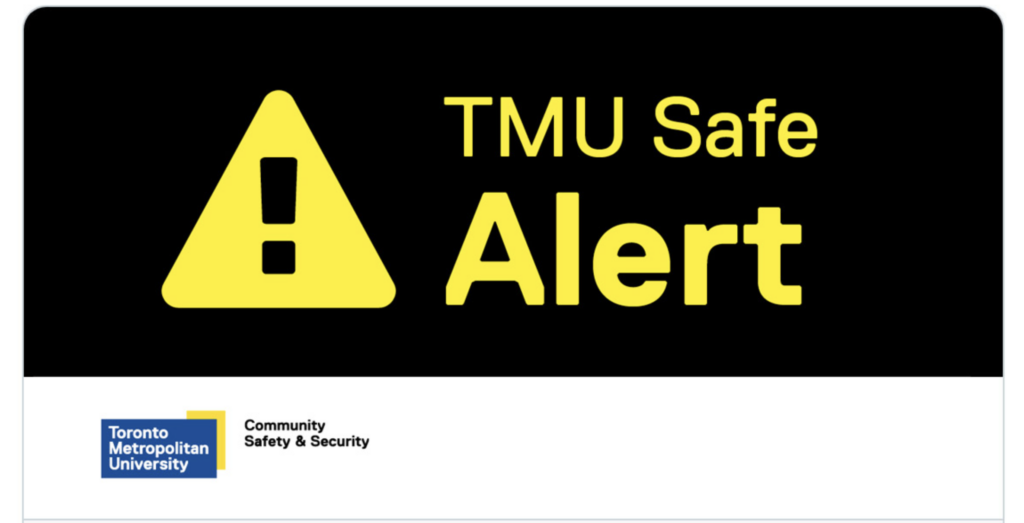 Listen to the article below:
On Oct. 13, as conflict intensified in Israel and Palestine, an email alert was sent to students by TMU community safety and security warning of a "potential of anti-semitic demonstrations."
In a statement to On The Record, TMU said, "while the university was not aware of any planned actions or demonstrations on our campus, Friday's email was sent out in response to specific concerns about the 'Global Day of Jihad'."
TMU did not provide a direct source of information for this threat, simply stating that the "Global Day" was widely reported. But reports at Wired and The Independent identified the threat as misinformation. Nonprofit news watchdog organization, Media Matters, published a timeline tracking the dissemination of the unevidenced claim.
The origin of the warning came from a statement made on Oct. 11 by founder and former leader of Hamas, Khaled Meshaal, to Reuters.
"[We must] head to the squares and streets of the Arab and Islamic world on Friday… Tribes of Jordan, sons of Jordan, brothers and sisters of Jordan… This is a moment of truth and the borders are close to you, you all know your responsibility," said Meshaal. "To all scholars who teach jihad… to all who teach and learn, this is a moment for the application (of theories)."
Wired's David Gilbert reported that "while Meshaal very specifically made the calls for protests in 'the Arab and Islamic worlds,' his comments were quickly mistranslated online to become a 'global day of jihad,' a phrase he did not use."
On Oct. 12, one day prior to TMU's security alert, a U.S. Homeland Security official told reporters that there was "no credible intelligence that would indicate any potential threat to the United States stemming from Hamas," as reported in the Miami Herald.
Media groups that pushed the story included Rebel News, the National Post, Breitbart, Fox News, and Newsweek. 
TMU's verification expert in residence, Craig Silverman, said it's not uncommon for news organizations to translate something in a certain way that then gets picked up and proliferated by other organizations.
"It is very hard to put the proverbial genie back in the bottle," said Silverman. "Once a claim or an image or a photo with incorrect context has gotten a certain amount of exposure, it's very hard to bring that back."
Popular far-right figures like Charlie Kirk responded to the misinformation on social media with promises to arm themselves, while others warned their followers to stay inside.
No incidents in North America were carried out on behalf of Meshaal or Hamas—in fact, the warning ran counter to what has been a peaceful, nonviolent response from TMU campus groups—however, a 6-year-old Palestinian boy in Illinois was fatally stabbed by his family's landlord, Joseph Czuba, as reported by the Chicago Sun Times. Czuba's wife told detectives he was worried about the "day of jihad" after listening to conservative talk-radio.
On The Record has asked TMU for more details on how the determination to release the security alert was reached. The school has yet to provide comment.
Canada's special representative on combating Islamophobia, Amira Elghawaby, released a written statement on Oct. 14, on the rising fear of anti-Muslim or anti-Arab sentiment that has "troubling echoes" of the period following the 9/11 attacks in America.
"It was a time when Muslims, Arabs and those perceived to belong to these groups felt collectively blamed, stereotyped and racially profiled," reads Elghawaby's statement. "We had to demonstrate our loyalty, we felt pressured to condemn actions unrelated to our communities, and we experienced a silencing effect when voicing our views on human rights and dignity."
With growing anxiety over Islamophobia and antisemitism, disseminating baseless threats for the purpose of safety may have the opposite effect, according to Silverman.
"It adds to fear in a situation where people don't necessarily actually need to be concerned about it affecting them personally," said Silverman.
As the war in Gaza escalates and the internet becomes loaded with information (both true and false), Silverman noted it can be difficult, but not impossible, to confirm facts in a conflict environment. He stressed patience and reading multiple sources to determine which facts are agreed upon.
"Be aware of how likely there is to be false and misleading information," said Silverman, "and guard your attention accordingly."