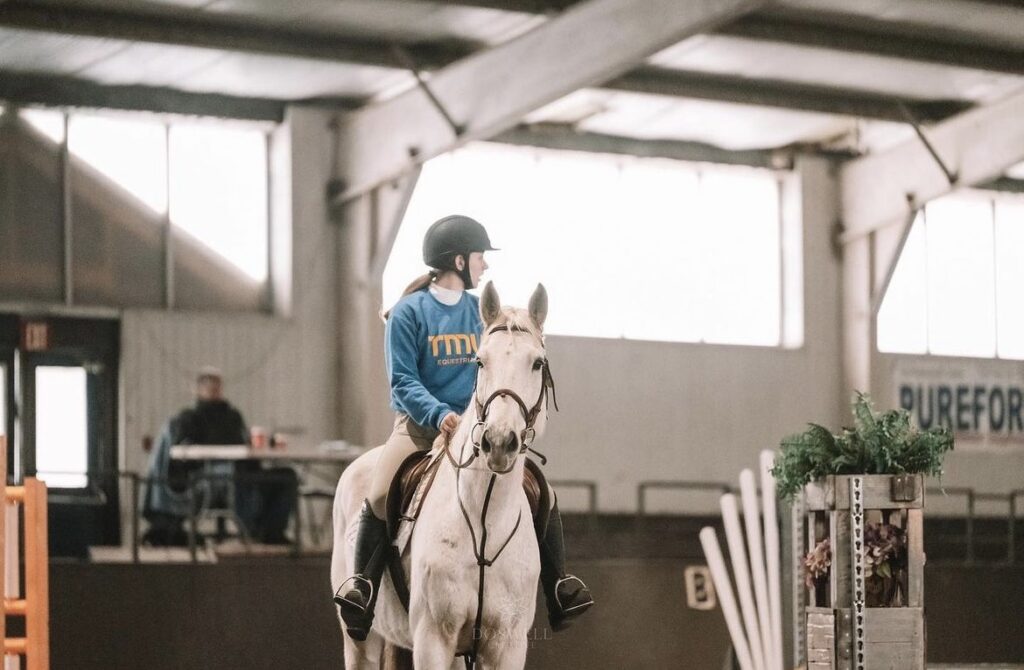 This year, TMU's equestrian team has partnered with Chipotle to raise money for essential needs like horses, stables, and equipment. Last year, the team partnered with Rock 'N' Horse, a downtown country western bar, where they raised $300 in one night.
Due to their status as a club sport (instead of a varsity sport) the team is funded through a small athlete fee, university grants, and creative fundraising opportunities to make the sport more accessible for students.
"When we take lessons and practices, we just pay for that out of pocket," said Veronica Chiu, rider and supervisor with the team.
According to Ontario Equestrian, the average cost to be an equestrian can vary from $300 to $3,000 depending if you rent or own a horse and pay for a stable.
Members who wish to compete in the Ontario Collegiate Equestrian Association (OCEA) with TMU Equestrian must pay a $75 membership fee, claims Chiu.
The team outsources funds through external organizations to pay for trailer fees, "all the horses we ride come from donors," said Chiu, "and we have to pay [access to] the actual venue."
The prizes, however, are all donations made by equestrian merchandise sponsors such as Ecogold and TKEQ.
Ryan Danziger, the competitive clubs coordinator at TMU, acknowledged that the school's downtown location poses a challenge for the athletes.
"Equestrian is unique in that they need to find a barn to train out of each year, usually just outside of the city," said Danziger.
The team trains once a week at Stonewood Equestrian, a barn in Pickering that can take anywhere from 40-90 minutes to get to by car. It's also where the club hosts their show jumping competition, which includes competitors from McMaster, University of Toronto, Brock, and Ontario Tech.
The lack of funding isn't the only thing that makes riding inaccessible. Chiu is aware of the elitist culture outside the club system that could be intimidating to outsiders.
"The university circuit wants to encourage support between different teams," she said, adding that there's a "zero-tolerance policy" for negativity.
According to Chiu, the competition between other schools such as the University of Toronto and the University of Guelph's equestrian teams are all very friendly.
"The teams are also very, very close. Like we're able to help each other out all the time," says Chiu, "The universities are all very supportive of each other."
Lena Cote, an entry-level rider in the club, echoed Chiu's sentiment.
"The club culture between teams is complete camaraderie as a lot of us already kind of know each other," said Cote. "It's a small world."
This year, the team has grown to 10 members, the largest group Chiu has seen.
"Most of our club members have very little horse experience," said Chiu, with many members having their first experience with horses through the school.
Chiu explains as cliche as it sounds, "When you're around a horse, it does feel like all of your other worries melt away."
Cote agrees that the love for horses and the equestrian sport is why people sign up for this niche team. "It is an important club to have because having a friend group who's also balancing riding and school, is incredibly validating and forges great friendships," said Cote
TMU equestrian's next competition is on Nov. 19, at the Royal Canadian Riding Academy in Cedar Valley, Ont., and hosted by the University of Toronto Equestrian team.