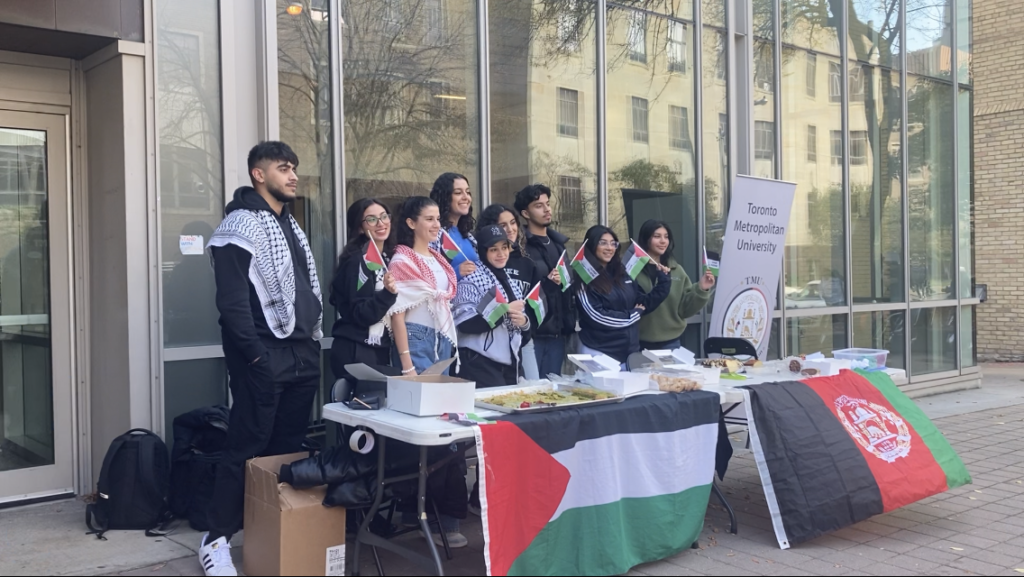 As tensions rise on Canadian university campuses in the wake of an escalation of violence between Israel and Hamas, student groups at TMU have responded with peaceful vigils, protests and fundraising efforts.
On Oct. 7, Hamas launched an attack on Israel after breaching the border wall that surrounds Gaza, killing an estimated 1,300 Israelis including hundreds of civilians on kibbutzim in neighbouring border areas.
In response, Israel has dropped more than 6,000 bombs on the trapped citizens in Gaza, leaving more than 3,400 dead and over one million displaced from their homes. The escalation has also reached the Israeli occupied West Bank, where 70 Palestinians have been killed by Israeli forces and armed settlers.
Since 2007, the United Nations has released six different reports that describe the Israeli occupation in Palestine as one of apartheid that defies international law.
In February 2022, Amnesty International released their own report, referring to the situation as apartheid as defined by "a system of prolonged and cruel discriminatory treatment by one racial group of members of another with the intention to control the second racial group."
On Oct. 18, the Palestinian Cultural Club (PCC) and Afghan Association at TMU combined for a bake sale outside the Student Campus Centre to raise funds for emergency relief in Gaza as well as the victims of the recent earthquakes in Afghanistan.
Three earthquakes in Afghanistan have claimed over 2,000 lives and left thousands more homeless.
"The Palestinians are going through a lot, ​​Afghans are also going through a lot," says PCC founder and president Jana Alnajjar. "These connections are amazing and it bridges gaps of isolation."
Ya'el Kastiel, a TMU alumna and representative for the Jewish student group Hillel, expressed her concern for the safety of Jewish students amid the conflict.
"Hillel has been in constant contact with campus security and police and our spaces have been very secure," said Kastiel.
In a statement to On The Record, TMU was adamant about their commitment to student safety, saying "We foster dialogue and education on vital issues such as racism and human rights and we do not tolerate anti-Muslim, Islamophobic, or anti-Semetic rhetoric in our community."
On the evening of Oct. 18 Hillel held a vigil, the location of which was not publicly disclosed, in solidarity with Israel and to honour the lives lost.
The Socialist Fightback Club and PCC also co-hosted a rally Oct. 20 at the entrance of the Student Learning Centre in solidarity with Gaza. The event drew a large crowd of supporters.
"We are a communist organization saying that we need to place the blame for the Israeli-Palestine conflict where it lies,… [on] all of the other powers that cynically use this conflict as a means to appropriate their own interests in the region," said Jeremy Swinerton, a protestor from the Socialist Fightback movement.
"I am a land defender, water protector, prison abolitionist, and I support all minorities all over the world that are fighting the injustices of every country that is colonized, right now", said Joey Twins, a Plains Cree woman from Maskwacis, Alberta who came to show her support.
Twins said she showed up because she feels like she can resonate with the Palestinians, as she said they are going through the same thing that her people went through.
TMU has not reported any incidents of hate-related crimes, however the topic remains tense on campuses across Toronto and the GTA.
A letter written by the York Federation of Students that pledged support to the Palestinian right to resist Israeli occupation was condemned by the university. Some are calling for the union to be decertified.
On Oct. 14, a 19-year-old student at the University of Toronto Mississauga was arrested by Peel Regional Police after posting hateful messages online. The student is no longer permitted on campus.
The Toronto chief of police says the rate of reported hate crimes has tripled since the decades-long conflict intensified on Oct. 7.
Separate demonstrations for Palestine and Israel have taken place off-campus across Toronto and the GTA since Oct. 7 without any reports of violence.