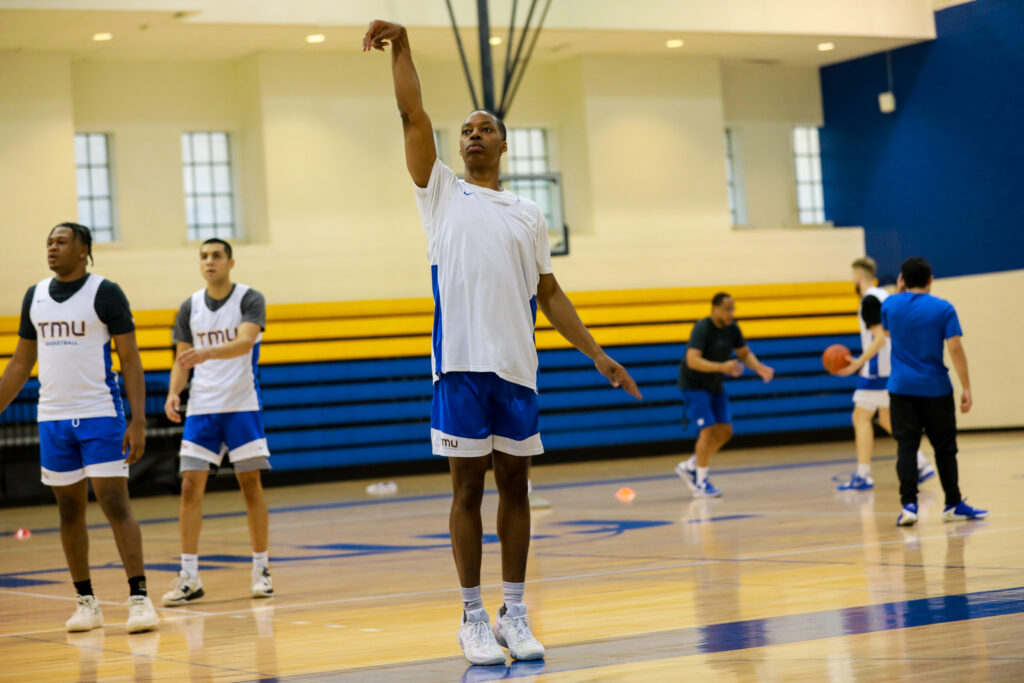 Listen to the story here:
One of Toronto Metropolitan University's (TMU) additions to their men's basketball team is Jahcobi Neath who spent his first two seasons with Wake Forest and the next two with Wisconsin. The six-foot-three guard has dealt with several injuries during his career, but he's a former Biosteel All-Canadian Game MVP and won a Big Ten regular season championship in 2021-22. The Toronto native transferred to TMU to continue his rehab and education at home.
OTR caught up with Neath over a call.
You've experienced several injuries during your college career, how has that impacted you and how have you persevered?
It really caused me to self-reflect and build myself back up from ground zero because I had three surgeries in the past 18 months, all on my lower body. It really just kind of makes you realize what's important in life, whether it's on or off the basketball court. It was really just a wake-up call for me like, this could be taken away at any time so don't take it for granted. So it made me fall even more in love with the game because now that I've been rehabbing for so long and I'm getting closer each day, I'm realizing how blessed I am to even have a healthy body.
You said that the reason you returned to Canada was to continue your rehab from injuries. How has that process gone so far?
It's been going well, it's been a slow process, I probably get 1% better every day.
The main reason I really wanted to come to TMU is because my therapist, who I've known since I was 16, Schueb Ahmed, is on staff for the basketball team. My other main strength and conditioning coach/therapist is Ish Joseph. He's been a huge part of me getting back on my feet this summer.
So the combination of those two, I knew I wouldn't be cut short coming back home and being able to work with them. I'm not where I need to be yet, but I'm a lot closer than where I was when I came back home earlier this year.
How have you adjusted to TMU so far?
It's definitely been an adjustment because, in America, the college sports culture is totally different. Games are sold out and there are thousands of people in the crowd. It's just a much smaller scope of things here. There's been less pressure to get back healthy faster compared to America. Our culture here is growing as a basketball program and I feel like it's a good time for me to be here and help this program out and also have this program help me.
When do you plan on returning to the court?
I'll reevaluate how my health is in the second half of the season. I'm hoping to come back by then because I did both my hip surgeries this year, and recovery is anywhere from six months to a year. So I'm just taking it one day at a time and definitely not going to rush back.
Do you have any goals for this season?
To win a national championship because TMU's men's basketball team has never won one. That's the only goal I have in mind.
This interview has been edited for length and clarity