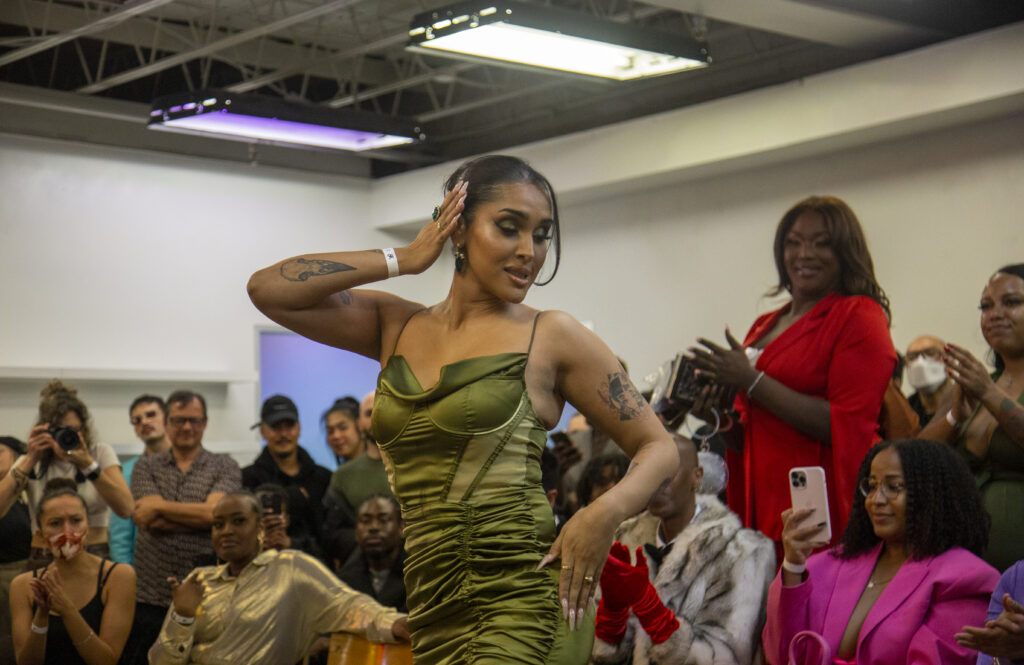 Listen to the audio version of this story here:
Outside a vacant building with little signage on Queen Street West, flurries fall silently on a cold Saturday night. The street is filled with people bundled up in heavy coats walking by, but inside the building, a world of sequins and sparkles exists.
People of all ages, including children as young as nine years old, are crowded around a makeshift runway in the middle of the room. Every person seems to be dressed for a different event: some in extravagant ball gowns, others in jeans, a few in fur coats, and a couple in handmade costumes from the film Space Jam — are standing up from folding chairs, clapping fervently.
Danah Rosales, or Mother Maldita Siriano as she is called in the Toronto kiki ballroom community, stands in the centre of a makeshift runway. She is sobbing, her hand covering her mouth, as host Twysted Miyake-Mugler announces her to be "Legendary." The crowd erupts with a chant of "Sirianooo, woo!" Members of her house — her kiki ballroom subgroup — all clad in similar shades of brown and orange, surround her excitedly, snapping their fingers; their own kind of sports team.
Officially, Rosales is now Legendary Mother Maldita Siriano. As house mother, she is a leader and community event organizer for her house Siriano — because in the ballroom scene, each member takes their house's name as their last name. But on Saturday, during the Toronto Kiki Ballroom Alliance's (TKBA) in-person awards ceremony, "legendary" has officially been added to her titles — an addition that recognizes her years of service to this community.
This community is made up of nine kiki ballroom houses that host various events. All of them fall under the TKBA, a grassroots organization founded in 2010. Miyake-Mugler, one of its co-founders, says it was modelled after the kiki ballroom culture in 1960s New York City which created a safe space for racialized LGBTQ+ folks to be themselves.
"We wanted to start the kiki scene so that people can actually learn ballroom here in Canada," he said.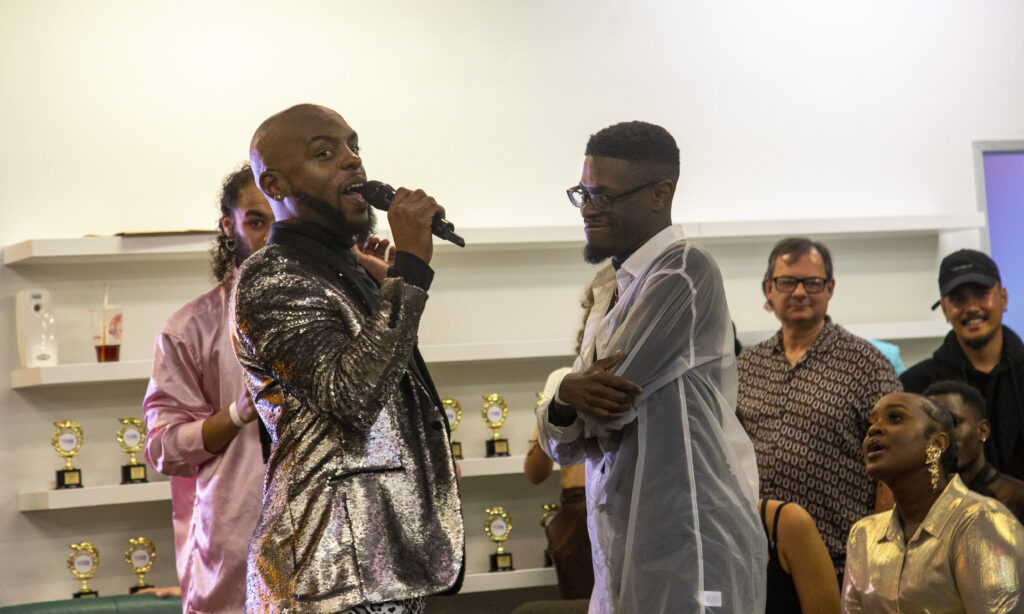 This year's awards ceremony marked the community's in-person return after more than two years of the pandemic. For Miyake-Mugler, the return is bittersweet.
"We lost a couple of people, including a really prominent figure in our ballroom scene," he said. "With loss comes birth… we have these young children [coming] into our ballroom community, so it changed in a way that we never thought it would have."
This year's awards' theme is red carpet, with various movie-themed categories (hence the Space Jam costumes). Competing at a kiki ball often involves "voguing," a specific type of performance where a person dances to music while mimicking the poses struck by fashion models on a runway.
Kiki ballroom culture is about extravagance, creativity, competition, and community support, said Miyake-Mugler. "It fuels healthy competition and it's really positive… It's like if queers had our own Olympics."
At the awards, the support is felt by everyone. Those who didn't arrive early enough to grab one of the fifty seats huddle around the runway or lean, slightly squished, against the wall. Music blasts through the speakers, the bass rattling the floor.
The hosts call out Nofil Siriano, a lawyer with the legal name Nofil Nadim, who steps out of the crowd in his tuxedo to the cheers of House of Siriano.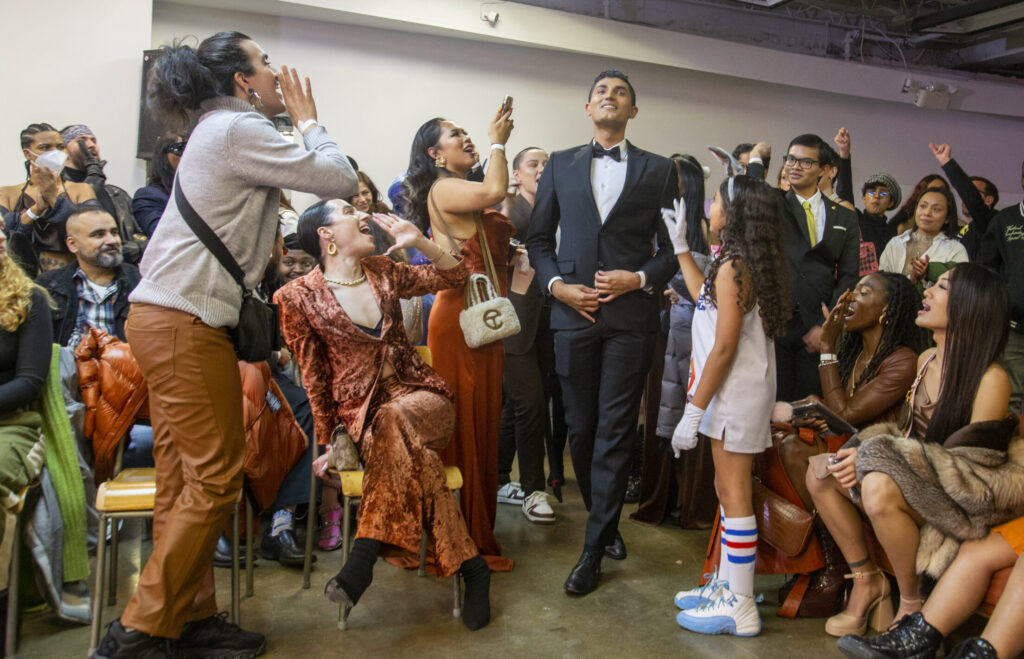 Compared to the other competitors, his look and his performance is understated. His outfit is simple and his walk is slow and graceful, but this is the ideal energy for the category he is known for: face. The face category is based on extenuating one's best features, which Nofil does by holding his hands up to outline his face in a traditional "vogue." The audience is enamoured and cheers even louder as he exits the runway.
Later, under a tall pile of pink hair rollers, Laneigh Ramirez's look is inspired by the movie Grease with a pink sequined dress and the movie's soundtrack playing in the background.
Ramirez joined the kiki ballroom scene in June 2022. "I wanted to learn more about my gender expression and my queerness because I was still quite new to it," they said. "It was really nice to be somewhere competitive and athletic, but also artistic."
The crowd's support is palpable as Ramirez walks the runway to chants of "T-E-L-FAR." During this awards ball, Ramirez was announced with their new ballroom name Diam Telfar, to mark their debut as a member of that house.
"People want to see you do your best," they said. "We're all just excited to see ourselves put on a show and to challenge each other and challenge ourselves to raise the bar."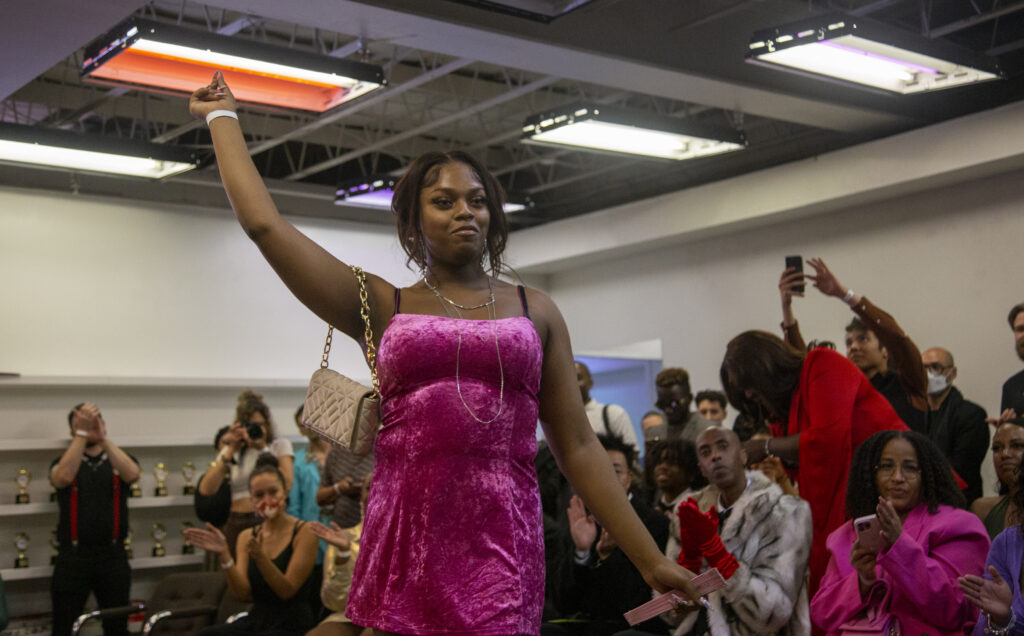 Keysha Miller, clad in hot pink — the House of Pinklady's trademark colour — is crowned Princess Fabiana Pinklady at the ball. She joined the kiki ballroom community during the pandemic, but says she "didn't get to actually experience the true culture of ballroom culture… on Zoom it's just not the same energy."
She says the kiki ballroom scene is special to queer folks because of how it recognizes the struggles faced by racialized LGBTQ+ people.
"The white portion of the LGBTQ community has a lot of privilege," she said. "What makes the ballroom scene different from other queer communities is that… it allows people of colour to grow and to have a safe place."
Ramirez also grew up in a predominately white city and sought out Black communities when they moved to Toronto. Still, they said, they felt out-of-place because of their queerness. For them, kiki ballroom culture is "definitely an intersectional space. You can connect with people who understand you racially and people that understand your queerness and people who understand your artistry, and combinations of all of that."
Joining the kiki ballroom community has allowed Ramirez to become a completely new version of themself. "I've allowed myself to feel free," they said. "I've learned to stop denying multiple parts of myself… My confidence has gone up a lot. I feel very proud of who I am."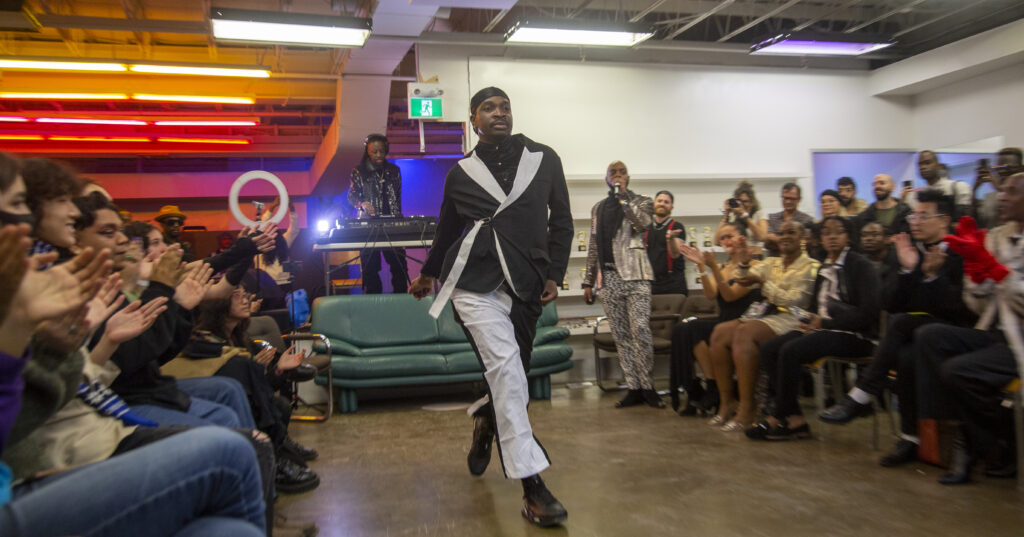 The speakers are turned off, the costumes are packed up, and winter coats are buttoned as everyone finally leaves the building. Miyake-Mugler is hopeful for kiki ballroom culture's Toronto future. He remembers the early days of TKBA a decade ago and how he and his queer friends relied on discreetness and secret spaces.
This generation is "living out loud from a younger age," he said.
"I think in the future, it'll only get bigger. I think we'll see more diversity and even more representation across Canada. Everybody will find a way because once you taste ballroom, you want to hold on to it."