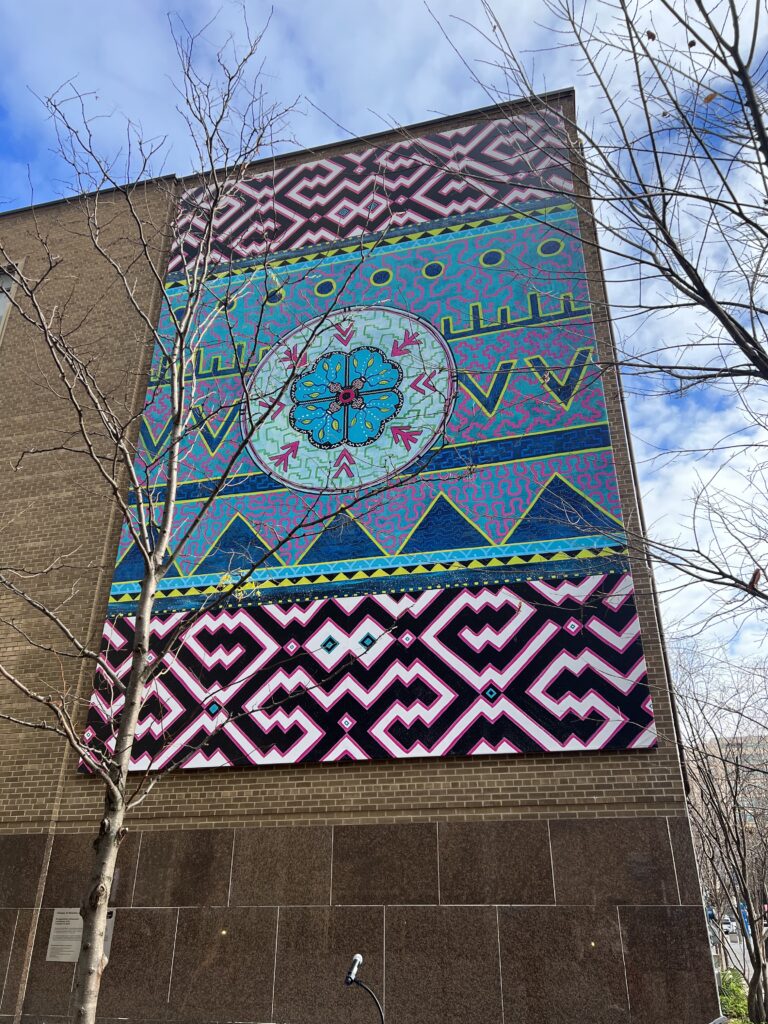 Listen to the audio version of this story here:
Pedestrians walking along Gould Street through Toronto Metropolitan University's (TMU) campus might notice a new art piece on the wall of Kerr Hall West facing the Student Learning Centre.
Paisajes de Nosotros, Spanish for Landscapes of Us, a large-scale public artwork piece created by Niap (Nancy Saunders) and Olinda Reshinjabe Silvano, two Indigenous artists. The university officially unveiled their installation on Monday morning.  
The 12x8m mural brightens up the brick wall of Kerr Hall with its blue, yellow and pink colours, which jump out of the canvas in an array of plant motifs and shapes.
TMU interim provost Roberta Iannacito-Provenzano said the mural is part of an effort to expand acknowledgement of the territory that the TMU campus is on.
"We aspire to create a sense of belonging, and to increase the visibility of Indigenous people, and their cultures as part of the university's response to Truth and Reconciliation," said Iannacito-Provenzano.
The mural's creation was organized by Gerald McMaster, a Plains Cree member of Siksika Nation.
"We reached out to a couple artists, Olinda Silvano… in the Amazon forest and Niap… who's from Kuujjuaq in the Arctic Quebec region," he said.
Paisajes de Nosotros incorporates images from communities in both the Arctic and Amazon. The respective region's artwork is not separated on the mural but intertwined, complimenting each other.
As for the other two Indigenous art pieces on campus, The Ring also sits on Gould Street, next to Paisajes de Nosotros, while Nadya Kwandibens' photographic mural is displayed in the university's library.