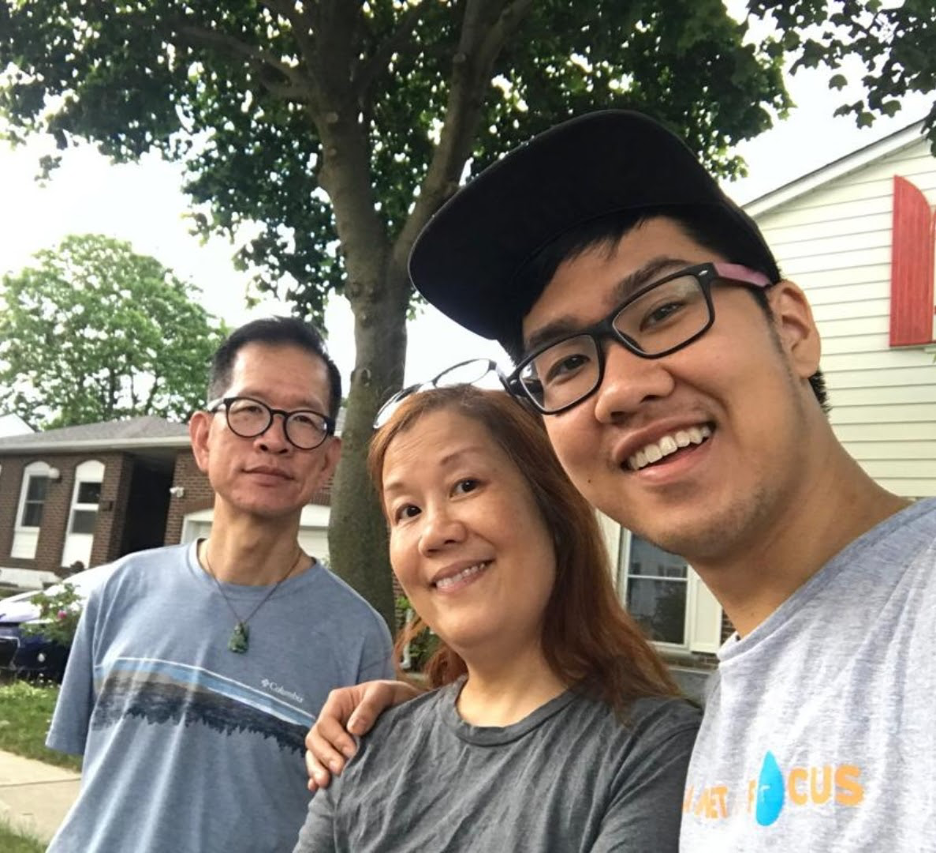 Last week, the Ryerson School of Journalism lost a promising and beloved student.
Felix Wong died on Oct. 28 following a 17-month battle with glioblastoma multiforme, a form of brain cancer.
A gifted musical talent who initially began his post-secondary career in Humber College's competitive music program, Wong later transferred to Ryerson to study journalism, and began applying his dedication and passion to new projects, ranging from radio broadcasting to writing and editing.
"He was super precocious and motivated right out of the gate, starting his own campus radio show, Double Booked, on CJRU 1280AM, only a couple months into university," said friend Ben Cohen.
Cohen, who met Wong in first year, remembers Wong's ability to balance between being able to joke around and have a serious approach and focus on his career ambitions.
"He was an extremely gifted person and a terrific leader, very nurturing but with high expectations."
Wong was also an avid fan of the CBC radio show q, which embodies his love for music and pop culture.
"I bet he would have ended up with a show like that," said Cohen. "If you want to talk music, Felix was a bonafide virtuoso. An acclaimed jazz pianist and multi-instrumentalist with perfect pitch."
A noted partnership between Wong and Cohen is the Ryerson campus-based publication The Unaffiliated Press (UP). Cohen asked Wong to become editor-in-chief as a sophomore to help the publication. Wong's commitment to his role as UP's editor "revitalized everything," said Cohen.
Wong and Cohen also produced an arts talk show together titled the Come-UP. Their completed episode is featured on UP's Youtube channel.
"I'm amazed the magazine still exists today and that's all because of the groundwork he laid," said Cohen.
Jennifer La Grassa became friends with Wong after working on a project together in their podcasting class. They remained in touch when she earned an internship with the Windsor Star and he was about to start an internship at the North Bay Nugget before his diagnosis.
She remembers Wong's support when she told him about her internship and about her current position at CBC.
"He was always cheering me on. Even though I knew in the last few months he was going through so much personally, he was there to support me as a friend and listen to what was going on in my life."
Both La Grassa and Cohen remember Wong's ability to remain optimistic despite his illness and how he maintained a positive outlook on life.
This optimism is reflected in his final published piece, Finding in hope in a pandemic – Felix's story. Wong described his journey throughout his diagnosis and treatments and how he remained hopeful despite moments of memory loss, despair and impediments to his treatments and social connections caused by COVID-19. Cohen and La Grassa helped Wong edit and find a publisher for his piece.
"If there's one thing that battling terminal cancer has taught me, it's that it's far too easy to resign yourself to pessimism or apathy," Wong wrote. "But ultimately, I realized that it's pointless to give up hope. Life isn't worth living if you have no will to push through the carnage and bask in the warm comfort of the things and people you love." *
La Grassa said Wong's writing will inspire and "help a lot of people that may be finding themselves in the same situation as him."
Cohen agreed. "I hope everyone gets to read it someday," he said.
Ryerson School of Journalism chair Janice Neil, who taught Wong in the podcasting course, remembers his keen interests in music and philosophy, as well as the thoughtfulness and maturity he brought to his work.
"He was a talented storyteller and he had lots of drive."
Neil said the School of Journalism will be hosting an online tribute on Monday, Nov. 9, at 11 a.m. At the event, family and friends will speak and a slideshow displaying Wong's past work and publications will be shown.
Neil, who Wong also contacted about his final piece prior to publication, said she remains inspired by his optimism and hope during the pandemic, at a time when many others felt resigned. Neil quoted Wong's piece on Twitter to remember his positive approach to life.
"Now and again, I'll catch a glimpse of the unadulterated beauty of mere existence, the way it was all meant to be experienced," wrote Wong.
*The article is quoted here and linked to with the permission of the Wong family and the Brain Tumour Foundation of Canada.