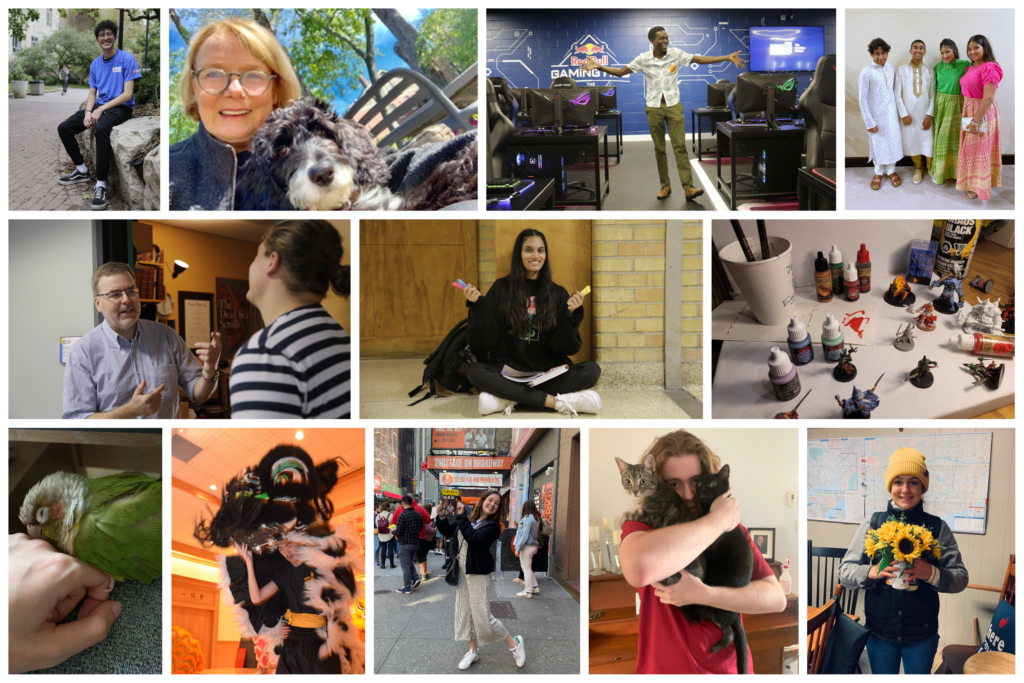 Listen to the audio version of this story:
With Toronto Metropolitan University's transition back to in person schooling underway after two years of pandemic induced virtual and hybrid learning, we wanted to capture objects, people, and places that the TMU community found comfort in over the past few years.
So, we asked dozens of individuals across campus what or who they are particularly grateful for, or perhaps helped them through the tougher parts of the pandemic, followed by a more introspective question: why?
Here are their answers.
Christopher Robin Lai: Painting Miniatures
Christopher Robin Lai is a first-year publishing student at The Chang School of Continuing Studies who says painting miniatures and organizing virtual Dungeons & Dragons games kept him hopeful:
"During COVID, I had my favourite hobby – playing tabletop games with friends – taken away. I had people in my immediate family who were at high risk, and I couldn't really justify risking getting together with friends and exposing my vulnerable family members to COVID. Even with masks on. But, I had patience. I took up miniature painting to fill the time. All with the hope my friends and I would eventually get back together for gaming. My patience paid off…I was able to finally play games with them again this summer and run my first Dungeons & Dragons session as a Dungeon Master! And of course, I had a massive catalogue of miniatures to play with when the time came. Shifting my energy and picking up a new hobby kept me hopeful and softened the blow of losing that time with my friends.
"I have always been an artsy guy, but never had the time to really try it out. So I got some paints and some figures and just started painting. And painting. And painting. My first few figures were pretty sloppy, but it was still fun. Over time I got better at the techniques, like dry-brushing and applying washes. I still consider myself a novice, but the act of painting and working at improving and learning is very low-pressure, calming and fulfilling. Between the summer of 2021 and the summer of 2022, I completed over 100 miniatures. I surprised myself and was proud of how many I got done, and I can't wait to paint the next 100."
Kristopher Alexander: Gaming Hub
Kristopher Alexander is an assistant professor at The Creative School with expertise in the areas of video games, esports infrastructure, and virtual production. He is also the director of the Red Bull Gaming Hub at TMU – which Alexander worked on from the start of the pandemic to its launch in September. He says the hub is what he is grateful for.
"Video games have always brought me comfort, [they] saved me and I know I'm not the only one. So I wanted to create something like this where people will see it and be like, 'wow' but I want to convert that excitement into whatever they're taking in school. There is a job that connects to that excitement…The hub is directly connected to academia and why people are here.
"[During the pandemic], I would come here roughly between 4 a.m. and 7 a.m. to clean up, pick up garbage so it alleviated stress but in a way that no one will ever really know about…I come here knowing I'm not doing this for myself…I always work through things. I convert all emotions into art, it's what I do and it's what I did throughout the pandemic. Any emotions I felt I was [transferring] into this hub. Because I know these tables aren't for me; you will never see me sitting in front of these machines unless it's to teach.
"This is for the community…I want people to understand this is for them but I want them to look outside of playing video games, that's the strength of this space…It's so much easier to live on this planet when you realize you are not here for yourself."
Shahan Bahadurali: Family
Shahan Bahadurali is a first-year business student who says he values his family:
"They are my support. Whenever I'm not really sure what to do or just lost, I know that I can rely on them to help me out [and be supportive] when I need it…I was basically failing calculus and when I told them, instead of getting mad they started to help. This kind of support makes me feel loved, wanted, and important. [And] during the pandemic there was literally no one else to talk to, so their presence was [also] comforting."
Meghan McCracken: Theatres
First-year performance production student Meghan McCracken says the theatre has always been a favourite place of hers, so much so that attending shows encouraged her to change her program at TMU after studying social work for two years.
"One of my earliest childhood memories is of my grandmother who, as a tradition, used to take all of her grandkids to Mirvish…in Toronto. One of the first shows I saw was Mamma Mia! and I vividly remember the music, the acting, the lights, the sound…And it's something that I've been able to carry on with my mom, my brother, and my dad since my grandma passed away.
"What always keeps me coming back is [how] these normal people that have regular lives [can] put on this two-and-a-half-hour show pretending to be somebody else. It's exhilarating and immersive. I think this whole world they are able to create is crazy…My heart flutters as the lights go down and the curtains rise every time…I've seen shows from New York to Stratford to Toronto to local productions, [all I feel is] pure joy and it's why I constantly go back."
Emmett Lyall: Pet Cats
Emmett Lyall is a third-year English student who found comfort in his two cats during the past two years:
"They mean a lot to me. I've struggled with mental health issues throughout a lot of my life, and although I have had pets before, none of them have been nearly as cuddly and comforting as Shiba and Reggie. If I ever need a reminder that everything will be alright, I know that they'll always be there. During this past summer, I was working a job that had negative effects on my mental health for a variety of reasons, but every day when I came home, Shiba (and sometimes Reggie) would run to the front door and almost jump on me, just begging to cuddle. Having them made the struggles of my job a bit less harsh."
Gary Gould: Teaching Students
Gary Gould is a professor at The Creative School and a news media production specialist who says teaching students and working with people lifts his spirits:
"The great part about teaching is the students. To me it is not the job, it's seeing people grow, develop, learn and then take those skills they have learned here and go do something that they love in the real world and succeed. Whose spirit wouldn't be lifted when you teach somebody something and then they go and get a job that they love? Teaching is to me what coffee is to some people. It is a pick-me-up. It inspires me. I've been teaching for over 30 years and I still get excited when I stand in front of a classroom."
Adrian Chow: Dragon/Lion Dancing
First-year aerospace engineering student Adrian Chow says being part of the Fo Guang Shan Dragon and Lion Dance Team has given him something to do and look forward to.
"I started lion dancing when I was 11 years old. Back then I was really shy and lion dancing brought me out of my comfort zone. I remember creating a lot of fond memories of practicing with my team and performing at cultural events as well as at universities. During [quarantine], I practiced at home which gave me something to do to pass the time. It also became something to look forward to when the pandemic eased a bit."
Sal De Giorgio: Work
Second-year criminology student Sal De Giorgio took solace in his job and the stability it offered:
"The place is the Real Canadian Superstore at Weston Road and 401. I work there as a part-time bakery clerk and have been for the past few years. Although like any job it's stressful and very exhausting, it provided me with a great sense of comfort these last two years during COVID as it was the one thing that stayed consistent in my life when everything was constantly changing. While school and social lives went on the backburner, I was fortunate that I had a job which deemed me an essential worker allowing me to keep a shred of normalcy in my life when everything was so uncertain."
Yasmin Modarai: Pet Bird
Yasmin Modarai, a fourth-year computer engineering student, says her pineapple conure named Cookie helped her through the distressing parts of the pandemic:
"I felt that even though I couldn't see my friends in person, I had Cookie and some kind of real-life companion while everything was online. I've had Cookie since I was 11 years old and she's always been a really cuddly bird (as you can tell from the picture). During online school, I'd have a lot of anxiety and I would have Cookie on me during some classes that didn't require our cameras to be on. Cookie usually slept while I took notes but just the comfort of her being on me and living her life while I worked helped me feel less lonely, and less anxious. Sometimes when I get upset at something, I usually scratch Cookie's head and it just relaxes her and seeing her relaxed, relaxes me. I don't know if I could've survived the pandemic without Cookie."
Maliha Hemani: Organization
First-year psychology student Maliha Hemani, who was in high school when the COVID-19 pandemic started, says her ability to stay organized and maintain a healthy schedule to complete tasks gave her comfort over the last two years:
"In grade 11 we switched to online and in grade 12 it was optional, but I wanted the social aspect. This switch [to online schooling] was harder for me because I like to keep track of my schedule and assignments with paper copies. I am more of a paper person. So that's how I got into using excel.
"The transition [at the beginning of the pandemic] was weird…During quarantine, there was also a lot of mental health decline. So I feel like planning made me calmer. I keep a personal journal where I write down my thoughts every week to calm myself down. I also colour-code everything, it makes me happy…One of my friends bought me this calendar for my birthday [last year] because I wanted a planner so badly."
Ainsley Cherry: Her Job
Fourth-year media production student Ainsley Cherry says she found comfort in her job at the Stonehooker Brewing Company in Mississauga, Ont.:
"[It] operates like a restaurant and a retail shop. When the pandemic began, we had to close down our restaurant service but continued to remain open through retail. I was working nearly every day for a long time, but I loved the distraction and the routine. It felt like something I could control while everything else was crumbling around me. It was also a delight every time we were able to reopen our restaurant service and connect with people in our community again. One of the highlights of the pandemic was when the brewery hosted a local sunflower festival, and I went home with sunflowers every Sunday for a month."
Peggy Nash: Pet Dog
Peggy Nash is the senior advisor to the dean of arts and the Centre for Labour Management Relations at TMU who is grateful for her loved ones, her adopted dog included:
"Friendships and family relationships have been the most important part of my life during the pandemic. Zoom calls and long walks replaced trips, meals together, and in-person meetings. I am so grateful for this human connection. Also, coincidentally we adopted a dog six months before the pandemic lockdowns. He has also given me a lot of joy and a need to be outdoors. I'm especially [grateful] for not losing anyone in my immediate circle due to the virus."
A TikTok compilation of Toronto Metropolitan University students explaining the objects, places, or people that are valuable to them. (Nathan Kennedy/On The Record)