The president of the Ryerson Engineering Student Society (RESS) says he was attacked on campus earlier this week.
On Feb. 15, a group of "unknown individuals" targeted Gianluca Basile and other RESS members walking on Gould Street, Basile said in an Instagram post.
Basile said other people were on the street, but the primary attacker seemed to target those wearing Engineering jackets.
Attempts to alert Ryerson security proved difficult, said Basile, who did not specify how many people were attacked or in what manner.
"I experienced difficulty trying to climb over piles of snow, later to be met with a broken alert device," he wrote of the university's security alert pole on Gould Street.
He said a security pole closer to the Recreation and Athletic Centre was also blocked by ice but he eventually managed to use it to alert security.
Basile, who wrote in the post that he's been harassed "numerous times" on campus in the past, advised students to consider walking in groups or to use Ryerson Security's SafeWalk program.
Basile is calling on Ryerson to add security guards to Gould Street and other high traffic campus areas.
In a statement, the university said it is "working with the impacted community members."
"In addition to our regular patrols, security crew members are positioned at Victoria and Gould streets to monitor activity," it said, "If any community members are feeling concerned, we encourage them to make use of our personal safety planning sessions and our WalkSafe service."
Basile's post has come under fire for connecting his unknown assailants to people who use a safe injection site on Victoria Street.
"The lack of visible security has led to our campus being overrun by predators and dangerous individuals," he wrote.
That language is "dehumanizing" and stigmatizes users of the site, according to an Instagram post made by Students for Harm Reduction.
"[It] frames supervised injection sites and their clients as a threat to campus safety," reads the group's post.
Basile has not responded to requests for comment from On The Record. A representative from RESS also declined to talk, saying any future comments would come exclusively via the organization's official channels, including social media.
To view the posts, click the links below: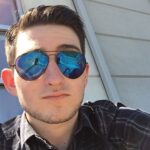 I'm a fourth year journalism student at Ryerson University. Writing has always been my passion. From a young age, I became obsessed with mastering the written word, and looked to journalism as a way of transferring those skills into meaningful employment. My dream is to travel the world as a journalist, soaking up various cultures, which will hopefully aid in my long-term goal of becoming a novelist.