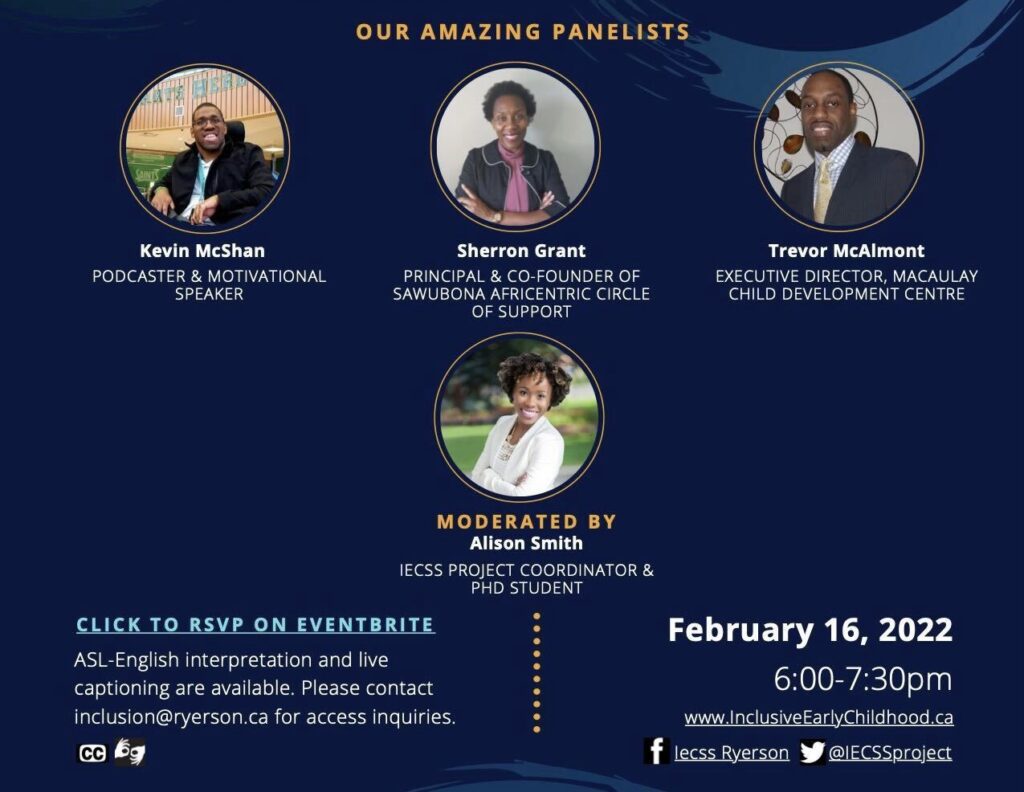 Trevor McAlmont says Black youth with disabilities are likely to "fall through the cracks" in the education system without effective communication and advocacy. As the executive director of the Macaulay Child Development Centre, it's a topic McAlmont is passionate about.
On Wednesday, he participated in a virtual panel titled Black Experiences and Disabled Childhoods, put on by the Inclusive Early Childhood Service System project (IECSS). The event outlined the possibilities for Black disabled identities and the ways in which society can impact their childhood.
McAlmont says a child dealing with race, culture and disability will require programs that not only provide for basic needs, but will also ensure a safe environment.
He shared a quote from an anonymous youth he worked with which read, "Black young people with disabilities want to be seen as people first, not as Black, not as living with a disability."
Kevin McShan, a motivational speaker who was born with spastic quadriplegic cerebral palsy and another panellist, emphasized the importance of having access to a platform to share his perspective and unique experiences.
"Inclusion is the gateway to independence."

McShan
"Having my own personal identity and being confident and comfortable with who I am wasn't something that I always acknowledged as I struggled with social isolation," he said, adding that while he wasn't able to engage in activities the same way as other kids were, his childhood still shaped who he is today.
McShan says he's worked with several people with disabilities who face challenges finding employment. He highlighted the importance of everyone having access to meaningful work.
"When you give someone with a disability a job you also provide them with a springboard of confidence to explore their passions and to deliver their best contributions to society."
The IECSS project, which hosted the panel, is a study that involves interviewing families once per year over a six-year period starting prior to school entry and up until third grade.
The group says the study is informed by a social relational theory of disability that recognizes that disablement is the result of an interaction between individual characteristics, social experiences and access to a safe social community.
Sherron Grant who is a parent to a child with autism, an elementary school principal and the co-founder of Sawubona Africentric Circle of Support was also a panellist.
"Race and ability are both social and political constructs of identity that will affect the ways Black children and families navigate different systems," she said, adding people must do more work to help someone "be seen" and valued in various settings.
When it comes to early childhood education, Grant stresses the importance of representation, early intervention with parents and partnering students with culturally reflective agencies.
As both a parent to a child with autism as well as an educator, Grant says she understands that people make negative assumptions about families like her own. That's something she wants to change.
"These families need to know what is possible and they need all the support they can get in order to increase their outcomes later in life."
Julian Beltrano is a journalism student at Ryerson University who lives in Woodbridge, Ontario. Julian is 22-years-old and is passionate about telling stories and writing about unique topics. Prior to entering the journalism program, Julian was unsure as to what he wanted in a future career as he considered programs from various fields. Currently, Julian works as a customer service representative at Winners and has shown interest in becoming a high school English teacher.