A breakdown of Ryerson University's federal riding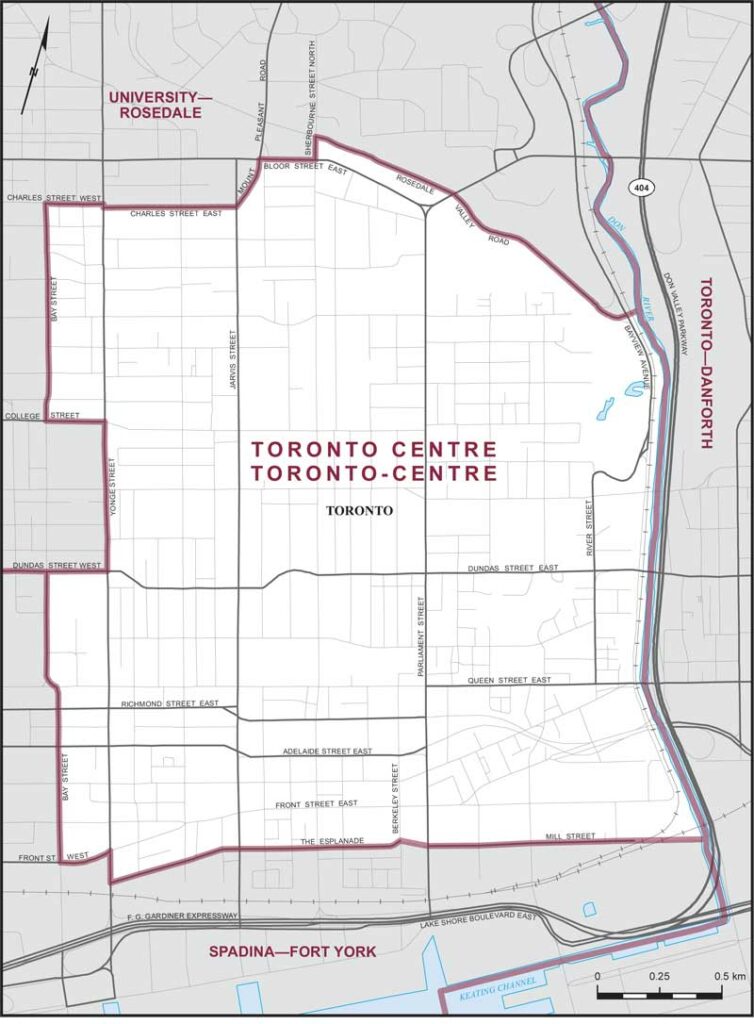 Toronto Centre will be a key riding to watch in this year's election, with the riding seeing a virtually identical race as the 2020 byelection.
Ryerson's riding will have the same candidates from the four major parties running again for a seat in Ottawa – including Green Party leader Annamie Paul.
Housing affordability, post-secondary education costs, homelessness and mental health are a few of the key issues this riding is facing.
For voters currently living in Toronto Centre, here's a rundown of the riding, and its history.
The numbers
Population (2016 census): 103,805 residents
Population density: 17,785 per km² (densest riding in Canada)
Median household income: $50,462
Largest age group: 25 to 29 years (14 per cent)
20 to 34 years (37 per cent)
Private households by tenure: Owner (29 per cent), renter (71 per cent)
Currently represented by: Marci Ien (Liberal)
Number of electors on the list: 79,566
Previous voter turnout: 31 per cent (Oct. 26, 2020 byelection), 66 per cent (2019 general election)
The candidates
Seven candidates are vying for Toronto Centre's seat in the House of Commons, including:
Marci Ien, Liberal Party of Canada, incumbent
Brian Chang, New Democratic Party of Canada (Read On the Record's Q-and-A with Chang here.)
Syed Jaffery, People's Party of Canada (Read On the Record's Q-and-A with Jaffery here.)
Peter Stubbins, Animal Protection Party of Canada
The riding
The riding consists of several downtown neighbourhoods, including Regent Park, St. James Town, Church Wellesley Village, Cabbagetown, Rosedale and the east part of the financial district.
Toronto Centre has historically been a safe seat for Liberals, who've held this riding since 1993.
Toronto Centre was previously represented by former Liberal MP and finance minister Bill Morneau until he resigned in October 2020 in the wake of the WE Charity scandal.
Before Morneau, the seat was held from 2013 to 2015 by Chrystia Freeland — who also coincidentally took over as finance minister when Morneau resigned from the position in 2020.
Marci Ien of the Liberal party won the riding's October 2020 byelection, beating runner-up and Green Party leader Paul by over 2,000 votes.
As of Sept. 16, election statistical modelling website 338Canada predicts that Liberals will hold Toronto Centre.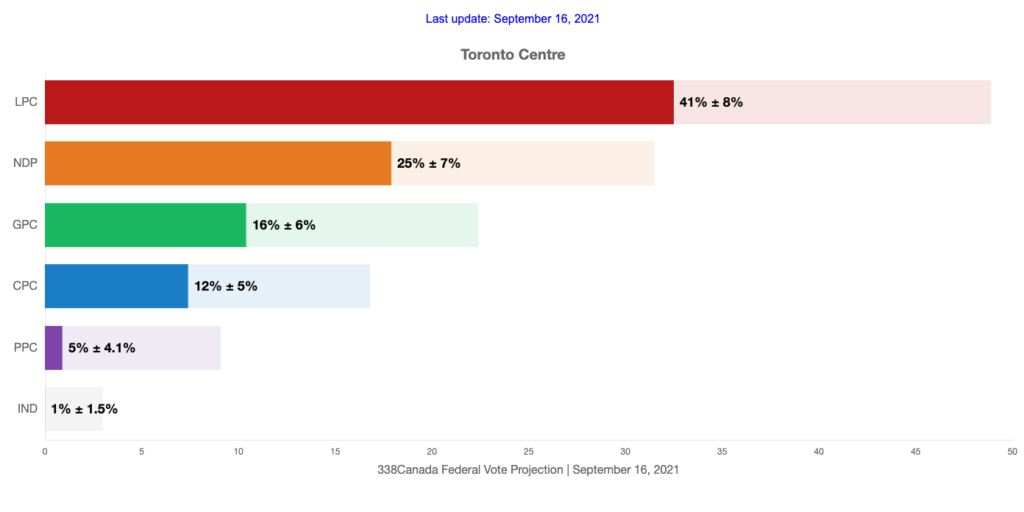 Kayla Zhu was a news editor/data reporter for On The Record in the Fall 2021 semester. Previously, she has worked as a reporter for J-Source, online editor for The Eyeopener and managing editor for Folio Magazine.