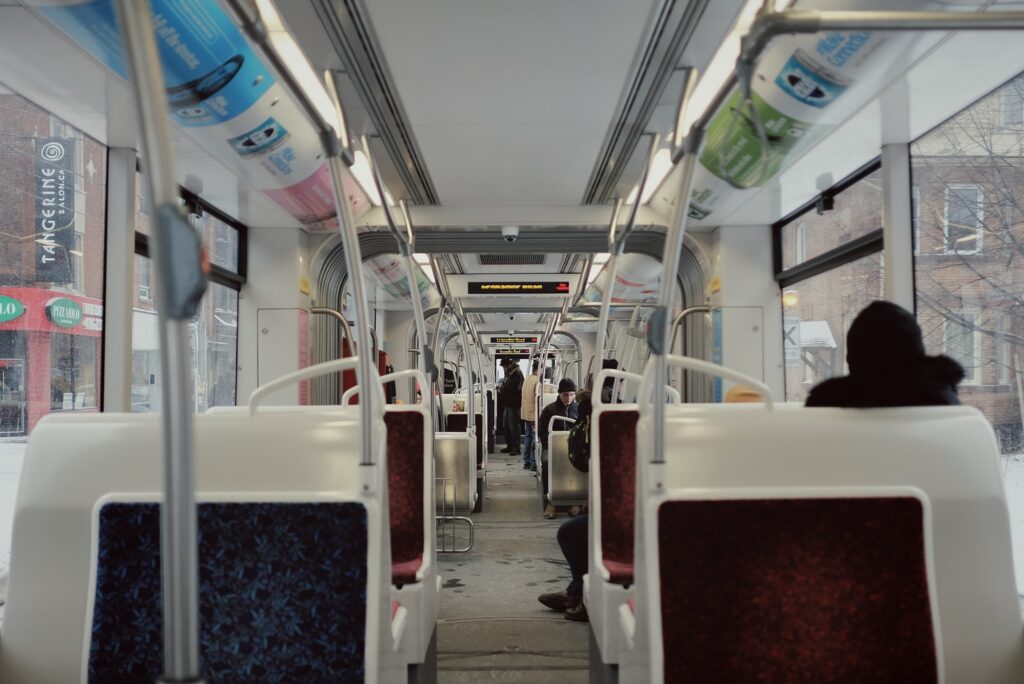 Fourth-year creative industries student Daniel Song commutes to work three times a week to the Jane and Steeles area, taking the York Region Transit's (YRT) 91 Bayview bus and then the TTC's 960 Steeles West Express bus.
He says the wait times for his hour-long commute to work are "really, really bad."
"When it says it's arriving in four minutes, my expectations are already so low that I assume it's probably coming in 10 minutes," Song said.
Before the pandemic, Song would commute downtown by Line 1 regularly to go to class and hang out with friends on the weekends. But with frequent weekend closures on the subway, it would take him much longer to get home by shuttle bus.
"It's unreliable and I think it's pretty unacceptable for people who depend on public transportation to not have dependable service," he said.
Now, during the pandemic, Song says there's the added stress of getting infected with the virus on transit. He said he feels "a little bit more confident" using public transportation to get to work since getting his second dose.
However, with the new Omicron variant and the recent service reductions, he said he doesn't feel "completely safe" on transit.
Some Ryerson students, like Song, say they are anxious about returning to campus next semester with recent service reductions, existing delays and other COVID-19-related issues that riders say have exacerbated wait times and overcrowding on the TTC.
On Nov. 16, the TTC announced service cuts across 57 bus routes, one streetcar route and the Line 2 Bloor-Danforth subway due to staffing shortages caused by the transit operator's vaccination mandate. These reductions took effect on Nov. 22.
However, according to TTC spokesperson Stuart Green, the proposed cuts never really "materialized" due to higher-than-anticipated vaccination rates and the TTC is offering "almost identical service" as before Nov. 22.
"As of [Dec. 7], we're putting out around 95 per cent of the service that we were putting out pre-vaccine mandate, whereas we had scheduled 90 per cent," he said.
When creating schedules for November, the TTC had planned service based on the prediction they would have 90 per cent of their employees vaccinated, but as of Dec. 7, the agency has a vaccination rate of 94 per cent.
Green said this means the 57 bus routes that were included in the Nov. 22 cuts are "not seeing the level of service decrease that was originally envisioned."

However, Shelagh Pizey-Allen, executive director of transit advocacy group TTCriders said some riders have seen wait times double or triple since Nov. 22, when the proposed reductions took effect, even on bus routes unaffected by the cuts.
"Some riders have been reporting wait times of 30, 45, even 60 minutes. This is completely unacceptable and could have a long-term negative impact on transit ridership and the climate," she said. "If people cannot rely on the TTC, more people will switch to driving, even if they can't afford it."
In addition to the recent service reductions, TTC buses have already experienced 26,772 recorded bus delays this year between Jan. 1 and Aug. 31, according to TTC bus delay data.
Cleaning was the leading cause of bus delays during this period, accounting for one-third of all delays, according to an On The Record analysis of TTC bus delay data.
In 2020, cleaning only accounted for about six per cent of delays and was not listed as a reason for those incidents in 2019. The TTC recorded 26,953 delays between January and August 2020 and 44,279 in 2019.
So far this year, the average timeframe of a bus delay was about 17 and a half minutes.
Since January 2020, the TTC has been cleaning and disinfecting "all public places with a focus on touch and grab points, such as buttons, railings, handles and straps" daily due to COVID-19.
The Toronto Star reported in August that each TTC bus is cleaned twice a day, with the process usually taking about five to 10 minutes per bus. Cleaning protocols include spraying surfaces and common touch points with a hospital-grade disinfectant.
Green says the TTC had taken buses out of service for a midday cleaning when most routes don't have the "same level of service" as the morning. He said certain buses would normally be out of service at midday anyways because there was little demand for them and the operators would be working on split shifts – working separate sets of hours in both the morning and evenings.
However, the TTC still logs these buses as having been taken out of service for cleaning, even though it technically wasn't in service. Buses that were in service and scheduled for a midday cleaning would be temporarily replaced with a "run-as-directed" or RAD bus, before being taken out of service, according to Green. RAD buses do not appear on schedules.
"The service on the street was not impacted by the cleaning schedule," he said.
Now, the TTC only cleans buses once a day and no longer pulls vehicles out of service for cleaning, as Green said the TTC now knows surface transmission "isn't really a concern" for COVID-19.
August Pantitlán, a Ryerson aerospace engineering student who writes about transportation and urban planning on their blog, August Street, said they feel confident commuting knowing the risk of COVID-19 transmission is low on transit. They also mentioned the TTC CEO's report released in October, which found 97 per cent of transit riders followed mask mandates properly.
However, Pantitlán said they do feel less safe taking the TTC for a different reason – there has been an increase in security incidents in the system. According to the October report, there was a 21 per cent increase in offences against customers in this year's second quarter compared to the previous one.
"This isn't specific to transit, as many complex social issues have been exacerbated by the pandemic and its associated economic hardships across the city," said Pantitlán.
Since they can't drive, Pantitlán depends entirely on public transit to get to campus, their volunteer work and everything else.
"It is convenient and frequent to use, although it is not always reliable," they said. "Bus bunching, where multiple late buses show up together, overcrowding due to cut service and the lack of rapid transit access across the city are some of the major challenges facing the system."
While the TTC has always experienced delays, issues that Pantitlán mentioned – unreliable service, bus bunching and overcrowding – pose additional safety concerns for riders during the pandemic.
Pizey-Allen said while cleaning buses is important, increasing service and encouraging mask use is the best way the TTC can make riders feel safe.
"More delays means longer wait times and more crowding. The TTC should be focused on winning riders back with frequent service that we can rely on," she said.
Third-year Ryerson urban and regional planning student Hayden Poon says he's excited to go back to campus. But similar to Song, he is worried about regularly being in crowded transit environments in light of the new variant and the recent TTC service cuts.
His commute to campus from his home in Markham, Ont., takes more than one and a half hours one-way, and he needs to pay fare for both the TTC and the YRT.
Poon, who is also involved with TTCriders, said he anticipates the November service cuts will reduce the capacity of vehicles and result in longer wait times for his buses.
"The buses will also be very crowded. I will get on the bus anyway as I don't want to be late for class," he said. "This could increase my risk of getting COVID-19."
Poon said these delays aren't a COVID issue and have always existed, but the problem of reliability and overcrowding is even more prominent during a pandemic.
"[The] TTC has serious reliability issues that [cause] you to never know if the next bus, streetcar, or subway will actually come," he said. "We are playing a gamble when riding public transit."
Pizey-Allen says reduced service on public transit impacts essential workers, women and racialized and disabled riders the most.
The 41 Keele and 102 Markham routes were included in the 57 bus routes affected by the proposed service reduction, even though the TTC identified these routes as overcrowded early in the pandemic.
Pizey-Allen said these routes serve working people who depend on transit and run through neighbourhood improvement areas and industrial employment zones.
"These cuts are unacceptable and unfair because they could have been prevented," she said. "The TTC could have hired more operators months ago, but has been operating [with] 'just enough' service because of underfunding."
A financial update published for the TTC's Nov. 29 meeting mentioned a 2021 funding shortfall of about $103 million. The update said the financial impact of COVID-19 on the TTC has been primarily offset by government support at the federal and provincial levels.
Pantitlán similarly finds the TTC service reductions to be "unacceptable for Canada's largest city" compared to transit systems in Montreal and Vancouver, the latter which has rebounded to 55 per cent of their pre-pandemic ridership numbers.
"When reliability falls apart, so does our city," Pantitlán said. "The TTC needs to prioritize reliable, timely and sustained service if it intends to regain lost ridership. It is especially pressing to ensure transit remains an attractive option over cars in the context of climate change and rapid population growth."
Pizey-Allen said the group TTCriders is calling on Mayor John Tory to reverse the service reductions by securing emergency transit operation funding and making the TTC conduct a hiring blitz.
To make up for the shortfall in labour, Green said the TTC has offered more overtime hours to employees, invited recently retired employees to work again and hired more staff.
As of Dec. 7, he said the TTC has hired "close to 300-plus operators" and will have about 450 by the end of the year.
"Come January, we should see all of that service back, in addition to all of the employees that are coming back because they have completed their vaccines," he said.
Song echoed the need for more funding for the TTC, from both the city and Ryerson.
"I think as a school that has as many commuters as it has, the fact that we still don't have a subsidized transportation program or pass is totally bogus," he said.
Poon said he's even more concerned about the TTC's operation in the winter with extreme weather conditions, anticipating transit will be even more crowded with vehicles breaking down more often in snow and frigid temperatures.
Ultimately, Poon said he will still take transit to campus next semester.
"I am dependent on public transit for my education at X University," he said. "Public transit is critical to students who commute to campus. If public transit fails, students fail."
Kayla Zhu was a news editor/data reporter for On The Record in the Fall 2021 semester. Previously, she has worked as a reporter for J-Source, online editor for The Eyeopener and managing editor for Folio Magazine.