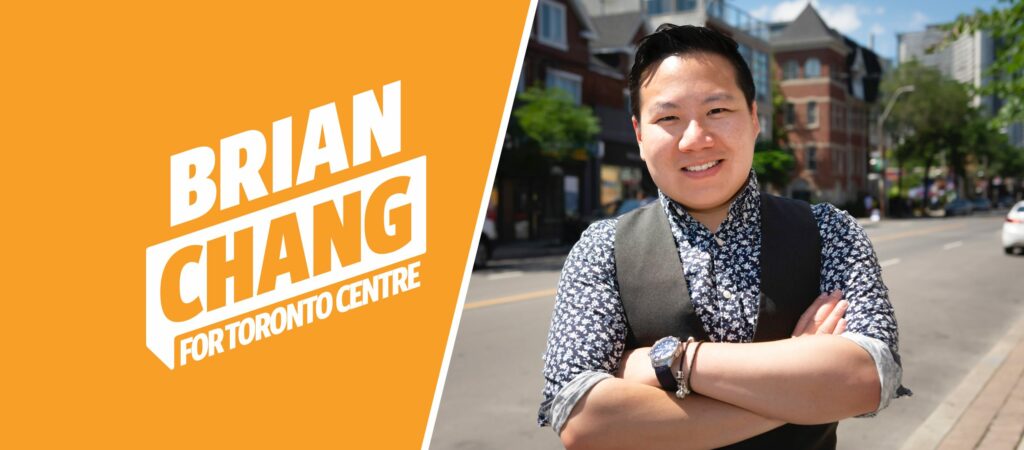 Brian Chang is the New Democratic Party (NDP) candidate running for Toronto Centre. Since winning the contested nomination to become the NDP candidate in Toronto Centre in 2019, Chang has prioritized issues such as affordable housing, climate change and workers' rights.
As a racialized and queer person, Chang says that his lived experience and genuine desire to help his community makes him the ideal candidate for Toronto Centre.
"I can relate to the issues that people are having," said Chang. "It's why I'm stepping forward to represent my communities, because I'm tired of seeing my friends struggle, I'm tired of seeing my family struggle, I'm tired of seeing people I love struggle."
On The Record spoke with Chang to discuss issues that matter to students and what he promises to deliver. To learn more about Brian Chang, you can visit his website at www.brianchang.ca.
This interview has been edited for clarity and flow. Ryerson University is undergoing a name change amid reckoning with its name's link to Canada's residential schools. Accordingly, some refer to Ryerson as X University.
On The Record: School tuition has been increasingly hard to manage, and as a result, many students are finding themselves in serious debt. In what ways will the NDP help students with this issue?
Brian Chang: So, we just have to look at what we've been able to do for students in terms of fighting for student benefits. Last year was a hot mess for students and new grads as well. People who graduated at the end of 2019 or right at the beginning of 2020 were hit by the pandemic hard. It was the New Democrats who have fought really hard for the student benefit. It was the New Democrats that fought for an enhancement of CERB, which did help a lot of students.
What New Democrats work towards is making post-secondary education part of the public education system, fully. This means that there would be no tuition fee, and that's something I'm committed to fighting for. I was in the University of Toronto Students' Union. I was in the graduate Environmental Studies Student Association at York University. So, the fight for accessible education, because education is a right, has long been something that I've been part of, and I'll continue to advocate for that at the federal level.
OTR: Ryerson University is in the process of changing its name amid the reckoning of Indigenous residential schools. In what ways will you be helping Indigenous communities in Toronto Centre?
B.C.: Excellent question. So I was there when the statue of Egerton Ryerson was taken down at X University and I think that there's some really important pieces that we need to consider in terms of the history of the university, but also Canada's systemic role in the genocide of Indigenous peoples since its founding. This is an ongoing issue that continues to this day. I think it is really important that the university is stepping forward to have these consultations, I hope they do so in a meaningful way. So I think that there are some steps that they've outlined and I'd like to see that work out. I will happily support that as a member of Parliament for Toronto Centre.
OTR: During this year's election, we have seen a dramatic increase in racism, misogyny and violence. Where do you think this came from?
B.C.: I think this has been ongoing for a long time. I feel surprised every time the media decides to write about this in the election because elected officials have made it very clear over decades and longer that the political system in Canada is actually [a] very violent and dangerous place for my marginalized and equity-seeking groups. And as a person of Chinese and Jamaican descent, it's personal for me because over the course of the last year, the Asian hate has been truly awful. In the byelection last year, I was punched in the chest on an occasion. I was kicked earlier this year. I had a bike thrown at me. We get lots of racist social media. This is the reality for racialized candidates, queer candidates and disabled candidates when you step up.
But [the racism] isn't new. If you ask anybody who's running for political office, and they told you this has never happened to them, I wouldn't believe them. This is the reality of running in our political system and it does seem to be getting worse. We have a lot of work to do towards making sure that racial justice is the reality. And it's one of the reasons why I'm running in the NDP, because we talk about these issues. We don't have all the answers, but we're willing to recognize that there is a problem and to implement action and action plans to make sure that we can address these things on an ongoing basis.
OTR: What is your favourite restaurant in Toronto Centre?
B.C.: OK, let's see. If you want to do ramen, I have a thing for this spicy pork garlic [ramen] at Kinton Ramen. If you're talking about solid Thai food, then probably Sukhothai. If we're talking about Jamaican food, Mr. Jerk. If you're talking about brunch, then absolutely drag branch at Glad Day. In terms of bubble tea, Baroness has just opened their first Toronto location in the riding; it's right across from College Park on Yonge Street. For dessert, there's a place called T-Swirl Crêpe, which is on Yonge Street (just north of College Street). They have these delicious crepes. They're the most delicious thing I've ever had in Toronto. And then of course a staple for me is Ginger. Ginger at Church Street and Wellesley Street is a staple for really delicious, well-made, yummy Vietnamese/Asian food.
OTR: If you were to have a super power, what would it be and why?
B.C.: I would like the ability to know if people are telling the truth. I wouldn't want to be able to control people in any way. I wouldn't want to be the strongest person in the room, but I would like to know if there was a way to gauge people's truthfulness.
OTR: What message would you like to give to our students at Ryerson?
B.C.: One thing I will say is that I was that student who was looking ahead and trying to get involved in politics. When I was in university, I knew that we needed to start the work. If we want a better world in 10 years, we need to start that work now. I want students to think about what 2031 will look like. I think what the New Democrats have to offer is that we are putting forward bold plans. If you think that the Canada Emergency Response Benefit (CERB) was a great program, know that the Democrats were the ones that fought for it. That's just an example of how New Democrats will stand up for you and do the best that we can to help you.