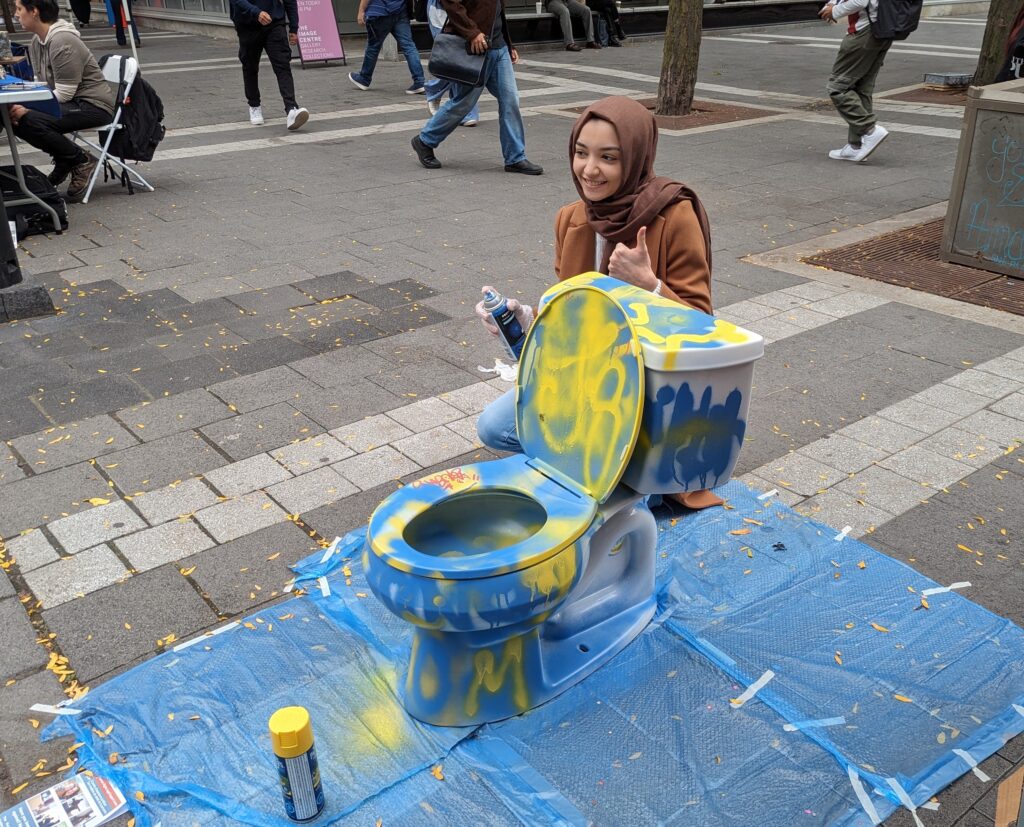 Listen to the article below:
Despite the use of toilet keychains and poop puns to engage the student body, the "Better Bathrooms" campaign is serious about improving bathroom safety on campus.
The Centre for Safer Sex and Sexual Violence Support spent the summer mapping out bathrooms on campus to see where improvements could be made.
What they found wasn't a pretty picture.
Dark stalls in far corners of ancient buildings, trash strewn about, and sometimes needles on the ground were all cause for concern for CSSSVS Coordinator Sam DeFranco.
That a bathroom exists and is functional, isn't enough. "If it's down a tiny hallway in the middle of nowhere, that's not a safe bathroom," said DeFranco.
The push for safety comes almost a year after a TMU student was sexually assaulted in a bathroom in Kerr Hall.
The campaign is demanding emergency safety buttons in stalls; more all-gender, single-stall, and universally accessible bathrooms in every campus building; and overall quality improvements.
The current availability of gender-appropriate options and accessibility for students with disabilities varies greatly from building to building.
"Sometimes, you'd have to leave the building in order to find an all-gender washroom," said DeFranco. "In other buildings, if you're a woman on the fourth floor in a wheelchair, you have to go to a different floor to use the bathroom."
There's no shortage of Reddit threads dedicated to the gaps in gender-appropriate facilities, including complaints of no men's bathrooms on the fifth floor of the Sally Horsfall building, or too few women's washrooms in Kerr Hall.
"They don't tell you how to communicate with staff to fix things," said first year media production student Christina Gesualdo. She went on to describe the dire state of the bathrooms in Pitman Hall, where overflowing sanitary bins and unclean toilets are an everyday reality.
On the issue of cleanliness, graduate student Sam Jabri-Pickett didn't mince words. "They look worse than a high school bathroom after taco Tuesday," he said.
DeFranco admitted that it's not always easy to engage students on complex issues, but the feedback on this issue has been supportive.
The lighthearted messaging of the campaign, including events where students could take a whack at a poop piñata that dispensed tootsie rolls or spray paint a toilet in TMU blue and gold, is by design.
"There's a lot of fear on this campus already," said DeFranco. "I think it's more valuable to be building that community idea of 'let's make things better' than 'let's be afraid to use bathrooms.'"
As of time of publishing, TMU's Facilities Management and Development team has yet to respond to On the Record's request for comment.