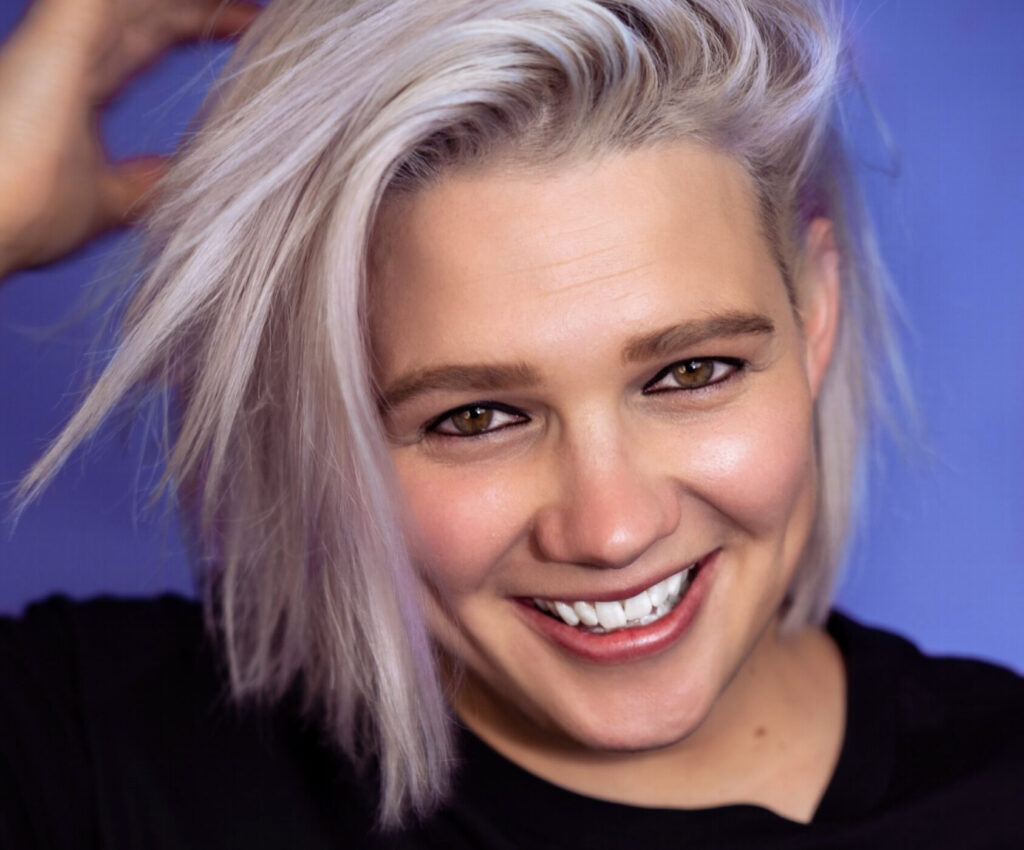 Listen to the story here:
TMU film school graduate D. W. Waterson made their feature directorial debut at TIFF this year with Backspot, produced by Elliot Page's Pageboy Productions. In the film, Devery Jacobs stars as Riley, a young cheerleader navigating the pressures and dangers of competitive sport while balancing the relationships in her life.
We caught up with Waterson via Zoom.
Could you talk a little about your time in film school here at TMU? How did that prepare you for the industry?
It was a different time. There was a lot of focus on the male directors and a lot of energy put towards making sure that they were lifted up. Because the pressure was on them, I was able to explore and it taught me how to fight. When I couldn't get my short greenlit, I had to push and find different ways to make it happen. I don't know if that's what the program intended, but you get what you need. I can also tell when a crew is Ryerson just from the way somebody rolls a chord.
The Ryerson roll?
It's true. For some reason, all the other universities don't know how to wrap a wire.
Why cheerleading as the entry point to this story?
Cheerleaders have been in pop culture for so long but they're not really taken seriously. I wanted to look at the athleticism and see the bruises and the toll it takes on their bodies and their mental health. It's not just all sparkles.
There's a pressure to look good while you're kicking ass.
That pressure is put on young women all the time, and nobody really talks about how your value all of a sudden becomes your body and what you look like and how you present to men. Cheerleading has been packaged through a male gaze for such a long time. I wanted to explore that all through the character Riley's lens, bringing in the relationship to her girlfriend, Amanda, and her relationship to her mother.
What did you want to convey with Riley's relationship with her girlfriend?
We've had so many coming out films and they've been so important over the past 20 years, but that's not the only perspective. There's a knee jerk reaction, when you need conflict in a script, to put it in the queerness. I really wanted to show a positive example of what a queer relationship could be, and show the silliness and the joy.
That joy was aided by the music. How much did your background as a DJ influence the soundtrack?
I was fully DJing the film. There were some songs that we knew we wanted, like "Thunder" by The Prodigy, and then working with Casey MQ, who did a score. I wanted to have that electronic feel because cheerleading is inherently electronic. And then I created a bunch of original tracks, just making sure that the intensity was there.
I heard the production schedule was pretty tight. Was there any life imitating art?
I feel like filmmaking is a sport. We shot it in 17 days in February and March. I finished the film a week and a half ago. Like an athlete, you have to take care of yourself.
What advice would you give to future filmmakers?
It's not a competition. Now that I'm coming up with Chandler Levack (I Like Movies) and Emma Seligman (Bottoms), there's a sense of community where we lift each other up. I would really encourage young filmmakers to help each other out. Go make things, go shoot things, and just be really hands on and kind towards each other.
This interview has been edited for length and clarity.