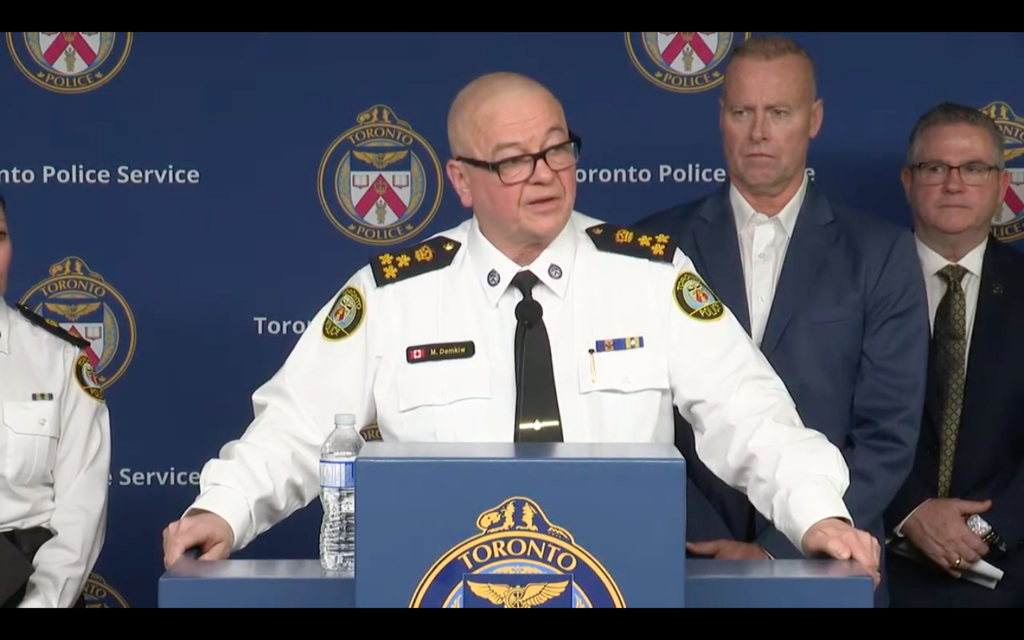 Listen to the story here:
Mayor John Tory and police Chief Myron Demkiw held a press conference at the Media Gallery at Toronto Police Headquarters today to update transit safety in response to a series of violent attacks. Demkiw proposed the "sustainable solution" to curbing attacks is to increase daily police presence within the Toronto Transit Commission (TTC).
"We will do this primarily through a significant number of callback shifts, which are shifts filled by off-duty officers in an overtime capacity," said Demkiw. He further explained that this is a viable solution to respond to the current situation while not compromising the existing efforts to keep Toronto safe.
Effective today more than 80 off-duty police officers will be deployed daily throughout the city's transit locations.
This comes after a passenger was shot by a BB gun at approximately 11:40 a.m. today at the York University subway station. "It's simply unacceptable," condemned Rick Leary, the CEO of the TTC.
Mayor John Tory took the mic to assure anxious transit users that he's aware of the challenging times but "they're doing everything they can to address concerns and everyone remains safe".
"We don't exactly what is behind these incidents but we know the root causes are complex and they're gonna require coordinated approach and response," said Leary.
During the livestream, some Torontonians took to Twitter to express concerns about increased police presence.
In addition to the immediate response, Tory said that he supports Amalgamated Transit Union Canada (ATU) president John Di Nino who is calling for a national security task force. "They [ATU] estimate that some 3,000 operators across Canada are assaulted each year and that is completely unacceptable. One would be completely unacceptable."