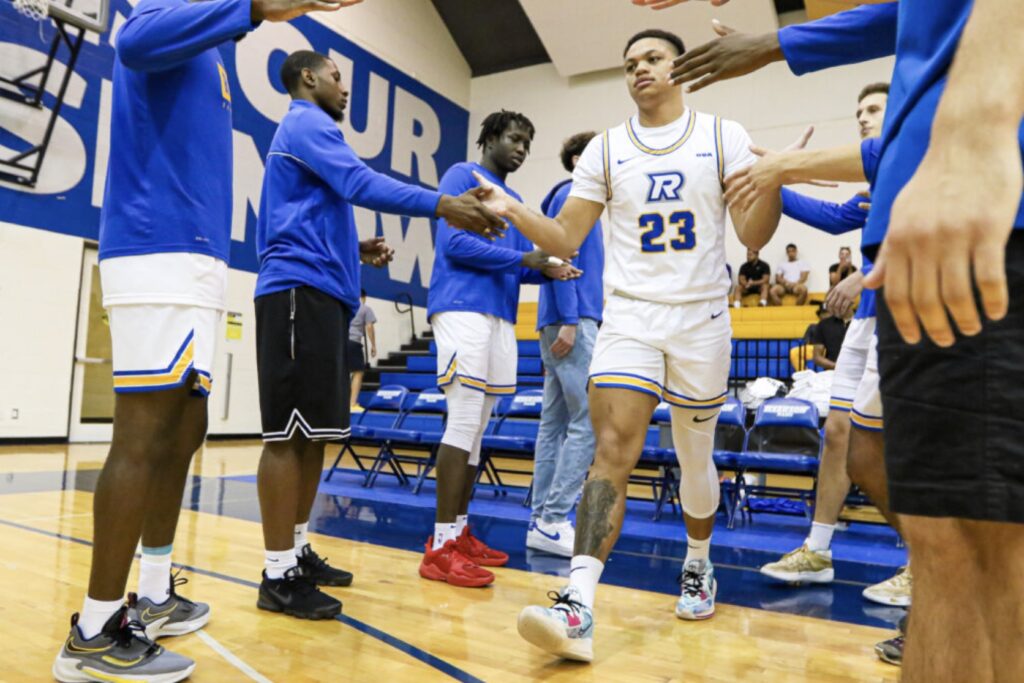 Listen to the story here:
A nail-biting 97-95 finish saw the Toronto Metropolitan University Bold men's basketball team lose in the dying seconds of overtime in front of home fans at the Mattamy Athletic Centre.
University of Windsor Lancers' guard Najee Brown-Henderson — reigning Ontario University Athletics' athlete of the week — nailed the game winner, handing TMU its second loss in a row.
Even though the team entered the contest with a 9-5 record and rallied back from an 11 point deficit with just under eight minutes in the fourth quarter, Bold head coach David DeAveiro was not pleased with their efforts.
"We need someone on the floor to take that leadership, making sure that guys are doing what they're supposed to be doing," said DeAveiro. "I don't think we have enough of that."
TMU started the game strong, leading 42-36 after the first half thanks in large part to third-year guard Ankit Choudhary scoring 13 points. But it all came tumbling down in the third quarter, where Windsor outscored (25-11), outrebounded (14-5) and outshot (62.5 per cent to 26.7 per cent) TMU.
Fourth-year forward Akeem Clarke says the team's third-quarter collapse was a direct result of poor defense.
"Defense wins games. We need to be better on defense, or we're going to pay for it. And that's exactly what happened today," Clarke said. "I guess this is a learning lesson for us."
Defense was especially important considering star guard Aaron Rhooms had one of his worst games of the season, finishing with five turnovers and seven points.
"I mean, Aaron's human," DeAveiro said. "He's not going to score 20 (points) and 10 (assists or rebounds) every game. Some of it was shot selection. Some of it was just bad luck today. He's been so good in every game for us. I mean, he's allowed to have a bad one."
Third-year guard David Walker took over the reins, scoring 18 of his 23 points in the fourth quarter and overtime. He said it felt like the home crowd advantage was one of TMU's biggest weapons — especially in the fourth quarter.
"The crowd was crazy," Walker said, "I always like that. It should always be like that."
While DeAveiro acknowledged Walker's outstanding efforts, he also expressed concern with how much his team relies on its star players.
"Our best lineup out there is when we don't have a point guard and you can't play basketball without a point guard," DeAveiro said. "You just kind of give it to David and say David, go be David. But sooner or later, that doesn't work."
DeAveiro said he's not confident in his team's ability to respond on Saturday, when the Bold are up against Western University.
"I don't know with this group. I don't know if they're going to come tomorrow, take this loss and try to be tougher and better than we were today," DeAveiro said. "I think that's part of our issue, is that we don't know."